Phillip Island Restaurants - From Fish 'n Chips to Fancy!
Phillip Island restaurants offer a variety of options, with many restaurants and cafes offering a wide choice of food - from take-away to fine dining.
Enjoy fine dining with beautiful views over the sea, while watching the sun set - a perfect end of the day.

Or take fish and chips to the beach and share with the seagulls for the quintessential summer experience.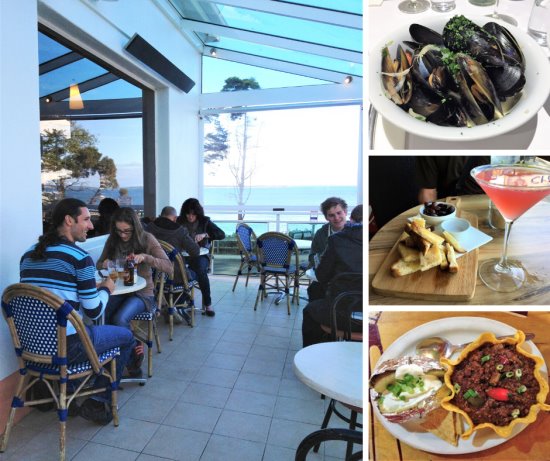 Enjoy al fresco Dining and Delicious Food at Phillip Island Restaurants
Relax and enjoy the range of cuisines available - modern Australian, Italian, Mexican, Chinese, Greek are just a few.
Several restaurants, wineries and bars offer live music, mainly on weekend nights.

Some restaurants also offer wines from Phillip Island's two wineries. Why not try some for a total Phillip Island experience?

Eating out is also easy for coeliacs, with quite a good selection of restaurants, and take-away shops, providing gluten-free food.
There are many restaurants on Phillip Island, not all reviewed here. This does not mean that they aren't worth visiting, only that I only review restaurants where I can have a gluten free meal. I won't write a review without actually eating at the establishment.
Note that menus can be seasonal or may change with a new chef, so the number of gluten free options available may change.

Check below for the best Phillip Island restaurants! And they're gluten free!
Island people are fairly laid back and you are on holidays, so no need to dress up too much – neat casual is acceptable.
Remember the population of Phillip Island increases by 30,000 people over the summer.
To make sure your party gets a table, it is a good idea to make a reservation beforehand.
In summer particularly, things run on "island time", so you may have to wait a while for your meal – just sit back and relax!

For a great night at Phillip Island restaurants, try the establishments below - a great night will be your reward.
Also try:
Anerie
Grenache Wine Bar
Beach HQ
San Remo Fisherman's Co-op Fish 'n Chippery


The Wooli Tavern
1 Vista Place, Cape Woolamai
☎ (03) 5956 6836

The Wooli Tavern in Cape Woolamai is family friendly as well as a great spot for a casual, or even celebratory, night out.
An added bonus is live music at weekends.
Choose from seating in the main dining area, bar seating or at an umbrella-shaded table and benches in the outdoor beer garden-type area.
There is a good selection of entrees and share plates such as oysters, prawns, charcuterie board and bruschetta.
For main plates, the menu covers all the old favourites – burgers, Parma's, fish and chips, steaks plus a few extras. There is also a specials board, plus plenty of gluten and dairy free options and a few for vegans.
Prices are reasonable and there is a kid's menu for the younger set.
Closed Monday and Tuesday.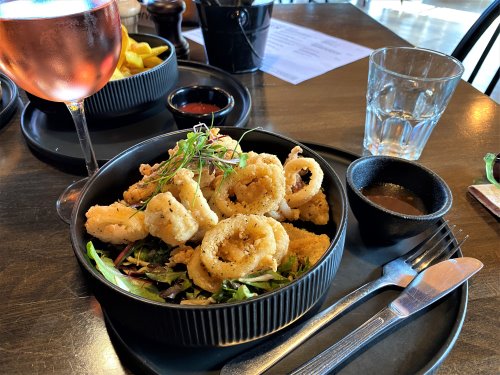 Salt and Pepper Squid at The Wooli Tavern

---
Cheeky Goose Licensed Family Cafe

4/72 Chapel Street, Cowes
☎ (03) 5907 6900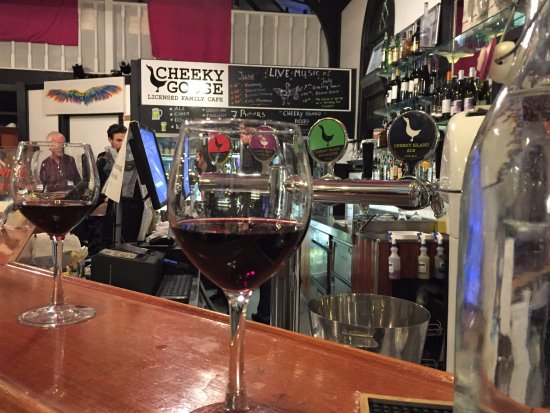 The Bar at Cheeky Goose Licensed Family Cafe

Cheeky Goose Café won the 2016 Bass Coast People's Choice Award for Hospitality and is definitely worth a visit.
Owner Robert was previously executive chef at the well-known Portsea Hotel.
We are attended to immediately by friendly staff and order a selection of dips for starters.
For main I have "bangers and mash" - three fat lamb and rosemary sausages on mash with caramelised onions and mushrooms. Delicious and a generous serving - I have to put some on my husband's plate!

Nice wine list but we went for the local Purple Hen cabernet sauvignon.
When we visit, there are several tables of family groups enjoying the family friendly atmosphere. Activity kits are available to keep the younger ones occupied while waiting for their meals.

For children there is a Gosling Menu.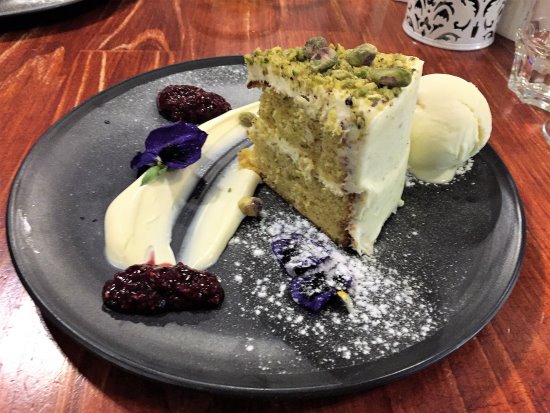 Yummy Dessert at Cheeky Goose

We can't resist dessert and have the chocolate brownies, a huge brownie with cream, caramel sauce and strawberries – yummy!
There is a great range of cakes (see photo above!) in the display cabinet so drop in for just cake and coffee!

If you would like just a drink there is a great bar under the vaulted ceiling and exposed beams.
Open for breakfast, lunch and dinner, it really is a winner, with a comprehensive menu with all the old favourites!
Sometimes there are live acoustic music performances at weekends.

Reservations recommended in the holiday season.

---
Pino's Trattoria

29 Thompson Avenue, Cowes
☎ (03) 5952 2808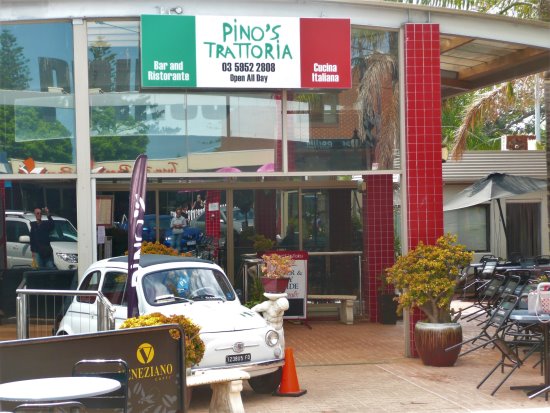 Pino's Famous Fiat!
Established in 1991, Pino's Trattoria has become a popular Phillip Island restaurant choice for diners. The modern restaurant with a high ceiling and tall red-tiled columns has a casual vibe and is great for families. Local and Italian produce is used in the kitchen.
Very busy in the summer months and event weekends, it's advisable to get in early to avoid waiting for a table!

During motorcycle events at Phillip Island Circuit, Pino's is popular with bike teams as well as fans. Have a look at the display of motorcycle leathers from various teams, collected over the years.
With a largely Italian menu, pizza and pastas are the main features, however there are fish, chicken and beef dishes available as well.

There is a reasonable selection of gluten free dishes for coeliacs – salads, risotto, calamari and gluten free pizza bases are available.
I have tried the pizza and the gluten free base is one of the best I've tasted.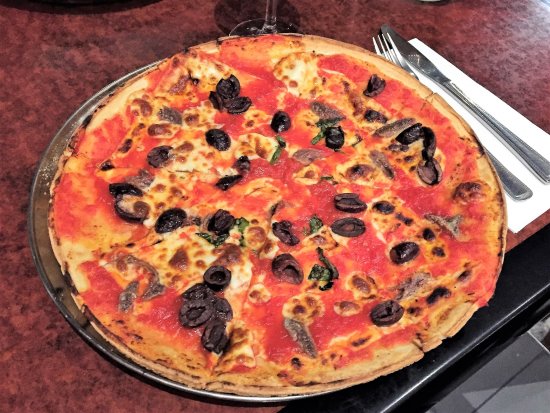 Pizza Napoletana
There are also a couple of gluten free dessert options. The meringe with lemon curd is delicious!

The menu has a range of entrees such as bruschetta, oysters, and olives.
Pizzas come in three sizes, with the most expensive large being just under $25. Toppings range from traditional to "the lot".
Pasta dishes range from $25 to $35 – with various pastas and sauces to choose from.
Desserts such as tiramisu, tarts etc are available, as well as gelato at around $6 per serve.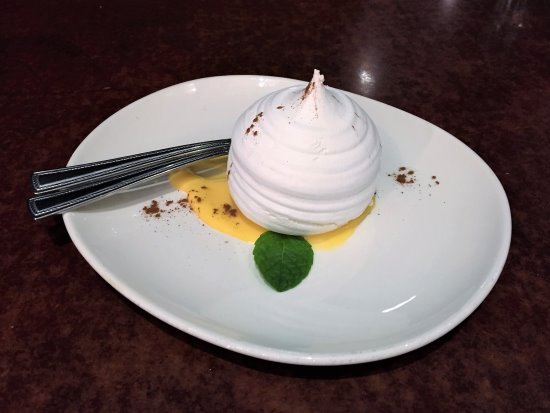 Meringue Dessert
The wine list has a good selection – a mix of Australian/New Zealand and Italian labels. Wine is available by the glass as well as the bottle. The glasses are a generous serve!
For a fairly quick, simple meal Pino's Trattoria is a good choice.
 As well as eating in, patrons can also buy take-away from a comprehensive menu.
Open Wednesday to Monday (lunch 12-3, dinner 5-close).


                                                                             Return to Top

---
Sambreros Tex-Mex Cantina

145 Thompson Ave, Cowes
☎ (03) 5952 1167

Sambreros Tex-Mex Cantina was formerly known as Panhandle Tex Mex, a favourite Phillip Island restaurant.

Now under new management, this is a great restaurant for a casual night out.

Get into the atmosphere by starting with nachos.The regular nachos have nice fresh tomato which makes it a lot lighter. The dish is not totally smothered in cheese so the corn chips are mostly nice and crisp.

All the old favourites are on the menu -  fajitas, burritos, enchiladas, and tacos plus ribs and chilli con carne and the famous Trail Blazer.
There are quite a few gluten free options for coeliacs or gluten intolerant diners.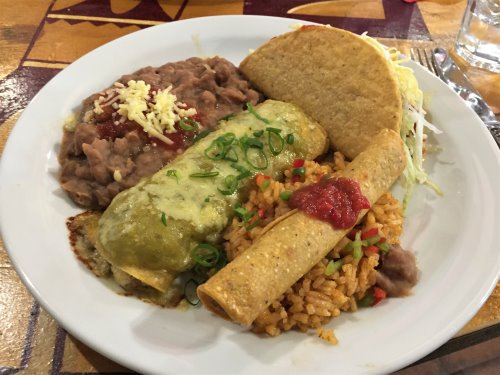 La Combinacion

For drinks, the Mexican theme continues with margaritas, tequila and Coronas available.
Margaritas are the specialty, with 19 varieties available!

Sambreros is very family friendly, with high chairs available for toddlers.
This very popular Phillip Island restaurant is a family dining destination in summer so make a reservation. Be prepared to wait for your meal if they are busy.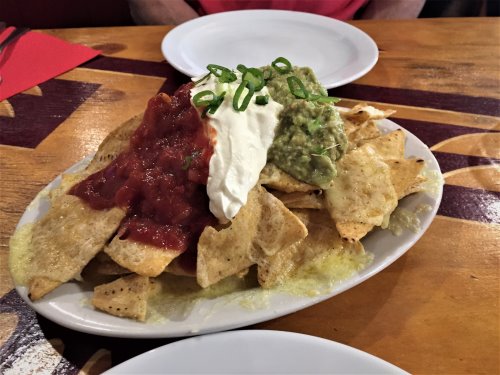 ---
Fig & Olive

115 Thompson Ave, Cowes
☎ (03) 5952 2655
Fig & Olive has a contemporary décor plus quality tableware and is a great spot for dinner. Cuisine is modern Australian, changing seasonally.
Enjoy a drink on a couch in the bar or alfresco - choose a cocktail from a list of favourites.
The menu focuses on steaks and fresh local seafood, plus a range of pizzas from the wood fired pizza oven.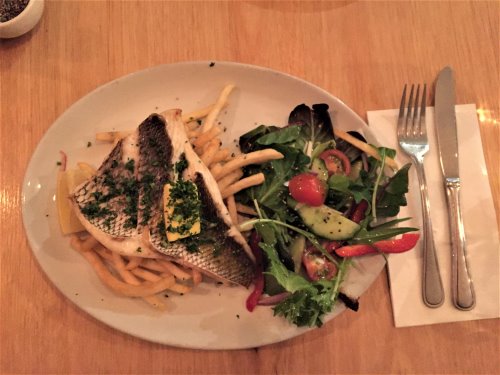 Fig & Olive Snapper, Chips and Salad
For coeliacs the chef can alter many dishes to suit the dietary requirements.

There is a separate menu for kids.

Open for lunch and dinner from Tuesday to Sunday, being open late for diners who have been to the Penguin Parade.
---
Isola di Capri

Cnr Thompson Ave and The Esplanade, Cowes
☎ (03) 5952 2435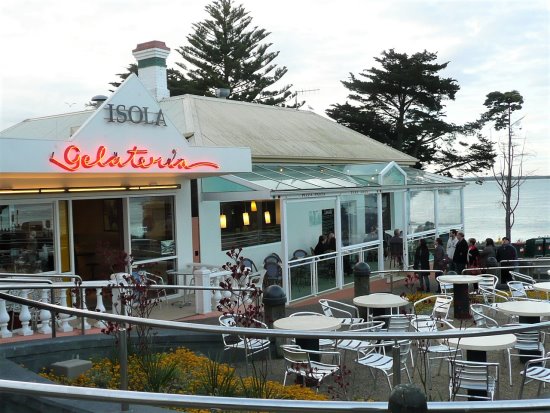 Temporarily Closed

Celebrating 40 years in Cowes, Isola di Capri is an institution among Phillip Island restaurants. The first Italian restaurant on Phillip Island, it is perfectly located at the bottom of Thompson Avenue opposite the beach.
Décor is casual, with motorcycle grand prix memorabilia adding interest. Some seating is available outside – lovely on a warm summer evening. Service is friendly with the chef happy to advise on gluten free choices.
Meals range from pizza (eat in or take away) to a la carte dining. As well as a large selection of pasta and pizza, diners can choose from a good selection of steak, fish, lamb and other main meals, including the popular chicken parmigiana.
We started with the Salt and pepper squid which was delicious (no longer gluten free). I had the seafood risotto, again very tasty with lots of seafood.
The menu has plenty of gluten free main course options.
Pizzas are available with a gluten free base. There are lots of topping options although coeliacs would need to avoid processed meats just in case they aren't gluten free. I have had the spinach pizza which was tasty and the base was crispy - how I like it!

Isola di Capri is fully licenced with wine available by bottle or glass. The wine list is small and unfortunately does not include local wines.
After your meal, try gelati from Isola's gelataria next door.
A great destination for a family meal.
Bookings necessary for more than four people.
Open 7 days a week. Monday to Friday 4.30pm to 9.30pm;  weekends and holidays open for lunch and dinner.
---
Rusty Water Brewery Restaurant & Bar

1821 Phillip Island Road, Cowes
☎ (03) 5952 1666
Opposite the Koala Conservation Centre, Rusty Water Brewery is a must for beer lovers.
A great selection of handcrafted ales is available for your pleasure. Try the "sampler" rack to select your favourite.
If you prefer wine, there are several wines from the wineries on Phillip island.

The restaurant has a fairly comprehensive menu including several gluten free options - and interesting dishes as well as the usual grills for us coeliacs.
Gluten free pasta dishes are available.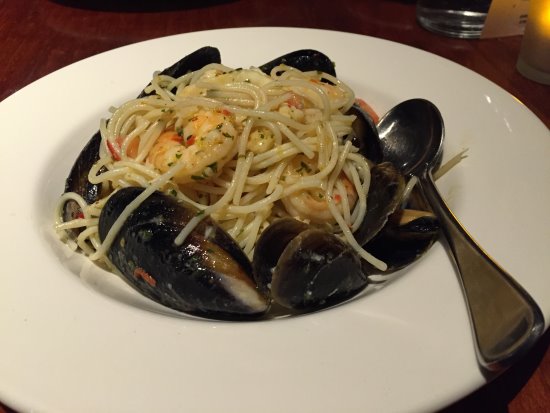 Spaghetti Marinara at Rusty Water Brewery Restaurant & Bar
I recommend the sharing platter for starters - a delicious plate of dips, cheeses, olives , terrine etc.

For mains, choose from beer battered fish and chips (not gluten free) to beef scotch fillet. Or try a pasta or chicken parma.

A children's menu is available.

A cosy spot in winter, especially with the open fires and live music (Friday nights).
Open Tuesday and Wednesday 5.00pm to 7.00pm, Thursday to Sunday Noon to 2.00pm, and 5.00pm to 7.00pm - two sittings (opening hours may change with the holiday season).
---
Return to Top
Return to Home Page from Phillip Island Restaurants
Keep in touch - sign up for my free newsletter!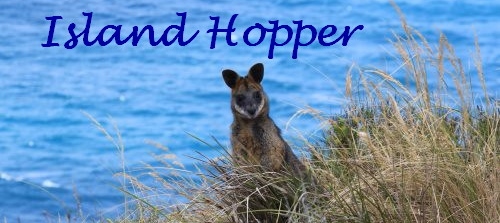 ---
---
     About Me     Contact Me   Site Map    Privacy Policy

---
Copyright 2011-2023 phillip-island-balcony.com
All Rights Reserved