San Remo Fishermans Co-op

For many years I have the avoided the San Remo Fishermans Co-op Fish 'n Chippery because I thought I wouldn't be able to have a gluten free meal.
However, seeing a post of a meal on Instagram, I asked about gluten free food and yes, they do cater for coeliacs!
There is only one option though – grilled fish and garden salad. No chips unfortunately!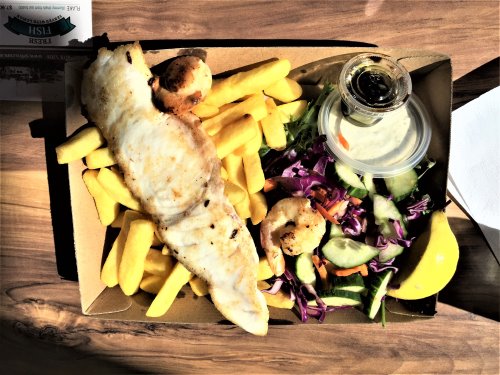 San Remo Fishermans Co-op Fish and Chips
The menu offers the usual fish and chips options with the default fish being flake (gummy shark). This is sourced from the co-op's own boats, the fleet's home being the nearby San Remo Jetty.
Extras include calamari, prawns, potato cakes, dim sims etc. Beef, fish and vegetable burgers are also available.
An easy option is to select a pack, such as kids pack, grilled seafood pack and family pack.
Platters of local crayfish are made to order.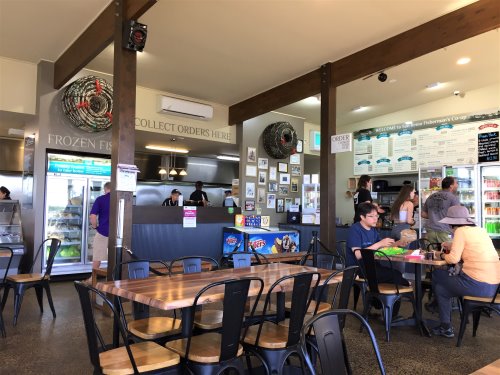 San Remo Co-op Fish 'n Chippery
There is ample seating inside with some tables with umbrellas outside with lovely views over the jetty and the channel to Phillip Island.
The co-op has a selection of fresh and frozen fish if you want to take some home for the barbeque. The fish is from their own fish and lobster vessels. Choices include lobster, abalone, duck fish and scallops. Prawns are sourced from South Australia.
When I visited I picked up a free copy of a cookbook of Australian prawn recipes!
The San Remo Fisherman's Co-op is open 7 days a week from 10.30am to 8.00pm.
Don't forget the daily pelican feeding at noon every day on the beach adjacent to the co-op and next to the jetty. Numbers of pelicans vary between 5 and 35 birds. Also look for the large stingrays gliding along in the shallows near the pier.
View Towards Phillip Island
Return to Top
Return to Phillip Island Restaurants
Return to Home Page

Keep in touch - sign up for my free newsletter!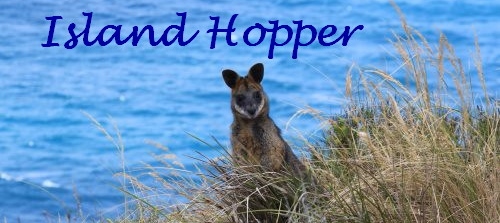 ---
---
     About Me     Contact Me   Site Map    Privacy Policy

---
Copyright 2011-2023 phillip-island-balcony.com
All Rights Reserved