Essential Phillip Island Nature Encounters
A visit to the Phillip Island nature attractions is an essential part of any trip to the island.
Apart from the world famous nightly penguin parade, see koalas and Australian fur seals, whales and dolphins.

Check out flights and cruises around Phillip Island here.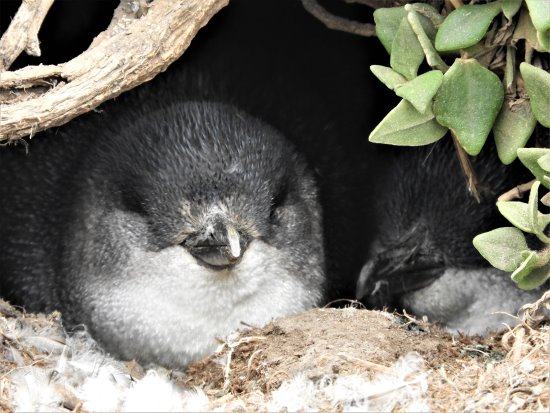 Little Penguin and Young in Its Burrow

Around the island visitors may see wildlife such as swamp wallabies and echidnas.
Plus, Phillip Island had abundant bird life for those interested in birdwatching.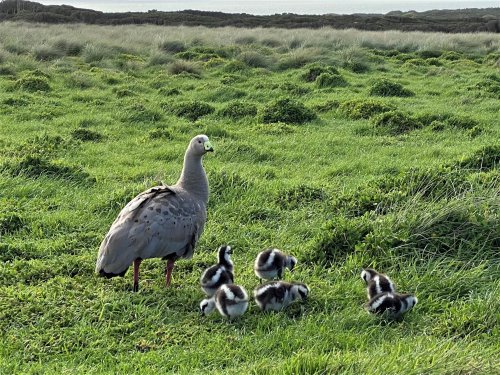 Cape Barren Goose with Chicks at Summerlands

Phillip Island Nature Parks (PINP), a not for profit organisation, manages all these attractions – protecting, conserving and researching native wildlife.
As well, they also manage Victoria's first farm on historic Churchill Island, a tiny island linked by bridge to Phillip Island.
Apart from the major Phillip Island nature attractions detailed below, PINP is responsible for Oswin Roberts Reserve, Cape Woolamai State Faunal Reserve and the southern coastline - the habitat of little penguins, shearwaters and the endangered hooded plover.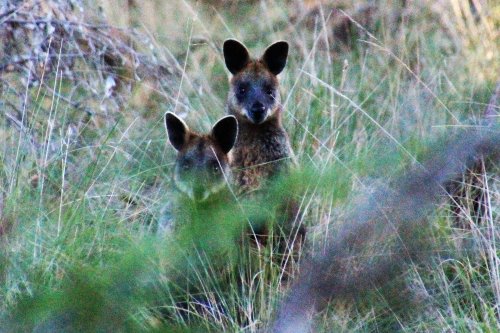 Swamp Wallabies at Oswin Roberts Reserve
During January, PINP runs a wonderful Summer Holidays Activities Program.
The program offers activities to suit children of all ages and also adults, with rangers imparting their knowledge and expertise.
PINP offers a 4 Parks Pass ticket - a great option if you plan to visit all their parks - the Penguin Parade, Koala Conservation Reserve, Churchill Island Heritage Farm and Antarctic Journey at The Nobbies.

For other children's activities on Phillip Island click here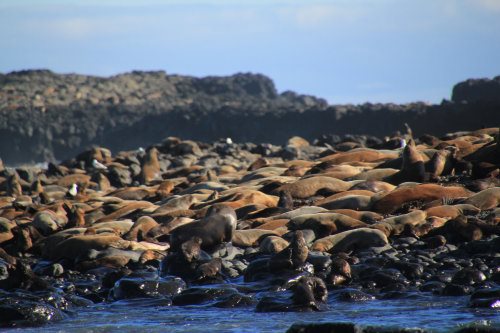 Australian Fur Seal Colony at Seal Rocks

For prices and bookings for all PINP attractions go to www.penguins.org.au

The Penguin Parade is one of Australia's most popular tourist attractions.
Each night at sundown little penguins waddle up the beach to their burrows in the sand dunes lining the coast.
Numbers vary depending on the season but there are always penguins coming home after time at sea fishing.

Enjoy this enchanting spectacle!

Please note that any sort of photography (with or without flash) or filming/video of the little penguin is prohibited.

Although koalas are not native to Phillip Island, being introduced in the 1880's, they have become one of the island's most-loved and recognised creatures. 
The Koala Conservation Reserve continues to maintain a viable koala population as well as educating visitors about these cute marsupials.
View the informative displays in the visitor centre before going into the reserve for some koala spotting!

From tree top boardwalks, visitors can easily see koalas in the eucalyptus trees in the enclosures.
Others can be discovered while walking around the bushland walks throughout the reserve.
The reserve is also home to swamp wallabies and many species of birds.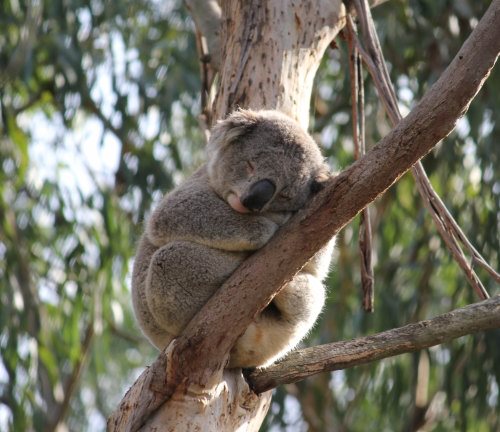 Phillip Island Nature at its Best!

The Nobbies is rock formations just off Point Grant.
The area has spectacular views over to Seal Rocks and the mainland, as well as the stunning southern coast of Phillip Island with its rugged basalt rock formations.
Birdlife is abundant as this is an important breeding area for several species of sea birds.
The visitor centre has wonderful displays showing various aspects of sea life in Westernport Bay.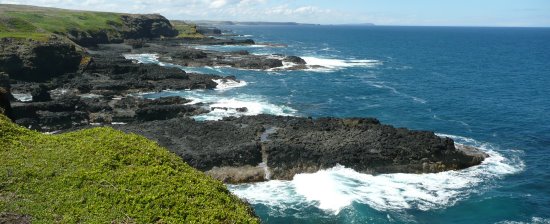 Southern Coast of Phillip Island From The Nobbies Lookout

On Phillip Island Road on the outskirts of Cowes, this privately owned park is a terrific option for children or visitors from overseas who may be time pressed and want to view as many of Australia's native birds and animals as possible.
Here, children have a wonderful opportunity to get up close to several species of animals - plus the chance to hand feed them!
Kangaroos and wallabies roam the park quite unafraid of visitors, a delightful experience.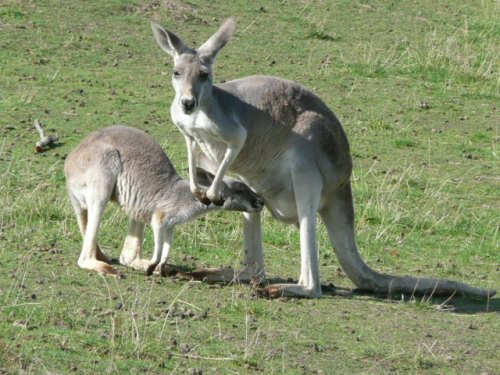 Kangaroo and Joey at Phillip Island Wildlife Park

Return to Top
Return to Home Page from Phillip Island Nature
Keep in touch - sign up for my free newsletter!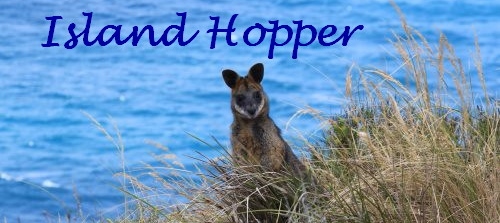 ---
---
     About Me     Contact Me   Site Map    Privacy Policy

---
Copyright 2011-2023 phillip-island-balcony.com
All Rights Reserved