Phillip Island Markets

Browse Phillip Island markets for the best of local handcrafts and gourmet produce.

Phillip Island Markets
What
When
Where
Churchill Island
Fresh produce, specialty goods, wine etc
1st Saturday each month & every Saturday in January
Churchill Island Visitors Centre
Island Foreshore Market
Food, wine, produce, music
December 28, 2020; various other dates
Cowes Jetty Triangle/Erehwon Point
Cowes - Market on Church
Fresh produce, craft, books, plants etc
4th Saturday each month
St Phillips Parish Hall, Thompson Street, Cowes
Cowes - Island Craft Market
Fresh produce, clothing, craft, plants etc
2nd Saturday each month
St Phillips Parish Hall, Thompson Ave, Cowes
Island Makers Market
Boutique designers - fashion, gifts, homewares etc
Various dates
Cowes YMCA, Church Street
Rhyll Twilight Market
Fresh produce, clothing, craft, hot food etc
Various dates
Rhyll Park, Lock Road, Rhyll
Newhaven Market
Local and seasonal produce, specialty items
3rd Saturday each month; every Saturday in January
School Avenue, Newhaven
Churchill Island Farmers Market

The most popular of Phillip Island markets is the Churchill Island Farmers Market.
Overlooking Westernport Bay and the hills of the mainland, the picturesque setting must be one of the best ever!
Look for fresh produce and gourmet goodies from Phillip island, surrounding areas and further afield in Victoria.
There is a huge range of products ranging from fruit and vegetables, bakery, eggs, honey and smallgoods and more.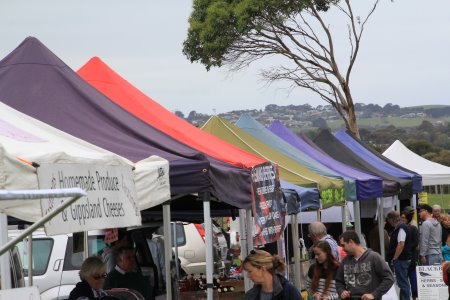 In the summer the market is my go-to for summer fruits - cherries, strawberries and stone fruits. And all year round apples are available.
From Mildura, come avocados and citrus fruits. I love the cara cara oranges, a hybrid of navel and blood oranges, which are available in winter.
Those with a sweet tooth are not forgotten with cakes and biscuits usually on sale, including gluten free Italian biscuits.
For your barbeque check out the wine and beer from regional wineries and breweries.
Choose from different varieties of honey from David of Phillip Island Honey.
After shopping, sit back and relax to live music with a coffee from the market kiosk or visitor centre cafe.
Extra markets are scheduled the week before Christmas and during January to cater for holiday makers.

Open 8.00am to 1.00pm
Churchill Island

---
Market on Church

Market on Chapel has lots of stalls with plants, second-hand books, fruit and vegetables, herbs, handmade products, collectables and more.
Sometimes pick through a car boot sale of miscellaneous items.
Not just local wares are sold but also imported, so this makes for great variety.
Olive oil from Kite Haven Olive Oil, Rhyll, is a must. My favourite is the wild lime infused oil - delicious in salads or drizzled over breakfast eggs.
Another stop is the soap stall, where I stock up on big bars of fragrant soaps.
Apart from the stalls outside, there are lots inside the hall selling arts and crafts.
And usually there is a sausage sizzle tempting the taste buds!
Watch for extra markets in December and January.
Open 8.00am to 1.00pm
St Phillips Parish Hall, Thompson Street, Cowes

---
Island Craft Market

The Island Craft Market is a great place to buy presents. Birthday coming up? Head on down and check out the crafts inside the hall.
There is a terrific display of knitted goods such as beanies - and I am the proud owner of a beaded beanie knitted by a local lady.
As well as crafts, there are outside stalls selling fresh produce, clothing, plants, olive oil, preserves and more.
Hot food is available for those feeling a bit peckish.
Open 9.00am to 2.00pm
St Phillips Parish Hall, Thompson Avenue, Cowes
---
---
Island Foreshore Market

The market takes over The Esplanade, Cowes, between the jetty triangle and Erehwon Point and attracts a big crowd of locals and holiday makers.
Products range from handcrafted goods including clothes, decorative homewares and jewellery - all incorporating unique designs.
Consider a piece of art for your wall.
Wine and gourmet foods from the region are a feature.
Enjoy food from the food stalls and relax to live music in the warm summer air.
Open 3.00pm - 10.00pm
Jetty Triangle/Erehwon Point, The Esplanade, Cowes
---
Rhyll Twilight Market

Overlooking picturesque Swan Bay, the Rhyll Twilight Market is held over the summer months.
On offer is lots of stalls selling local produce including cheeses, wines, fruit and vegetables, herbs and cakes.
There is also an assortment of clothing, jewellery, crafts and soaps, plus much more.
Along the foreshore there is live music for your enjoyment. A delightful way to spend the evening as the sun sets!
Food vans will be on site to cater to all sorts of taste buds.

For children there are activities.
From 4.00pm.

---
Newhaven Market

The Newhaven Primary School Farmers Market is a major fundraiser for the school.
Held the 3rd Saturday of the month, plus every Saturday in January, the market offers local and seasonal produce and a range of specialty items.
The market is held at the school grounds in School Avenue, Newhaven.

8.00am to 1.00pm.

---
The Island Makers Market
The Island Makers Market is a boutique designers market offering stylish fashion, home wares, jewellery and gifts. Browsers can also find health and lifestyle products, gourmet foods, and cakes over 40+ stalls.
Get a coffee and relax to the sounds of live music.

Held at Cowes YMCA, 10-14 Church Street, Cowes on selected days throughout the year.
Browsing at Phillip Island markets

---
Phillip Island Lions Club Steptoe's Emporium
Steptoe's Emporium is open on Saturday and Sunday mornings from 10.00am to 1.00pm.
This Phillip Island market is a treasure trove of all sorts of goods.
This is a great place to browse, with loads of second hand furniture, household goods, and general bric a brac.
For the handyman, there is used timber, new tiles, tapware and anything you need for that renovation.

There is definitely something for everyone!
Find it in Dunsmore Road, Cowes.

---
Return to Top
Return to Home Page from Phillip Island Markets

Keep in touch - sign up for my free newsletter!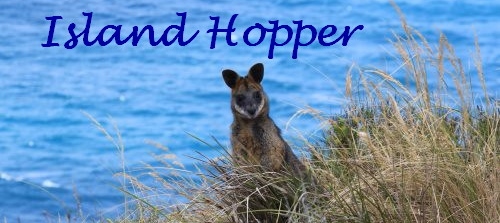 ---
---
     About Me     Contact Me   Site Map    Privacy Policy

---
Copyright 2011-2021 phillip-island-balcony.com
All Rights Reserved