Phillip Island On a Budget

Want to visit Phillip Island on a budget?
Keep your hands in your pockets and read on.
If you don't have a car, a cheap way to get to Phillip Island is via the V-Line bus. Each day several buses run between Melbourne (Southern Cross Station in Spencer Street) and Cowes, Phillip Island. Some journeys also stop at Dandenong Station if this is a more convenient pick up point.
For timetables go to
www.vline.com.au
Bus fares cost about $16 for an adult one way, with $32 for a return trip.
If you want to go by car, it's easy to hire one in Melbourne. A car will give you a lot more flexibility and is quicker to get around the island if you are time-pressed. However, you will pay at least $A300 for a day's hire. Time your visit to make use of special discounts offered at times by various car hire companies.
Click here and discover 5 free things to do on Phillip Island!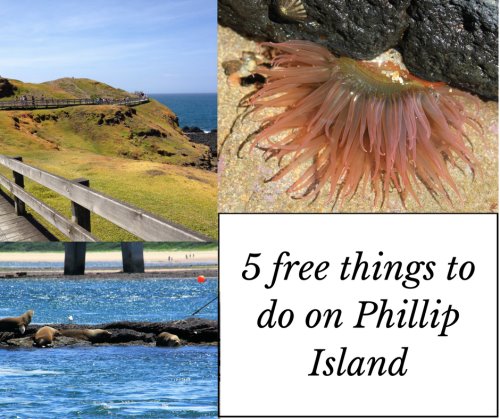 Getting Around Phillip Island
South Coast Bus has services stopping at various Phillip Island points and on to Anderson, Kilcunda and Wonthaggi.
Get a timetable from the driver and plan your day – trips cost around $3.
Another option for getting around the island is to hire a bicycle from the bike hire shop in Cowes.
The Bicycle Repairman in Thompson Avenue has bicycle hire from $60 for a day. Regular and electric bikes are available.

The South Coast Bus has a rack for 2 bikes on the front, if you need to get around a bit quicker.
If you are spending several days on the island, take your bike on the bus to Wonthaggi and return to Phillip Island via the Rail Trail.
Phillip Island Accommodation on a Budget
To stay on Phillip Island on a budget, a great place to stay is The Island Accommodation at Newhaven. The Island Accommodation has family rooms, multi share or studio suites. Longer stays are at discount rates. Multi-share with 12 beds start at $30 per person per night.
If you plan on camping, Anchorage Caravan Park at Ventnor has cabins plus backpacker rooms. Grassed campsites (powered and un-powered) start at around $40.
(If your accommodation doesn't have laundry facilities, there is a laundromat at 2/113 Marine Parade, San Remo, open 7.00am to 8.30pm).

Eat and Drink On a Budget

In Cowes and other island towns there are cheap fish and chips cafes, burger bars, pizza and Asian eateries.
Several cafes have cheap but substantial breakfasts.
Some hotels, such as the Westernport Hotel in San Remo, have pub night specials such as a steak night and a parma night.
If you are staying at The Island Accommodation, just walk across the bridge.
One of my favourite budget meals on Phillip Island is from Kristos on The Esplanade in Cowes - $14.90 for the meat/chips/salad pack and plenty of it.
A perfect spot for eating a take-away meal is the lawn area along the Cowes foreshore watching the sun sink into the west.
For a reasonably priced tipple, most hotels and bars on Phillip Island have a Happy Hour.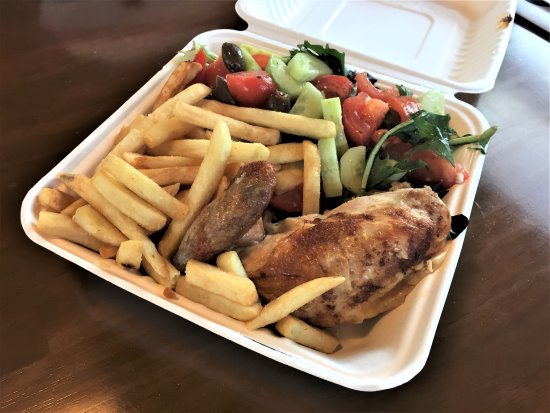 A Budget-priced Meal From Kristos, Cowes
Budget Things To Do On Phillip Island
There are three main things to do on Phillip Island – beaches, wildlife and walking.
At The Nobbies use the telescopes which look to Seal Rocks – see the seals for the cost of a $2 coin.
While there, take a walk along the boardwalk to the lookout and the Blowhole.
Apart from stunning scenery, often there are penguins visible in their "box" burrows or sitting under the boardwalk, particularly in moulting season (March/April) when they can't go to sea.
At low tide, look for seals sunning themselves on the rock shelf off Newhaven pier.
Visit the stunning Penguin Parade Visitor Centre which has free entry. Apart from the fascinating displays, check out the penguin burrows – is there anyone spending the day at home? This is great for kids if they are too young to stay up for the nightly penguin parade.

Phillip Island has a variety of beaches to satisfy all tastes and beaches are free!
For a family, Cowes Beach is north facing and therefore generally sheltered.
Those wanting surf can visit Smiths Beach or Woolamai Beach and can travel there by bus.
Phillip Island has several walking tracks. There is the more challenging track at Cape Woolamai to the short, flat path to Swan Lake which is perfect for children (and prams!).
On these walks there is always the opportunity to see wildlife such as swamp wallabies and echidnas as well as any of the island's birdlife. Seabirds, Cape Barren geese and raptors are common sights.
To see the main wildlife attractions on Phillip Island on a budget, Phillip Island Nature Parks has a 4 Parks Pass which includes entry to the Penguin Parade, Churchill Island Heritage Farm, The Antarctic Journey at The Nobbies, and the Koala Conservation Reserve. This is a saving on visiting each attraction separately.
A fun adventure is to admire the Phillip Island street art found at various locations around the island.
And to look is free, except for the wall art at Churchill Island Heritage Farm, where you will need to purchase an entry ticket.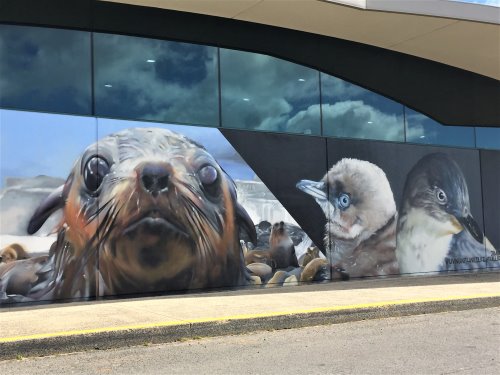 Wall Art at The Nobbies Visitor Centre

The daily pelican feeding at San Remo is a popular attraction – free, although you can give a donation.
When planning your Phillip Island on a budget holiday, consider visiting in the off season.
During winter there are considerable savings on accommodation.
Some attractions often have family discounts for the winter school holidays so take advantage of these.
At The Surf Experience, Newhaven have your photo taken as you ride the big wave or drive the Kombi!
Pelican Feeding On the San Remo Foreshore

See also 5 Free Things To Do On Phillip Island

Return to Top
Return to Home Page from Phillip Island on a Budget

Keep in touch - sign up for my free newsletter!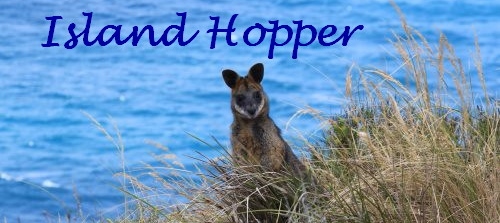 ---
---
     About Me     Contact Me   Site Map    Privacy Policy

---
Copyright 2011-2023 phillip-island-balcony.com
All Rights Reserved