Rock Phillip Island Live Music Venues


The Phillip Island live music scene is active and vibrant, enhanced by great venues in San Remo.
Several hotels and restaurants have live bands as well as DJ's, mainly on Friday, Saturday and Sunday nights.
During the year the main music festival is the Phillip Island Jazz Festival.
Phillip Island Jazz Festival is held around mid-November in the Bass Room at the Ramada Resort Phillip Island, 2128 Phillip Island Road, Cowes.
For jazz lovers this is a wonderful toe-tapping weekend with various bands and solo performers wowing the audience.
Mark November on your calendar for this popular festival. Tickets sell fast.

Watch out for Sunday Jazz with live performances in the Bass Room at Ramada Resort - a very popular Phillip Island live music venue.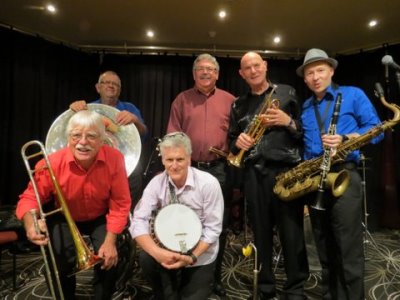 Le Jazz Hot performing at Sunday Jazz

(Photo courtesy of Phillip Island Jazz Club)

The Trumpet Bar on The Esplanade, Cowes is a dedicated music venue offering music, cocktails and food.
Artists can be locals, young up and comers or established acts on the Australian circuit.
This is a great place to enjoy a cocktail outside under the verandah overlooking the mainland, then move inside for dinner and to enjoy the music which starts at 7.30pm.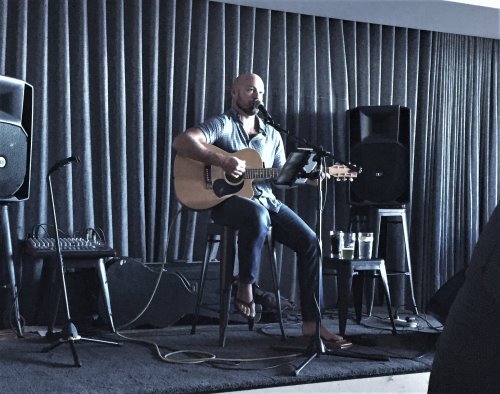 Local musician, Dan Lunn, performs at The Trumpet Bar

Rusty Water Brewery is located on Phillip Island Road opposite the Koala Conservation Reserve.
Music starts from 7.00pm Friday nights.
Order dinner from the restaurant and kick back and listen to blues, folk or country music.
Enjoy the cosy fires in winter and try one of the brews.

Cheeky Goose Cafe in Chapel Street, Cowes, has live music on Friday and/or Saturday nights. Enjoy a drink at the bar or stay for dinner. Get cheeky!

Phillip Island Winery, Berrys Beach Road, Ventnor, runs large outdoor concerts mainly during the summer, on their wide green lawns in front of the Cellar Door.
Enjoy artists performing blues, roots, jazz and folk music plus more.
Keep a watch on the website for dates and artists.
Food and wine (of course!) are available for purchase or bring your own picnic basket and rug or chairs and relax on the lawn.
The winery is now under new management and will be closed for renovations until October 2018.

Other weekend afternoons enjoy a relaxing few hours of acoustic music with owner Tim – in winter in front of the fire and with a glass of wine…bliss!
Various platters of delicious local foods are available.

Summer and winter the winery is a great Phillip Island live music destination.

Purple Hen Winery runs Music in January, a program of live music performances by various artists.
Held every Friday night in January on the winery lawns, with wine and platters available. Or bring your own picnic. There are some tables and chairs but a lovely idea is to bring your own chair and/or rug for a delightful evening in the twilight.

Hotel on the corner of Thompson Avenue and The Esplanade in Cowes has fabulous views over Cowes jetty to French Island and the mainland.
Be entertained by DJ's on Friday nights, with a superstar DJ once a month.
Check out the restaurant for good value meal options.
The Westernport Hotel in San Remo is a hive of entertainment on Fridays, Saturdays and Sundays with plenty of free and ticketed live music.
Bands and solo artists play a mix of music genres such as blues, indie and progressive rock.
Check here for who's playing
www.thewesternport.com.au
In a great location on Marine Parade, near the bridge, The Westernport also has a bistro with a comprehensive menu.
Also on Marine Parade in San Remo is the San Remo Hotel – another terrific live music spot. Check it out for a mix of music from roots to rock.
Try the famous Mario's Bayside Bistro at The Sanny while enjoying the entertainment!
Return to Top
Return to Home Page from Phillip Island Live Music

---
Keep in touch - sign up for my free newsletter!

---
---
     About Me     Contact Me   Site Map    Privacy Policy

---
Copyright 2011-2019 phillip-island-balcony.com
All Rights Reserved