Phillip Island Bike Paths
Phillip Island bike paths offer cyclists a great range of options.

There are roads which can give you a reasonable workout, dedicated bike paths which can get you to most locations, and some shared walking tracks which are also suitable for bikes.
Phillip Island Bike Paths - at Oswin Roberts Reserve

Safety is up to you, look out for yourself and be courteous to walkers and motorists.
Always carry water. And, of course, the wearing of bike helmets is compulsory in Australia – non compliance could risk a fine.
Some of the roads around the island are a bit narrow and not all with marked bike paths so be aware of traffic.
On shared paths, be careful of road crossings and look out for pedestrians and especially children on bikes.
To make it easier for you to explore Phillip Island's bike paths, bicycle hire is available on the island.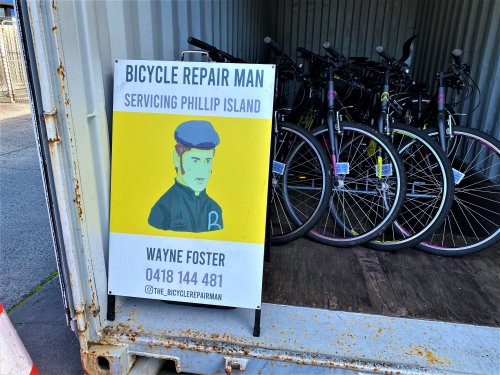 Bike Hire on Phillip Island

At 140-142 Thompson Avenue, Cowes, The Bicycle Repairman (ring 0418 144 481) has adult bikes for hire. A baby/toddler seat is an available option.

Hire is by the hour or day. Cost begins from $20 per hour to $50 per day. Daily rates are also available if you would like to hire for several days.
Super Cruzer E-Bike Hire (ring 0412 579 053), also at this address, has eco-friendly electric on/off road bikes for hire. Pick and delivery is available for Fat Tyre E-Bike and Mountain. Bikes cost $75 for 3 hours, with packages available.

All bikes are geared and helmets (compulsory to wear in Australia) are included.

The Bicycle Repairman is open 5 days (Wednesday to Sunday) between 8.30am and 4.30pm, opening for 7 days a week during school holidays.
Wayne also does bicycle repairs and sells new bikes (from road to mountain) and accessories.
Grab a map from the Information Centre at Newhaven and start exploring Phillip Island bike paths!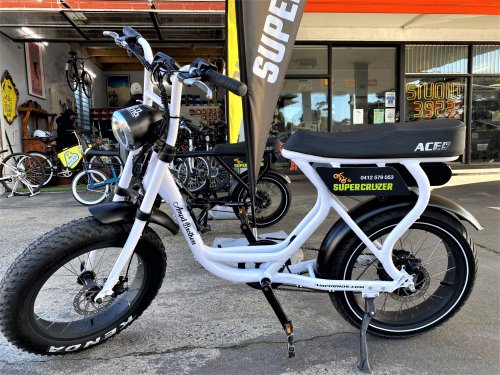 Super Cruzer E-Bike
Cycling on Public Roads
The 28k Island Loop - Perhaps the main circuit, this loop covers (Clockwise) - Back Beach Rd, turn right into Ventnor Rd and follow on to Cowes-Rhyll Rd, turn right into Rhyll-Newhaven Rd, right onto Phillip Island Rd and back to Back Beach Rd.
Extensions are easy at a number of corners if you need more, or do two laps! – out to the Nobbies adds 9k return, diversions through suburban areas in Ventnor or Cowes add as much as you like plus more coffee stops.
Out to Woolamai or Newhaven adds 17k return.
Reverse the direction or starting point to suit yourself.
Bike Paths
Over the years the Bass Coast Council has extended Phillip Island bike paths. Cyclists can now comfortably ride from Newhaven to Cowes (or vice versa) along Phillip Island Road, on mainly sealed shared bike/walk paths.
There are sealed connections to Smiths Beach via Back Beach Road or Smiths Beach Road and also to the GP Circuit along Gap Rd.
Some of the walking tracks through nature reserves are also suitable for cycling. My three favourites are:
Oswin Roberts Reserve behind the Koala Conservation Centre between Harbison Rd and Cowes-Rhyll Rd – especially early morning or dusk. Ride quietly, listen to the birdsong and spot the native animals out foraging. Breathe in the beautiful clean morning air redolent with fragrant bush smells.
Penguin Parade to The Nobbies – quiet unsealed road along the cliff top with amazing views over the southern coast. Relax at a cafe at either end.
Rhyll Inlet – along boardwalks and dirt trails from Conservation Hill car park to Rhyll. Phillip Island bike paths here take riders through mangroves and bushland with opportunities to spot rare migratory wading birds or local wildlife.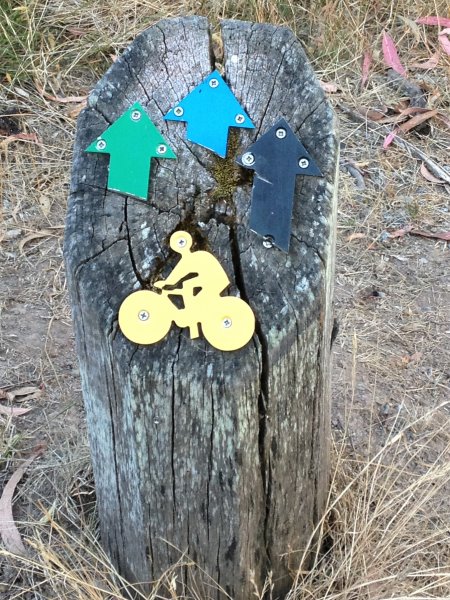 Sign Post For Cyclists at Oswin Roberts Reserve
The two walking tracks around Churchill Island are suitable for cycling.
However, I wouldn't recommend riding to the island on a Farmers Market Saturday morning unless you like dust, as the road on the island is unsealed!

Off the island is the Bass Coast Rail Trail between Kilcunda and Wonthaggi.

Starting at Kilcunda, the trail along the old railway is 16km long. There is ample parking for your car at Kilcunda near the famous trestle bridge.
The ride is fairly easy with just a few small rises. It passes through sand dunes and agricultural land and is used by cyclists, walkers and equestrians.
The bike path has now been extended so it is possible to ride from Cowes on Phillip Island to Wonthaggi (or vice versa).
Read about our ride from Wonthaggi to Cowes by bicycle here.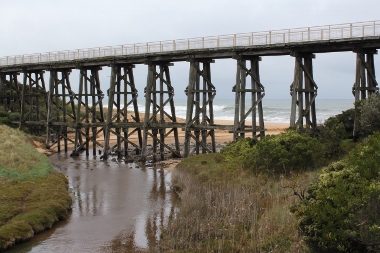 Kilcunda Trestle Bridge, Part of the Bass Coast Rail Trail
Return to Top
Return to Home Page from Phillip Island Bike Paths
Keep in touch - sign up for my free newsletter!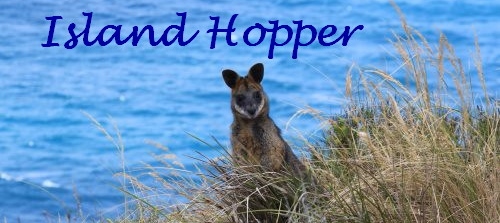 ---
---
     About Me     Contact Me   Site Map    Privacy Policy

---
Copyright 2011-2023 phillip-island-balcony.com
All Rights Reserved