San Remo - Gateway to Phillip Island

San Remo is the gateway to Phillip Island. Nestled near rolling hills, it is a picturesque fishing village popular with summer holidaymakers.
San Remo Jetty and Township
About a 90 minute drive from Melbourne and named after the town in Italy, the village developed around a jetty built in 1840 at what was known as Griffiths Point. The port shipped various produce to Melbourne, including wattle bark (used for tanning) and cattle.
After coal was discovered in the area, a coal jetty was built to service the Kilcunda mine but the industry was fairly short-lived.
Fishing has always been popular, and with the advent of railway, catches were sent to Melbourne's markets. At one time there would have been up to 50 boats in port – King George whiting and crayfish being prominent species caught.
In 1948 the San Remo Fisherman's Co-operative was established – it still operates today. Here, visitors can buy fresh fish or eat at the seafood café/restaurant.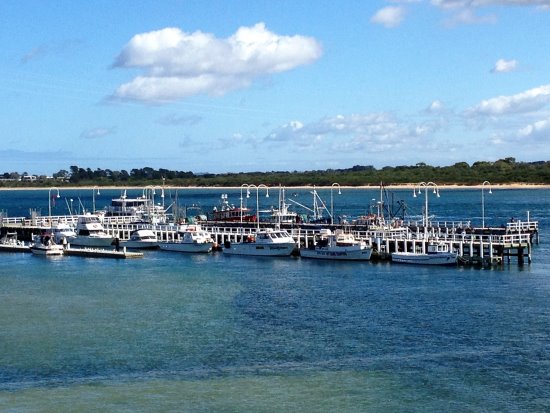 San Remo Jetty and Fishing Fleet
The famous daily pelican feeding spectacle started at the Co-op – it is on every day at noon. Sometimes huge stingrays circle around looking for a feed. The best spot to see them is from the Phillip Island bridge.
The township offers lovely beaches with views over to Phillip Island or over Westernport Bay.
The walking track around the shore to the left of the Co-op is well worth it.
In summer, San Remo has the annual Channel Challenge - a wonderful community event. Swimmers swim across the channel to Phillip Island then run back over the bridge to San Remo – always a great spectacle!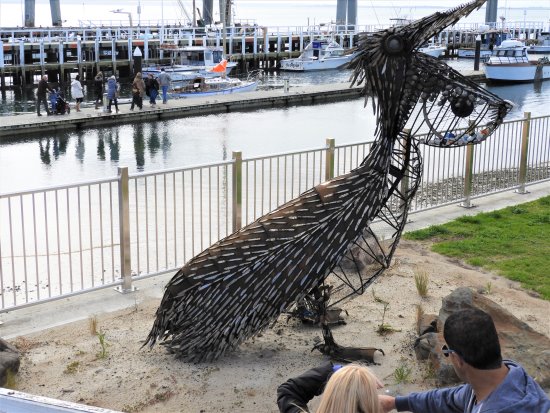 Pelican Sculpture Near San Remo Jetty
The vibrant main street is lined with cafes and interesting shops, plus the dynamic live music scene at the San Remo Hotel and Westernport Hotel is a local institution.

At the approach to the bridge to Phillip Island is a lovely park area with picnic tables and children's play equipment.

Return to Top
Return to How To Get To Phillip Island
Return to Home Page
Keep in touch - sign up for my free newsletter!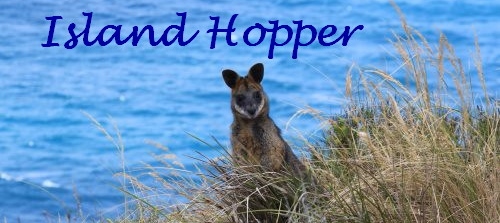 ---
---
     About Me     Contact Me   Site Map    Privacy Policy

---
Copyright 2011-2023 phillip-island-balcony.com
All Rights Reserved