P
hillip Island Fishing - Catch the Big One!
Phillip Island fishing is a very popular activity.
Whether by boat or tossing in a line off a jetty or from a beach or rocks, there is a wide variety of species to be caught.
King George Whiting, snapper and flathead are the most common species.
For tide and fishing times go to
www.tideschart.com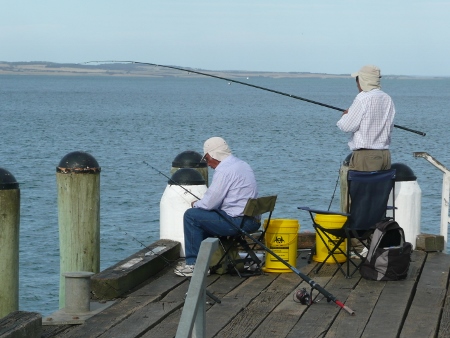 Before you start, a recreational fishing licence is essential. These are available online or get one at fishing supply stores and other stores.
For fishing licence information go to
agriculture.vic.gov.au/fisheries/recreational-fishing/fishing-licence
Another essential is to check the Bureau of Meteorology weather report for the Westernport area.
Go to
http://www.bom.gov.au/vic/forecasts/westernport.shtml
Familiarize yourself with catch restrictions as all species have legal sizes and bag limits.
Phillip Island Marine at Rhyll has a handy brochure with tide times and catch restrictions.
Popular Phillip Island fishing spots are in the channel between Cowes and the mainland, as well as Westernport Bay.
A sunken barge off Smiths Beach attracts boats when the fish are biting.
Diving for abalone is also restricted.
Fisheries Victoria publishes the nominated days for the recreational harvesting of abalone - contact them for dates.
In Westernport Bay the abalone bag limit is 5 (no more than two green lip).
Remember that taking abalone from the intertidal zone (waters less than 2 metres deep) is prohibited.
Help stop the spread of abalone disease by observing the following practices:
Wash vessels, wetsuits, dive equipment and hands with soapy water
Remove all marine organic matter from vessels and equipment
Dispose of abalone shell, gut and meat with household waste
Observe boating safety -
Check the weather forecast before setting out
Make sure your boat is equipped with safety gear and life jackets
Always tell someone where you are going and when you expect to return

Fishing from rocks is a dangerous practice. There have been several drownings off Phillip Island rocks.
Please observe the following safety tips:
Check weather conditions before leaving
Tell someone of your plans
Don't fish by yourself
Wear a life jacket
Wear non-slip shoes and head protection
Beware rogue waves, always watch the sea

There are three boat ramps on the island and boats can be launched free of any charges.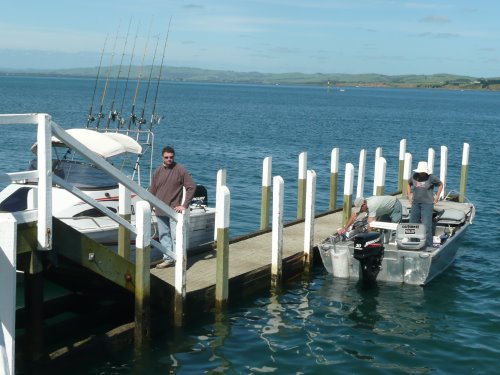 Newhaven has a two-lane ramp, parking for 35 car/trailers, and 15 car-only spaces.
A fish cleaning table is available and is a great place to watch pelicans feeding. Try to spot the huge stingray circling for a feed as well!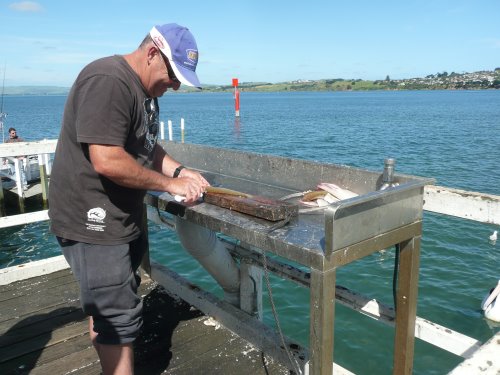 Cleaning the catch after a Phillip Island fishing trip

Anderson Street boat ramp and jetty in Cowes has parking for about 30 car/trailers plus separate spaces for cars.
A kiosk is on site selling fishing licences, tackle, and bait as well as food, drinks, and ice creams. Toilet facilities are available.

Rhyll boat facility has parking for 40 car/trailers and a three-lane ramp, plus cleaning table.
Note: The Rhyll boating facility will be upgraded, beginning late 2019. This will alter/impact on the number of parking spaces available.

For a fascinating essay on the Westernport Bay fishing industry go to:

www.pidhs.org.au
Return to Top
Return to Phillip Island Beaches from Phillip Island Fishing
Return to Home Page
Keep in touch - sign up for my free newsletter!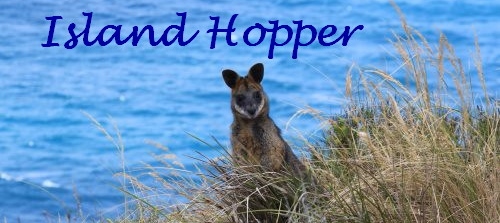 ---
---
     About Me     Contact Me   Site Map    Privacy Policy

---
Copyright 2011-2020 phillip-island-balcony.com
All Rights Reserved