Phillip Island Shipwrecks - A Maritime History
Phillip Island shipwrecks could well be more frequent than history shows as the southern coast fronts the notorious Bass Strait.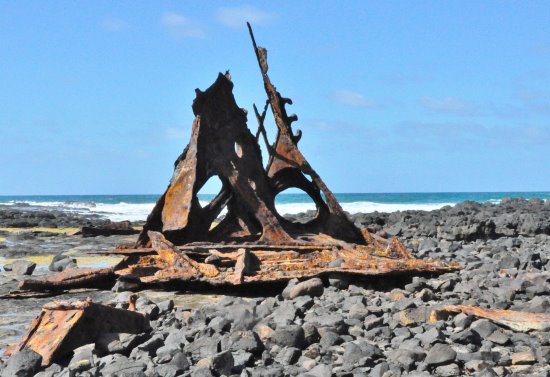 Wreck of SS Speke Near Kitty Miller Bay

There are only two recorded significant Phillip Island shipwrecks, although there are a number of smaller vessels recorded as having met their fate on the shores or waters of the island.
Although modern technology has almost eliminated Phillip Island shipwrecks, the major maritime concern for Phillip Island is pollution.
Oil spillages from passing ships can cause significant damage to beaches and, by extension, the penguin population.
After a spill in 2000 a world wide appeal succeeded in obtaining sufficient knitted jumpers to protect oil-damaged penguins.
The jumpers stopped penguins ingesting oil when preening and also kept them warm until their feathers recovered.
Phillip Island Nature Parks still receive donations of penguin jumpers from around the world!

SS Speke

A three masted steel ship of 2,876 tons and 93 metres, having been built in Wales, 1891, the Speke drifted broadside on to a reef to the east of Kitty Miller Bay on 22 February 1906 while en route from Peru, via Sydney, to Geelong, in ballast, to pick up a cargo of wheat.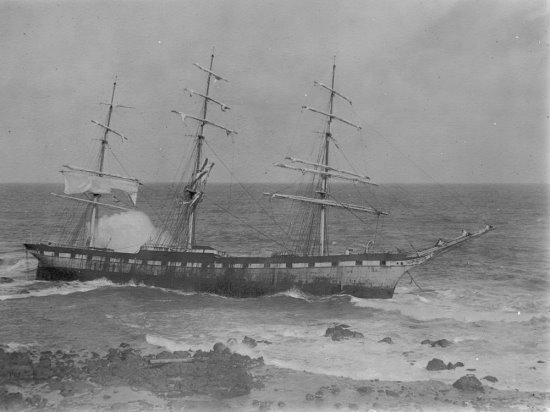 SS Speke - the Most Famous of Phillip Island Shipwrecks

The accident was attributed to faulty navigation by the captain who had confused Cape Schank Lighthouse for the Split Point Lighthouse at Aireys Inlet.
A lifeboat was quickly launched after striking the reef, but it capsized and one of the four occupants drowned. Those remaining finally reached the beach exhausted.
Little of the Speke was salvaged and heavy seas battered the wreck for several days until it broke in two and rapidly disintegrated.
Wreckage from the Speke, including part of the bow, still lies high on the rocks, and more debris lies scattered along the edge of the reef in shallow water.
This Phillip Island shipwreck still attracts many visitors and has an interesting information board at the site.
To see the wreck walk to the east (or left) and follow the rough path above the rock line. Cross over the neck to access the beach where the wreck lies on the rock shelf.
Another easier path is along the cliff which starts part way around Kitty Miller Bay.

The compass box, part of the figurehead and other items from the ship are now in the Phillip Island Historical Museum (Thompson Ave, Cowes) while the ship's bell is at the Uniting Church (Chapel St, Cowes).
Built in Wales in 1891 and measuring 94.5 metres – at the time she was the second largest ship-rigged vessel ever built - the Speke remains the most famous of Phillip Island shipwrecks.
The Phillip Island Speke is not to be confused with the Speke which transported a total of 411 convicts to New South Wales over three voyages between 1808 and 1826.
Leven Lass
This wooden brig was carrying timber from Tasmania to Melbourne in 1854 when she ran into Westernport Bay after springing a leak and was reported breaking up on a sandbar.
Kermandie
In 1883, the 20 metre 37 tonne timber ketch, the Kermandie, was built at Huon River, Tasmania.
She disappeared between Westernport and Melbourne during severe storms in December 1892, carrying 50 tonnes of granite from the quarry at Cape Woolamai to Melbourne.
With many granite blocks left waiting on the beach, this is the most poignant of Phillip Island shipwrecks.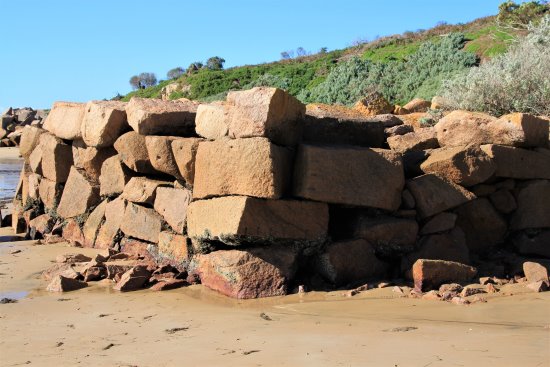 Cape Woolamai Pink Granite Blocks Waiting For The Kermandie

Tyro
A 50 tonne 22 metre schooner, built at Westernport, Victoria in 1877, she was beached at Tyro Reef on the northern coast of the island facing the mainland, in January 1906 in preference to sinking.
After leaving Bass River with a load of timber, she was becalmed in the western channel in a large swell and started to take water.
The Tyro and her cargo of timber were sold by auction. The timber was salvaged but the Tyro was a total loss.

Centurion
A 91 tonne, 23.5 metre ketch built at Erina, New South Wales in 1907, the Centurion caught fire off Phillip Island while returning to Melbourne with a cargo of lime and was beached and burnt to the waterline in July 1913.
At low tide, her remains were visible until 1979 on the mud flats opposite San Remo.
Dandenong
This 30 metre barge was lost off McHaffie's Reef in February 1913 while on the way from Melbourne to Flinders Naval Depot in ballast.
She was a grab punt which was brought into Westernport Bay in 1913 to undertake dredging for the establishment of the Navy Base at Cerberus.

Miss Evelyn
Having started life as a 12 tonne 14 metre ketch, built at Port Pirie, South Australia in 1903 as the Evelyn, she was remeasured and renamed in 1948 as an auxiliary ketch of 27 tonne and 15 metres.
She sailed from Port Adelaide for a cruise to the Pacific Islands in August 1949 and encountered gales two days later which left her dismasted, her engine broken down, and the deck badly damaged.
The derelict vessel drifted eastwards for a further nine days before being abandoned some 30 miles from Curtis Island in Bass Strait where the crew of two landed safely. They were rescued about a month later.
Although not one of the Phillip Island shipwrecks, wreckage from the sunken ketch drifted ashore at Phillip Island near Forrest Caves.
Vixen
In July 1917 the Vixen was under tow to Melbourne for an overhaul when she started to leak and ultimately sank.
During her heyday between 1887 and 1915 she was a passenger and cargo ferry operating from San Remo around Westernport.

A 17.6m timber screw steam ferry, she rests in about 16 metres, north-east of the Cowes jetty.
Ventnor
The timber steam driven boat of 21.9 metres on ran briefly on Western Port in 1923 as she was uneconomic. She was dismantled and her hull ran up on the beach east of the Rhyll jetty around 1930 and is now covered by sand.
Having been built in 1874, she had over her first forty eight years been used by Carlton & United Brewery in Melbourne to transport beer barrels to Williamstown.

Not to be confused with the SS Ventnor which was lost off New Zealand in 1902 carrying the bones of 500 Chinese gold miners to China.
Birchgrove & Palace
Both vessels were condemned to burning at sea at the end of their lives. The tug crews set the two vessels on fire and cast them adrift. However, the fires went out and they drifted ashore, beaching near The Nobbies, Phillip Island, where they broke up in the surf in 1932.
Locals salvaged a lot of the hull timbers and bronze bolts.

The Birchgrove had been built in 1856 in England as a three masted timber barque of 41.4 metres but was converted to a lighter in the 1880's.
The Palace had been built as the three masted 41 metre barque, Confederate Star, in Canada in 1866 and renamed in 1869.
TSS Coramba
The loss of the TSS Coramba in November 1934 is one of Victoria's worst shipwreck tragedies. The loss of 17 lives makes it the worst of the Phillip Island shipwrecks.
The ship was a steel steamer of 531 tons, 48 metres, built in 1911 and used for trade between Melbourne and the Western District.
On the fatal trip, she was returning from Portland via Port Fairy and Warrnambool with a cargo of wool, shell grit and condensed milk.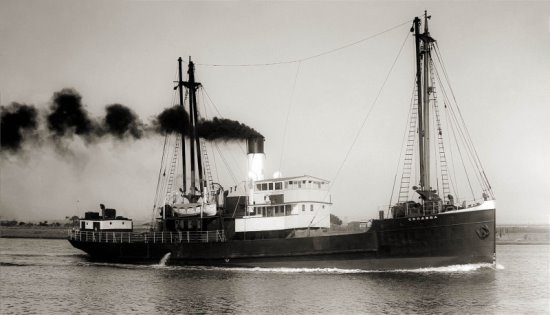 The Remains of TSS Coramba Lie Off Phillip Island

The ship could not enter Port Phillip Bay during a fierce storm of hurricane proportions (which also caused widespread flooding, damage and deaths around large parts of Melbourne) and was finally overcome by the storm.
Four bodies and wreckage, including the ship's bell still attached to part of the deck house, were washed up on the southern coast of Phillip Island.
For many years her location was uncertain but this Phillip Island shipwreck was found in May 2011 by a Southern Ocean Exploration team 15km south east of the island. The Coramba had replaced SS Casino which had been lost in 1932 off Apollo Bay.
The loss of the two ships was near the end of steamship trade services to the Western District as rail and road became more viable.
There is a display commemorating the Coramba in the Port Fairy Museum.
Genista
Genista was a 24 metre timber steamer built in Sydney in 1886 and commenced duty as the Stony Point/Phillip Island/San Remo ferry in 1889.
In 1935 she sank at her Rhyll moorings while being dismantled.
She continued to be visible at low tide until 1966 when the wreck was flattened by explosives.
Minah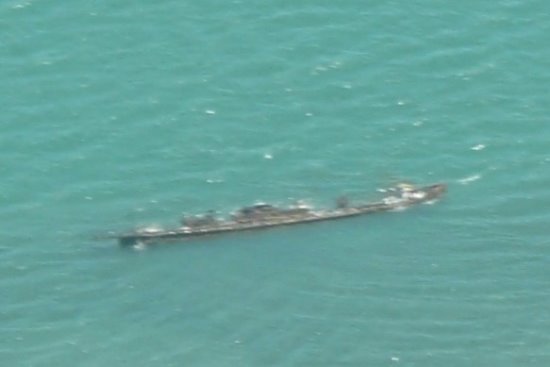 The Wreck of The Minah

An iron hulled steam powered tug of 90 ft, she broke loose from her anchorage in a gale in 1950.
The vessel grounded on a mud bank near Rhyll and was ultimately abandoned.
The wreck is still visible today on the mud bank.

As a tug, Minah had assisted in saving at least one other vessel – refloating a 70t ketch in 1936.
George Kermode
In 1970 a 60 metre 1,380 tonne long bucket dredge, George Kermode, was scuttled by Department of Fisheries and Wildlife to form an artificial reef for fish.
It is located at 38,31'12'S 145,14'38"E roughly 1.4k SSE from the centre of Cunningham Bay (Siberia Corner of Phillip Island Circuit) in about 20 metres of water.
Although technically not part of Phillip Island shipwrecks, it provides both excellent fishing and diving opportunities.
Unidentified wreck
In 1913, while trying to locate the sunken barge, Dandenong, near McHaffie's Reef, a diver reported an old wreck lying in about 34 metres.
It appeared to be a ship of heavy timbers with a beam of about 12 metres.
It is possibly a collier which was on its way to Melbourne from Newcastle, when it struck a reef in the 1850's.

---
Navigation Lights
Most Phillip Island shipwrecks occurred before the installation of navigation beacons.
Cape Woolamai

– an acetylene gas lantern was initially established in 1928 on the top of the Cape. It is now an automatic solar powered light with 22 km range from an altitude of 112 metres
Nobbies - acetylene gas 1919-1947. Solar powered in 1998.

Point Grant – built 1947 and demolished in 1998 to make space for the

Nobbies Visitor Centre

Grossard Point - acetylene gas built in 1925
A reference for readers who would like more information on this topic is Don Love's book "Shipwrecks on the South Gippsland Coast".

Thanks to John Jansson of the Phillip Island & District Historical Society for his contribution to this page.


Return to Top
Return to Phillip Island Family Beaches from Phillip Island Shipwrecks
Return to Home Page
Keep in touch - sign up for my free newsletter!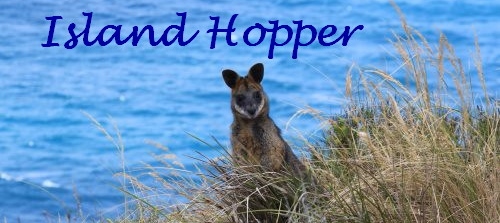 ---
---
     About Me     Contact Me   Site Map    Privacy Policy

---
Copyright 2011-2023 phillip-island-balcony.com
All Rights Reserved