Wights American BBQ

- CLOSED -

Wights American BBQ is a bit of a meat lovers heaven. Meats from the local region are cooked for up to 6 hours after being seasoned with Wight's own in-house "rubs" (combination of spices etc).
Quite the opposite to the Australian BBQ concept of quick grilling over high heat!
We have tried the BBQ plates. Diners have a choice of meats – pulled pork, chicken, brisket, or pork ribs. From experience, I can say the pulled pork and pork ribs are extremely tender and delicious after the long cooking time. Ditto with the chicken. The BBQ plates are served on a sheet of brown paper which can also act as a serviette!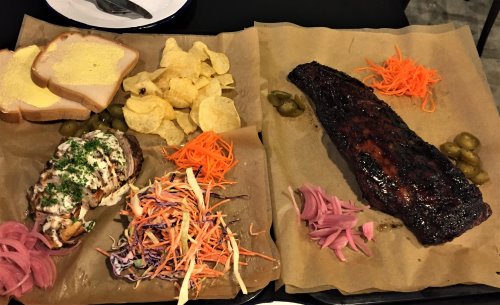 Barbeque Plate

The plate includes slaw, pickles, sauce, crisps and bread.
If you like you can have an extra side of meat. Or add sides such as mac & cheese or BBQ beans.
Sandwiches come with a side of slaw.
Kids meals are available.
Wights American BBQ serves breakfast, lunch, dinner, drinks, and coffee. Take away is also available.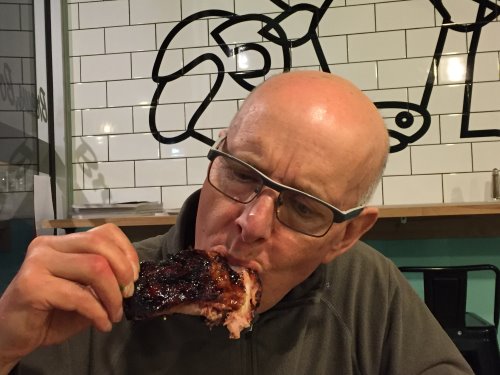 Enjoying Ribs at Wights American BBQ
For coeliacs, all meats and rubs, sauces, slaw, and pickles are gluten free. Gluten free bread is available at a small extra charge. Obviously, the mac & cheese is not gluten free.
Wight's American BBQ is open Wednesday to Sunday between 4pm and 8pm but this can change depending on holidays and events on Phillip Island. Sometimes the restaurant may sell out and because of the nature of the meats (long cooked) will close.
Return to Top
Return to Phillip Island Restaurants
Return to Home Page
Keep in touch - sign up for my free newsletter!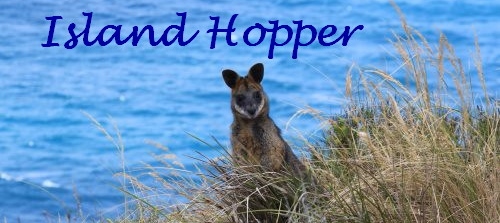 ---
---
     About Me     Contact Me   Site Map    Privacy Policy

---
Copyright 2011-2023 phillip-island-balcony.com
All Rights Reserved