Savour South Gippsland

South Gippsland, at any time of year, is perfect for a day trip from Phillip Island.
Discover beautiful scenery, markets, pretty villages, wine and gourmet food.

In winter and spring enjoy rolling green hills with picture postcard views.
In summer, enjoy the wide open vista of the Australian countryside under the heat of the summer sun.

From Phillip Island drive along the Bass Highway to Wonthaggi, then follow the signs to Kongwak.
An alternative way is to turn left at Dalyston, following the signs to Kongwak via Archie's Creek.
The drive takes about 45 minutes.

Kongwak is a very small town so there is no way you can miss the market!
Kongwak Market is open every Sunday no matter the weather. It is pretty much all under cover and has a distinct retro vibe.
Spend a bit of time browsing the stalls which sell art and craft, collectables, fresh local produce, second-hand books, pre-loved clothes,  hot food and more.
Fuel up with a coffee for the drive to Loch via Korumburra along road C437.

Just before Moyarra, there is a lookout. Park the car and take the short walk up to the tower.
From here you can see across to Cape Liptrap and the mountains of Wilsons Promontory.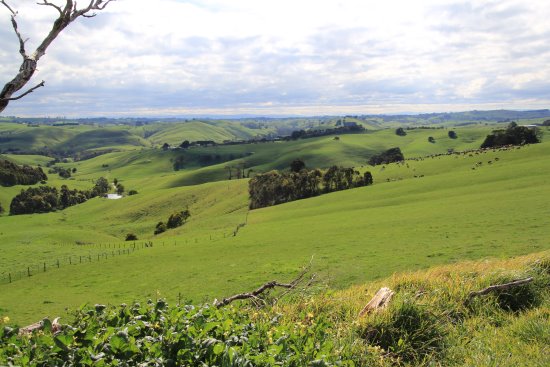 Beautiful Rolling Hills of South Gippsland

At Moyarra, look for the sign for Prom Country Cheese.
Here you can sample the distinctive flavours of award winning cheeses made from milk from the farm's own ewes.
Visitors can see the whole cheese making process from sheep to finished product.
The cellar door is periodically open for tastings, platters and sales.

Continue to Korumburra, about 20 minutes further on, then on to Loch along the South Gippsland Highway.

Loch, just off the South Gippsland Highway, is a quaint village and a great spot for day trippers.
Probably because it is off the highway, the town has retained an old-world feel, with lovely old cottages and cottage gardens.

Victoria Road is lined with cafes plus shops selling crafts, antiques, curios and home wares.
Loch Brewery & Distillery, located in a beautiful 100 year old brick building which had originally been a bank, stands over the main street.

This building houses some stills and the cellar door. Next door is the brewery.
Open Friday to Sunday from 11.00am to 4.00pm.

We stop in at Rustic Cacao Factory and Café. Here the owners have fused Spanish and Australian tastes with a menu of grills, served with your choice of chilli sauce from a range produced on the premises. With names like "nuclear" and "devastation" you can get the idea of the degree of hotness!
Do you know there is a scale that measures the heat of chillies? It's called the Scoville Scale.
The chillies are actually grown by the owners so it's a seriously authentic local product!
Being winter, we just settle on hot chocolate which, with a hint of cinnamon, is simply delicious.
Loch Village Food and Wine Festival, on the Railway Station Reserve, is held the Queen's Birthday long weekend in June.
Suspension Bridge at Loch

After a wander around the village, including a visit to the suspension bridge over picturesque Allsop Creek, we drive two kilometres out of town up to Cape Horn Lookout.
Although only about 200 metres above sea level, the views are wonderful, from the snow on Mount Baw Baw to the Eureka Tower in Melbourne and around to Westernport Bay.
Bring your binoculars to fully appreciate the view.
Compass at Cape Horn, Near Loch
On the South Gippsland Highway just west of Loch is the
www.gippslandwinecompany.com
We have an informative afternoon learning about different grape varieties from the vigneron. 
The tasting includes 8 wines. Visitors can also buy a glass or bottle to simply enjoy in the friendly ambience.
The cellar door looks over the Loch valley and is the perfect spot to spend a few hours, especially in summer under the shady verandah. It is open Friday to Sunday 1.00am to 5.00pm, with bookings essential for wine tastings.

Gippsland Wine Company at Loch

From Loch continue along South Gippsland Highway for about 8 kilometres, turning left into St Helier Road.
Watch out for bird life along this drive - we see a beautiful crimson rosella.

Drop in at Bass Valley Wines and enjoy a tasting of distinctive local wines. Sit back, relax and enjoy a glass and the views, accompanied by a cheese platter.

Choose a route back via The Gurdies or shorten your trip by driving to Grantville and then Phillip Island.
If you drive via The Gurdies, stop in at Bassine Specialty Cheeses on the Bass Highway at Glen Forbes, the Melbourne side of Bass.

Here you will find handmade artisan cheeses made from the milk of Holstein cows.
Cheese varieties include feta, brie, camembert, washed rind, haloumi, ricotta plus more.

Pasteurised milk, branded Bass River Dairies, is also available.
Bassine Cheese is open Thursday to Sunday 10am to 4.00pm for the cafe, sales and cheese tastings.

Continue along the Bass Highway to Phillip Island.

Return to Top
Return to Home Page
Return to Day Trips From Phillip Island

Keep in touch - sign up for my free newsletter!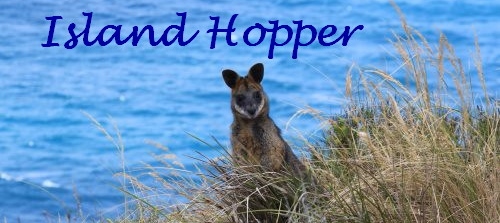 ---
---
     About Me     Contact Me   Site Map    Privacy Policy

---
Copyright 2011-2023 phillip-island-balcony.com
All Rights Reserved