Phillip Island Flyboarding

CLOSED

Phillip Island flyboarding has come to the island.
This new adventure sport is offered by Matt and Tino, who have set up their operation next to the Anderson Street boat ramp.
Invented in 2012 by Frenchman Frank Zapata, flyboarding has become the latest craze in water sports.
Participants can fly like a bird, swim like a dolphin or feel like a sci-fi superhero.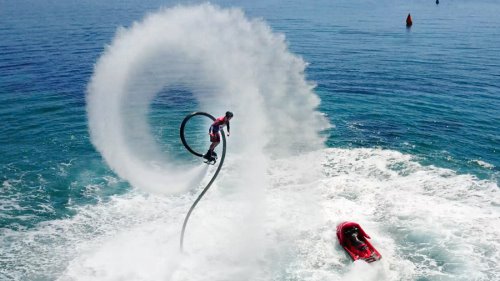 (photo courtesy of Phillip Island Flyboard)

Flyboarding could be described as a combination of water skiing, wake boarding and hover boarding, except riders are up in the air!
 A flyboarder stands on a board with boot-like fittings. The board is connected by a long hose to a jet ski. Water is forced under pressure to the pair of boots via jet nozzles underneath which provide thrust. This propels the flyboarder into the air.
Beginner flyboarders usually fly up to 1-2 metres, with more proficient flyers rising to 4 metres or higher.
Once out behind the jet ski and feeling confident and comfortable you can do tricks such as somersaults or dolphin dives – diving down headfirst to the water and rising again.
Participants at Phillip Island flyboarding can select the Flyboard Experience or Jetpack Experience.
The jetpack has the flyer in a more seated position with hand controls and is less demanding.
A 45 minute session includes 30 minutes of training plus a safety briefing, followed by a 15 minute flight.
Longer sessions are available.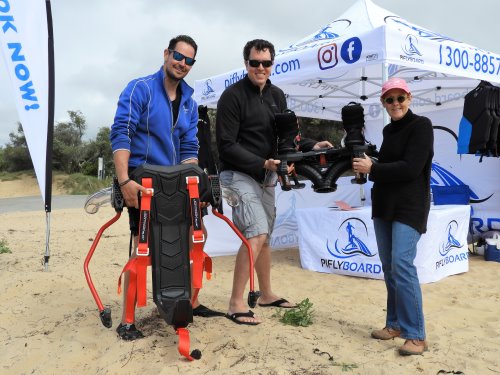 With Matt and Tino of Phillip Island Flyboarding

Wet suit (sizes from XS to XXL), helmet and life jacket are supplied and the activity is open to flyers aged between 14 and 65.
A video of your experience is available at an extra cost.
Phillip Island Flyboard uses the most up-to-date equipment available.
Apart from the included safely briefing there are other safety features of your experience.
Flyboards are made of foam-like material which remains bouyant in water for safety.
The jet ski has a soft safety skin, just in case of accidents. This can be also used as a rescue sled to return a boarder to shore.
Bookings can be made online or come down to Anderson Street boat ramp.
Phillip Island Flyboard will operate between October and April/May.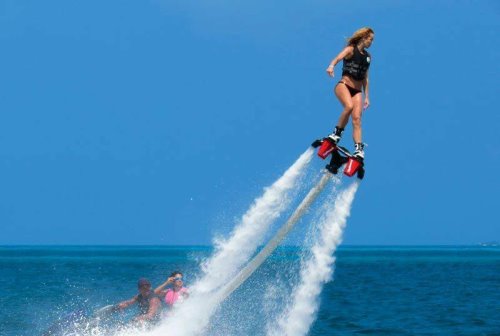 (photo courtesy of Phillip Island Flyboard)

Return to Top
Return to Phillip Island Water Activities

Keep in touch - sign up for my free newsletter!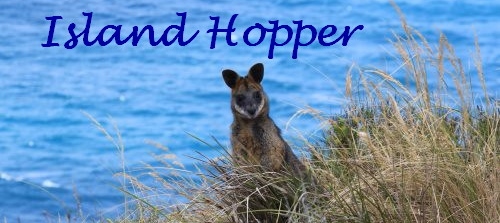 ---
---
     About Me     Contact Me   Site Map    Privacy Policy

---
Copyright 2011-2023 phillip-island-balcony.com
All Rights Reserved