Immerse Yourself in The Islantis Surf Experience

The 1960's Kombi van at the front of Islantis Surf Experience at Newhaven gives visitors a sample of the surfing culture found inside.
This attraction is definitely more an experience than a museum, and is a credit to the vision of the owner.
An extension to the Rip Curl store houses the four different rooms, each showing a particular aspect of surfing's history and culture, with the focus on Australia, and especially Phillip Island.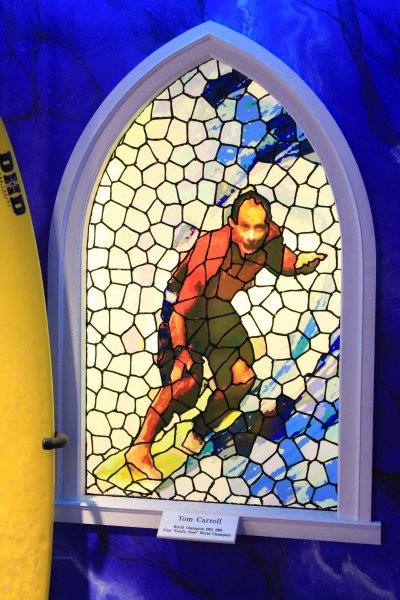 Tom Carroll Window in the Shrine to Surfing Room

Surfing originated in Polynesia, particularly Hawaii and Samoa, well before Europeans came into the area.
For the Polynesians it was not a sport as we know it today, but was an integral part of their culture.
In Hawaii the king was the best surfer with the best board, and the elite surfed with quality boards at the best beaches where commoners were not allowed to surf.
Boards were radically different to those used today.
They were heavier, and anything between 2.5 metres and 5.5 metres in length.
Surfing was introduced to America in 1907.
At this time George Freeth, born in Hawaii with a part-Hawaiian mother, came to California to give surfing and life-saving demonstrations.
Hawaiian surfer Duke Kananamoku introduced surfing to Australia in 1915.
He gave a surfing demonstration at Freshwater in Sydney - the rest is history!
The entry to the Islantis Surf Experience is in the shape of a church door. This gives visitors an idea of what the first room holds.
And, yes, it is a Shrine to Surfing!
Shaped like a chapel, it has several stained-glass windows depicting surfing greats.
At the head is the Duke, while along the sides are images depicting Australian icons such as Layne Beachley, Midget Farrelly and Tom Carroll. 
Next to each window is a replica of each champion's surfboard.
Walk through to the Waves 360 Cinema – a room with a 360 degree screen wrapping around visitors. The film is of a local surfer enjoying a day's surfing at the famous Woolamai Beach.
Visitors have the virtual experience of lying on a surfboard, paddling out and surfing the breaks.
It is quite exhilarating!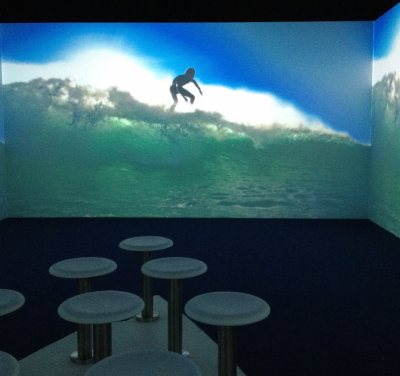 Catching a Wave at Waves 360 Cinema

When you find your feet again walk through to the next exhibit – the Sandman Secrets room.
Anyone over a certain age will remember the Sandman van, a favourite of surfers during the 1960's and 1970's.
This room holds memorabilia of the history of surfing on Phillip Island.
Included are photographs, "rashies" signed by famous surfers, including Kelly Slater, and other historical paraphernalia.
There is even something for film buffs - a poster for the film "On the Beach", which was filmed at Phillip Island in 1959.
Hanging from the ceiling are several surfboards with customized art work.
When I visited, the famous Bells Beach surfing trophy was on display. 
This honours the fact that this event was for one year held at Woolamai Beach because of no surf at Bells. A wet suit signed by nearly all Bells Beach winners, male and female, is also on display.
Sandman Secrets Room at Islantis Surf Experience

Next to the Sandman Secrets room is a display of surfboards showing the progression of board design.
The difference between the first boards - a plank of wood steamed to a curve at one end - and today's high tech equipment is amazing.
Of particular interest is the influence of famous Australian surfers such as Mark Richards, a legend of the sport who ruled the waves worldwide during the 1970's and 1980's.
He began shaping his own boards and designed the first double-fin surfboard - easier to manoeuvre in small, sloppy conditions.
Apart from surfboards through the centuries, there are early examples of body boards and surf skis, including one of a fascinating hollow construction of plywood, displayed in the nearby retail area.

| | |
| --- | --- |
| Early Boards | Designs From Mid to Late 1900's |
Islantis Surf Experience is open 7 days. Entry fees (guide only) are Adult $4.50, Child $2.50 and Family $12.00.
I highly recommend this experience whether you are a surfer or not. It is a wonderful way to immerse yourself in surfing culture and to learn the history of this sport on Phillip Island.

Return to Top
Return to Phillip Island Museums from Islantis Surf Experience
Return to Home Page

Keep in touch - sign up for my free newsletter!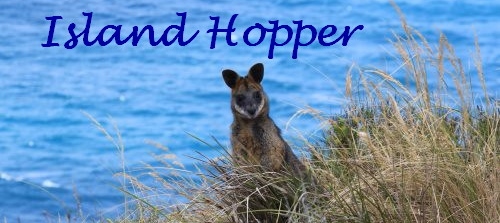 ---
---
     About Me     Contact Me   Site Map    Privacy Policy

---
Copyright 2011-2023 phillip-island-balcony.com
All Rights Reserved