Be Inspired by the Australian Garden Cranbourne

On the way to Phillip Island from Melbourne, the Australian Garden Cranbourne - part of the Royal Botanic Gardens in Melbourne - is a must see.

Once through Cranbourne on the South Gippsland Highway, look for the sign at Ballarto Road and turn right.
The gardens are made up of about 350 hectares of original bushland plus the landscaped Australian Garden which covers 15 hectares.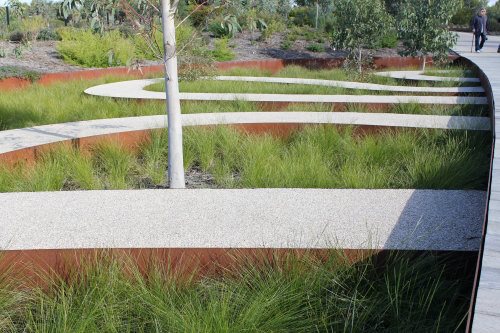 Lovely curving path at the Australian Garden Cranbourne
The bushland offers several walking tracks from the 400 metre Woodlands Walk to the 5.4km loop of Wylies Creek.
Several of the walks are suitable for wheelchairs and prams.
Trig Point Lookout has views over the bushland and Australian Garden Cranbourne to the two bays - Port Phillip and Westernport. Cycling is allowed on the Wylies Creek loop.
There are several picnic areas in the bushland with barbeques provided. Remember barbeques are not allowed during Total Fire Ban days.
The highlight for garden lovers is the landscaped Australian Garden.
The centre is the red sand garden – evocative of the red heart of Australia.
With the sun hitting the red sand ridges, it is quite stunning.
Around the red sand garden are various gardens showcasing different types of plantings such as water saving, Gondwana, and stringybark among many others. 
Plants are labelled with names plus other information.
Lakes and waterways add extra interest.  Gibson Hill and Howson Hill are good photo points.
There is plenty of seating where you can sit and contemplate the different garden types, or just watch the birdlife.
There are lots of New Holland honeyeaters enjoying the blossoms of the native plants.
If you are lucky you might spot a Southern Brown Bandicoot foraging among the leaves.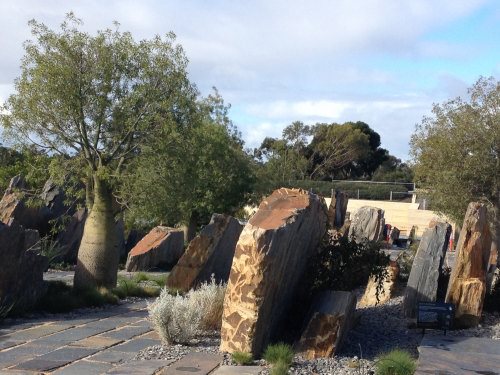 Bottle trees and rock garden
The facilities offered at the Australian Garden Cranbourne are first class.
For a small fee there is a garden explorer to take you around the garden where you can hop on/off as you please. It is also wheelchair friendly.
There are also gardening experts who can answer questions and help with any queries regarding the gardens.

The visitor centre has a café, shop, baby change and toilet facilities. There is also a kiosk at the opposite end of the garden in case you need a rest midway!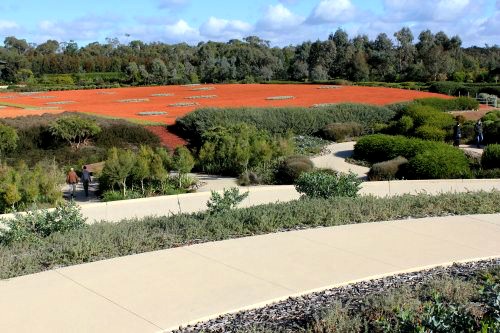 View towards the Red Sand Garden

Children can paddle in the Rockpool Waterway or play in the Kids' Backyard. They will also enjoy exploring the meandering paths and might find a dinosaur bone in the Desert Discovery Camp.
Spring and summer are probably the best times to visit to enjoy the flowers but the gardens have something to offer during all seasons.
The garden is open all year round except Christmas Day.

For more news and updates go to
www.rbg.vic.gov.au
Return to Top
Return to On the Way to Phillip Island from Australian Garden Cranbourne
Return to Home Page

Keep in touch - sign up for my free newsletter!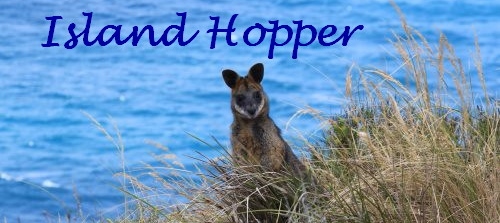 ---
---
     About Me     Contact Me   Site Map    Privacy Policy

---
Copyright 2011-2022 phillip-island-balcony.com
All Rights Reserved