Maru Koala Park - Delightful Animal Encounters
Maru Koala Park is at Grantville on the Bass Highway, about 90 minutes from Melbourne, and 15 minutes from Phillip Island.
If you want close encounters with native animals this is the place to visit!
Maru comprises a fauna park with native Australian animals as well as a pirate-themed mini golf course.
Eastern Grey Kangaroos at Maru Koala Park

The park began in the 1980's as a craft shop. As business increased animals were introduced until it became the popular destination fro viewing wildlife that it is today.

The entire fauna park is wheelchair and pram friendly – perfect for families.
In the fauna park you will meet koalas, kangaroos, Tasmanian devils, wombats, dingoes, reptiles and lots more native Australian animals. 
Information boards give interesting facts about each creature.
Food can be purchased to feed many of the animals, including kangaroos and wallabies.

To cuddle a koala is an amazing experience with these iconic creatures - one of the most recognised of Australia's native animals.
For an extra fee, there are several Animal Encounters and Experiences. These experiences include a guided tour into enclosures to give visitors the chance to learn about, cuddle, pet and photograph animals such as koalas, dingoes and, for the brave, reptiles!

General admission visitors can see koalas up close from the elevated walkways.

To get the most out of your visit, check the schedule for the keeper's talks.

Don't miss the Wildlife Show at 2.00pm in the Auditorium to see and learn about Maru's animals.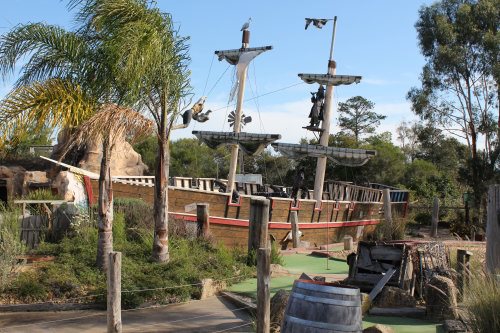 Pirate Pete's Mini Golf at Maru Koala Park

Part of Maru Koala Park is Pirate Pete's Mini Golf is an 18 hole adventure around the Princess Caribbean Pirate Ship and pirate territory – be careful, you might come across a pirate or two!
Look out for the Pirate Festival with lots of pirate-themed games and activities.
Ahoy, me hearties!!

Relax in the licensed Homestead Bistro where you can buy breakfast, light lunch, snacks or full meal. Choose from pies, fish and chips, burgers, chicken parmigiana, pizza plus more. There are menus for Children, Joeys and Seniors. Or enjoy coffee and cake/dessert.

Admission prices: Maru Park - Adult $30, Children $16, Family $85. Pirate Pete's Mini Golf - Adult $16, Children $10, Family $44.

Maru Koala Park is open 9.30am to 4.30pm weekdays and 9.30am to 5.00pm weekends and school/public holidays. Closed Christmas Day.

For more info go to
www.marukoalapark.com.au

Return to Top
Return to On The Way to Phillip Island from Maru Koala Park
Return to Home Page


Keep in touch - sign up for my free newsletter!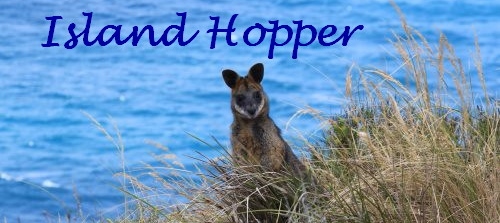 ---
---
     About Me     Contact Me   Site Map    Privacy Policy

---
Copyright 2011-2023 phillip-island-balcony.com
All Rights Reserved