January 2021: Issue #050
---
Hello,

Welcome to Island Hopper! I hope you will discover lots about Phillip Island and the surrounding area.
---
Snakes on Phillip Island
Australia has a fearsome reputation overseas because of the number of dangerous creatures found here.

For example, 21 of the 25 most venomous snake species in the world live in Australia.

Add to those the saltwater crocodile, sharks, funnel-web spider, box-jellyfish – the list of dangerous creatures goes on and on.

But fortunately, the only species of snake found on Phillip Island is the Lowland Copperhead. A shy and not particularly venomous creature, it can be seen on walking tracks around the island during the summer months. However, it is probably more scared of us than we are of it!

Learn more about the Lowland Copperhead here and what to do if you see one on Phillip Island:

Lowland Copperhead
---
Food and Wine
Beach HQ Restaurant & Bar opened just before the start of last summer. As things turned out in 2020, that could not have been a worse time!
However, with Victoria getting back to a semblance of normalcy, and people visiting Phillip Island again, things have certainly picked up.
We decided to drop in for a meal one Friday evening – luckily, as every Saturday had been booked out ever since Melburnians could travel intrastate!
Due to Covid restrictions, tables are well spaced, which might take away a bit of ambience, but we were just happy to be dining out!
Our table was on the terrace which has great views over Westernport Bay to the Mornington Peninsula.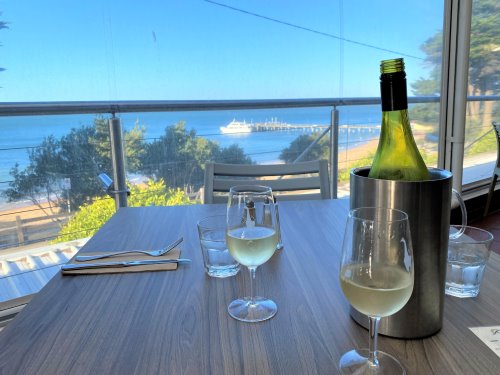 For starters, I couldn't go past the salt and pepper calamari with salad and aioli. So tender and flavoursome.

My husband chose the mussels which looked, and he tells me tasted, amazing!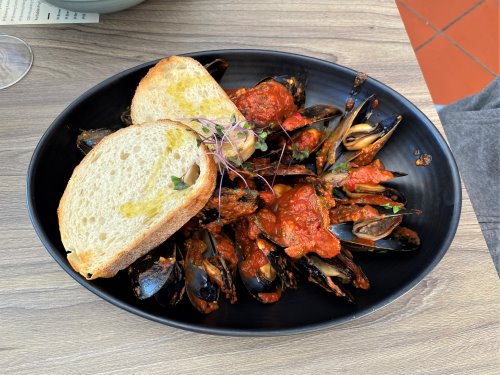 For mains, we both chose steaks – mine with garlic butter, his with pepper sauce. There are several sauces to choose from. The Victorian porterhouse steak was very tender and at 300g was too much for me! The steak came accompanied by roast vegetables.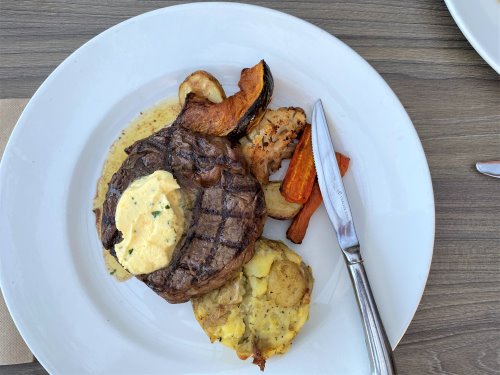 All this was washed down with a fume blanc from local Purple Hen Winery.

All in all, a very pleasant experience. Service is friendly and obliging and the view can't be beaten!

Just remember to book well in advance – I think Beach HQ will be very popular this summer!
---
Phillip Island Markets
Often the busiest places on Phillip Island, particularly over the summer, are the various markets.

Most have now re-opened, some with a few new "rules" such as mask wearing etc. Always check before entering.

There is also a new market on the scene. The Newhaven Primary School now has a monthly market designed to raise funds for the school – it's nice to support a local worthy cause. It is open the first Saturday of every month and will be open every Saturday during January. From 2021, it will be held in the school grounds in School Avenue, Newhaven.

The popular Churchill Island Farmers Market, formerly held on the fourth Saturday of the month, has changed to the first Saturday of the month. It is usually also open every Saturday in January, but as yet, I haven't been able to confirm those dates for 2021.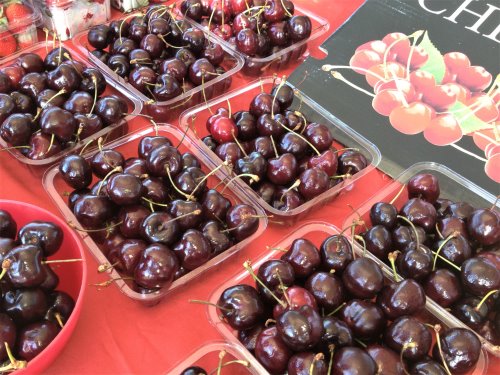 ---
What's On In January
(Note: the below information may change)

January 2 & 23 – Island Foreshore Market

January 3 – Churchill Island Farmers Market

January 3/10/17/24/31 – Newhaven Market

January 10 – Island Craft Market

January 26 – Market on Chapel

Phillip Island Events
---
Comments? Ideas? Feedback? I'd love to hear from you. Just reply to this e-zine and tell me what you think!

See you next month!