December 2022: Issue #062
---
Hello,

Welcome to Island Hopper! I hope you will discover lots about Phillip Island and the surrounding area.

I have always found the deserted Skytrail at Amaze 'N Things as a reminder of the tough times we have all been through. It is great news that it has re-opened! I feel this is a sign that Phillip Island is getting back to business as usual.

Another welcome return to the island is the fireworks display on New Year's Eve, albeit at 9.30pm and not midnight.

Let's hope the coming summer will be a happy time for everyone!
---
Phillip Island Success Story
December 4 was World Wildlife Conservation Day. And we have our own conservation success story right here on Phillip Island. It is now 18 years since the first bandicoots were released on Churchill Island, and five years at Summerlands.

Read this wonderful article celebrating this milestone.

Thanks to Lisa Gilbert from Phillip Island Nature Parks for permission to reprint and the photo.

EASTERN BARRED BANDICOOT CELEBRATES WILD ANNIVERSARY

The endangered Eastern Barred Bandicoot is thriving on Phillip Island, five years after they were introduced to the island safe haven and saved from extinction in the wild.

Since their release on Summerland Peninsula in 2017, the species has spread across the island with sightings as far as Wimbledon Heights, Pyramid Rock and Ventnor.

Last year, in a first for an Australian species, the mainland Eastern Barred Bandicoot was reclassified from 'extinct in the wild' to 'endangered'.

This was made possible in part after researchers from Phillip Island Nature Parks and the Eastern Barred Bandicoot Recovery Team relocated 67 bandicoots to Summerland Peninsula on the western tip of Phillip Island in 2017.

Recovery actions for the species that contributed to the 2021 'down-listing' of the species have also occurred elsewhere across the state delivered under the guidance of the Eastern Barred Bandicoot Recovery Team.

Researchers estimate bandicoot numbers to now be in the hundreds on the island but can't say for certain as it's not possible to track every animal.

The Eastern Barred Bandicoot was first introduced to Churchill Island, which sits off Phillip Island, in 2015. Prior to their release on Churchill Island, the Eastern Barred Bandicoot had been largely wiped out on the mainland by foxes and a loss of habitat – only surviving within three reserves in Victoria surrounded by fox-proof fences.

Phillip Island Nature Parks Deputy Research Director Dr Duncan Sutherland said the translocation of the bandicoots to Phillip Island, which was declared fox-free in 2017, gave the marsupials the best chance of survival.

"We'd made this leap from having bandicoots in just a few tenuous reserves that were fenced from predators and here they are on this huge landscape of Phillip Island, which has had foxes eradicated from it and great opportunity for the species to be recovered," he said.

"The Eastern Barred Bandicoots have now been on Phillip Island for five years and from there they've bred and grown in numbers. They haven't actually increased in density much, but they've been spreading up to about 10km from the original release site, which indicates that they're doing really well.

"As far as we know, it's the only species in the world that has gone from 'extinct in the wild' to 'endangered' and no longer requiring a captive breeding program, so it's quite a remarkable achievement."

Dr Sutherland said researchers had also been buoyed by community involvement, with locals keen to track progress and whereabouts of the bandicoots.

"It's been wonderful to get reports from the locals who literally see them in their backyards," he said.

"The community is an integral part of the research and monitoring that we do and without them it just wouldn't be possible – we just wouldn't have been able to bring back a species from the brink of extinction."

He said feral, stray and domestic cats still posed a threat to the shy marsupial through predation and disease; and urged pet owners to act responsibly and always keep animals contained on their property to help protect the island's significant wildlife.

The Eastern Barred Bandicoot Recovery Team has members from Conservation Volunteers Australia, Department of Environment, Land, Water and Planning (DELWP), National Trust of Australia, Parks Victoria, Phillip Island Nature Parks, the University of Melbourne, Tiverton Rothwell Partners and Zoos Victoria.
Eastern Barred Bandicoot
---
Food and Wine
If you are on your way to Phillip Island, stop in at Caldermeade Farm, which has undergone a make-over.

It's not just somewhere to stop to see cows being milked but the café has been expanded to include an extensive lunch menu alongside the traditional Devonshire tea or cake and coffee.

The shop attached to the café has several Caldermeade products made from milk from their Jersey cows – yoghurt, ice cream, cheeses, milk and butter.

Browse the shelves for other tempting gourmet foods.

There is also an on-site market focussing on locally grown or made produce such as fruit and vegetables and wine.

If you have children in the car, it is a chance for them to stretch their legs at the playground or interact with cute baby farm animals in the animal nursery.

I recommend taking an insulated bag to stock up on goodies!


Caldermeade Farm Produce
---
Summer Is Snake Season
Summer has only just begun but I have already had a few queries about snakes on Phillip Island.



Learn more about the Lowland Copperhead here and what to do if you see one on Phillip Island: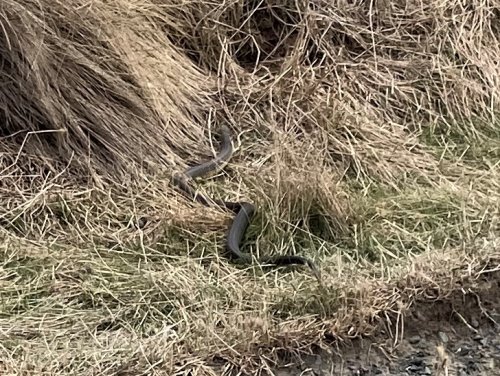 Copperhead Snake at Summerlands
---
Phillip Island Markets
With Christmas getting closer, browse Phillip Island's markets for those personal gifts. There are still a few markets before the festive season! Visit Phillip Island Markets
---
---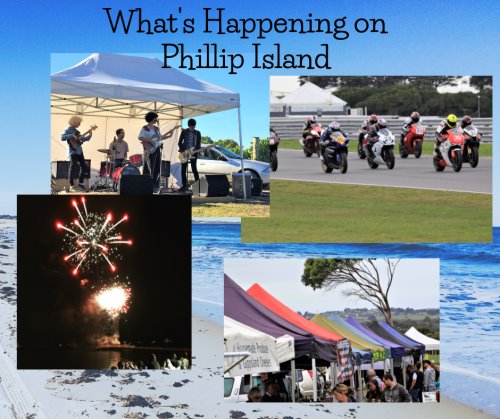 December 10 – Island Craft Market

December 10 – Ocean Sounds Music Festival

December 11,18 & 26 – Cowes Sunday Market

December 13 – Cowes Carols By The Bay

December 16 – San Remo Celebrates Christmas

December 17 – Newhaven Marke

December 18 – Phillip Island Jazz Club

December 24 – Market on Church

December 31 – Cowes New Year's Eve Fireworks

Phillip Island Events


---
Comments? Ideas? Feedback? I'd love to hear from you. Just reply to this e-zine and tell me what you think!

See you next time!