May 2019: Issue #038
---
Hello,

Welcome to Island Hopper! I hope you will discover lots about Phillip Island and the surrounding area.

Shearwater Migration:

It's that of year when the shearwater migration to the Arctic has begun. There may be disoriented birds on the road during this time. Please drive carefully to protect our wildlife.
---
Wine Industry and Climate Change
Recently I saw an article in the newspaper about the effects of climate change on the wine producing industry.

Vineyard owners are increasingly using new methods to maintain a consistent product. Measures include extra watering (if water is available), mulching, relocating plantings and harvesting at a different time.

Some Victorian growers also buying vineyards in Tasmania but even there harvesting is happening earlier in some areas.

Inconsistent and erratic weather bring drought and high temperatures and then bushfires. Bushfire smoke during sensitive growth stages can affect flavour and aroma and may make the wine unpalatable. After the 2009 Victorian bushfires, smoke damage to vines resulted in a loss of over $100 million in the industry.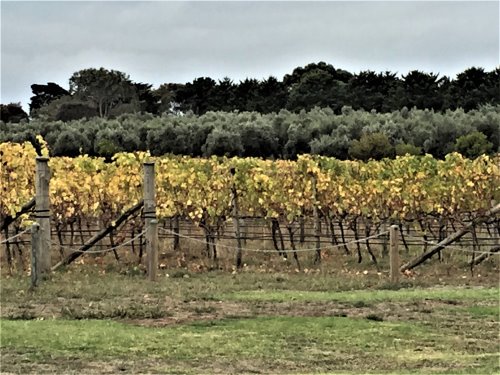 High temperatures can cause the over-ripening of fruit which in turn makes wines with a higher alcoholic content. This can impact wine quality.

A few years back I visited the malbec producing area of Mendoza in Argentina. On a visit to a winery, climate change was discussed as it is becoming a huge issue with production, as picking times constantly need changing.

I thought I would check with Phillip Island winery, Purple Hen Wines to see if they had seen any changes to their business because of climate change.

The answer was a definite yes.

The main difference was a much earlier harvest. Harvesting now begins early February instead of March. As well, instead of picking by a "roster" of grape variety, it is imperative to just pick everything at once to prevent loss of quality through early and rapid ripening.

Purple Hen has just planted several hectares of east/west vines to keep grape bunches more shaded. Plus, there is no pruning the western side on north/south vines to protect grape bunches from the hot sun.

In future years, visitors will be sitting in the shade on the lawns during summer while a full-blown harvest is going on all around.

Wineries on Phillip Island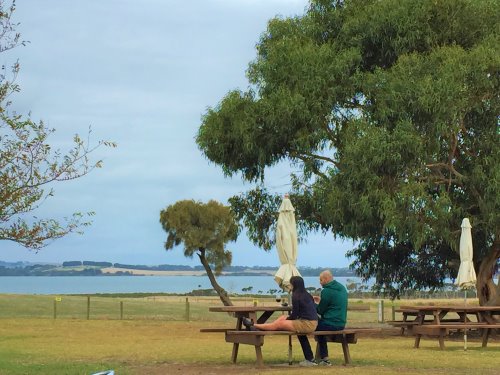 Enjoying Purple Hen Wines
---
Food and Wine
Most locals would remember North Pier Hotel on The Esplanade in Cowes as The Continental.

It has more recently had a make-over but still offers the real pub experience.

There are basically two areas – a bistro-type zone and the bar/TV sports area. At the front along The Esplanade is a shaded deck – a great spot for a drink on a warm summer evening with the bonus of the view over Westernport Bay.

There is no table service with meals to be ordered at the counter and patrons alerted with a buzzer.

Because we visit on a Friday night, we decide to sit in the bar area to watch the football on one of the 12 large screens.




The menu has all the pub favourites – parmas, schnitzel, steak, fish and chips and burgers plus pasta and pizza.

I decide on pasta and order the marinara in a Napoli sauce with gluten free penne. Despite there being quite a crowd, the buzzer sounded after only about 5 minutes.

The dish might not have looked appetising but was very tasty with plenty of seafood.

For coeliacs the only other option is a pizza with a gluten free base.

North Pier is a good option for children, with a kid's menu of all the old favourites plus desserts such as ice cream.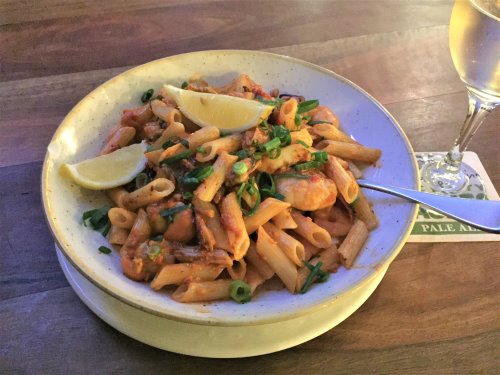 ---
Phillip Island Shipwrecks
Tankers passing through Westernport Bay on the way to the port of Hastings are a fairly common sight.

So too, ships on the horizon going to and fro from the port of Melbourne.

Phillip Island has a lot of stories to tell with it's rich maritime history.

Who hasn't walked around the track at Kitty Miller Bay to see the wreck of SS Speke, which struck a reef in 1906?

Another fascinating link to the island is the story of the Kermandie, which disappeared carrying a cargo of granite from Cape Woolamai to Melbourne.

And the hull of the Minah can still be seen at low tide where she rests off Rhyll.

Discover more about Phillip Island's maritime history here: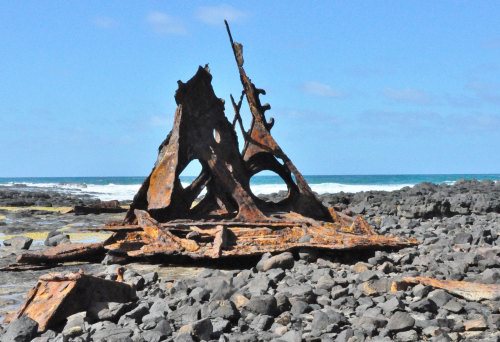 Wreck of SS Speke at Kitty Miller Bay
---
What's On In May
May 4/5 – Victorian State Circuit Racing Championship
May 4 – Island Foreshore Market
May 11 – Island Craft Market
May 11 – Rock Away in May
May 19 – Sunday Jazz
May 25 – Churchill Island Farmers Market
May 25 – Market on Chapel

Phillip Island Events
---
Comments? Ideas? Feedback? I'd love to hear from you. Just reply to this e-zine and tell me what you think!

See you next month!