November/December 2019: Issue #043
---
Hello,

Welcome to Island Hopper! I hope you will discover lots about Phillip Island and the surrounding area.

Between November and January, happenings on Phillip Island and San Remo slow down except for the Christmas celebrations in December.

The dates for these, plus any extra market days, will be added to my website Events page when they become available so check for them there.
---
November Festivals
November once again brings festivals to Phillip Island.
The Phillip Island Jazz Festival on November 15/17 at Ramada Resort brings musicians from around Victoria for a weekend of toe-tapping fun.
Bands and vocalists cover trad jazz, rhythm and blues, and swing from an 18-piece big band. While most of the jazz is from the 20's and 30's, some bands will give pop songs a jazz rendition.
Online bookings for festival accommodation at the Ramada Resort will receive a discount.
Apart from the annual jazz festival, don't forget Sunday Jazz, also at the Ramada Resort, where there is a different artist/band each month, usually (but not always) the third Sunday of the month.


Later in the month, November 23, is the Phillip Island Food & Wine Festival, which showcases food and wine from Phillip Island and the Bass Coast/Gippsland region.

Local producers will be joined by food from local restaurants and cafes and food trucks.

The festival is located at the newly landscaped Jetty Triangle but stalls may also extend along The Esplanade.

Open from 11.00am to 9.00pm, enjoy not only local food and wine but also live music.

Children aren't forgotten, with free entertainment provided and making the event very family friendly.

---
Food and Wine
Spicy Duck Restaurant in San Remo is a popular stop for modern Thai food.

We arrived without a reservation but managed to secure a table. The host kindly kept our table available while we popped in next door to Shakabar for a pre-dinner cocktail.

The restaurant is small and décor is simple but the vibe is pleasant, with friendly, helpful staff.

Options range from curries, noodles and dishes from the wok plus all the usual Asian favourites.

All wok dishes are gluten free so I chose the Pad Gra-pow with chicken – you can select from chicken, beef, pork, seafood or tofu.

When brought to the table the fragrant aromas were mouth-watering. Portions are so generous, I had to give some to my husband!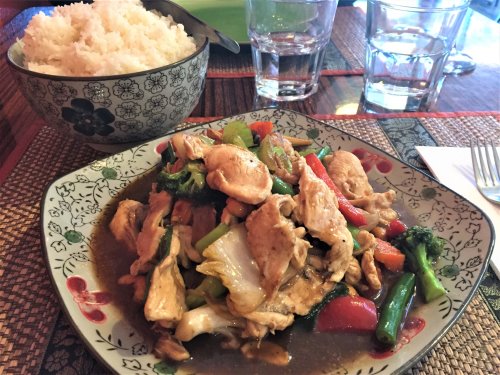 My husband ordered the Gang Mussaman curry, which had a combination of sweet and sour flavours.

On the side we have jasmine rice.

For vegetarians and vegans, options are available.

Spicy Duck is open for dinner and lunch with take away available. It is also licensed.

The restaurant is very popular with locals so make a reservation, especially in summer holidays.

I highly recommend Spicy Duck Restaurant and will definitely return, and often!



---
Water Activities
I don't know about you but the recent bouts of hot weather have got me thinking about water and how refreshing the sea is!

While most people think of Phillip Island as a surfing and swimming destination, there are many water activities available.

Kayaking the Rhyll Inlet, flyboarding, sailing, stand up paddle boarding and even snorkelling with stingrays are some of the great options.

See Phillip Island from a different perspective!

Check out Phillip Island Water Activities here

Cowes Yacht Club
---
What's On In November/December
November 9 – Island Craft Market

November 15/17 – Phillip Island Jazz Festival

November 23/24 – Island Magic (motor racing)

November 23 – Phillip Island Food & Wine Festival

November 23 – Churchill Island Farmers Market

November 23 – Market on Chapel

December 14 – Island Craft Market

December 14 – Island Foreshore Market

December 28 – Churchill Island Farmers Market

December 28 – Market on Chapel

Phillip Island Events
---
Comments? Ideas? Feedback? I'd love to hear from you. Just reply to this e-zine and tell me what you think!

See you next month!