February 2023: Issue #064
---
Hello,

Welcome to Island Hopper! I hope you will discover lots about Phillip Island and the surrounding area.
---
Mosquito Busters
Have you noticed how many dragonflies are zooming around your Phillip Island garden?

With the wet weather we had towards the end of last year, mosquitoes have greatly increased in numbers.

Dragonflies are the natural predators of mosquitoes; hence they are having a feeding frenzy!

Dragonflies eat mosquitoes by creating a sort of basket with their legs to scoop up bugs and can put them in their mouths without stopping. Or they can just open their mouths and catch food as they fly.

Dragonflies can eat hundreds of mosquitoes a day.

In addition to mosquitoes, some adult dragonflies also eat midges, gnats, and other small insects.

Dragonfly numbers will decrease however when the weather dries up.

Even without a glut of mosquitoes, you can attract dragonflies to your garden with a pond planted with water-loving plants such as rushes and milfoil.

For now, appreciate these beautiful creatures darting around your garden and admire their lacy wings and iridescent colours.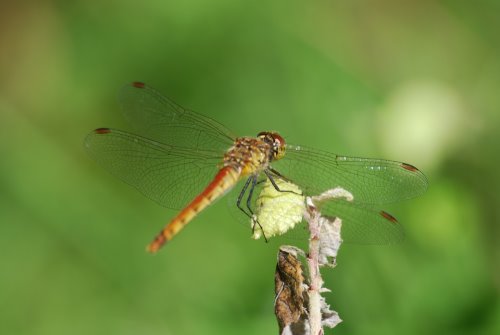 Another mosquito-loving creature that isn't as visible as the dragonfly is the insect bat.

We discovered them in our eaves years ago but have now provided them with purpose-built boxes. They are in residence on and off.

In the early morning around sunrise and in the evening, they silently flit around the garden keeping the mosquito population down.

And that must be a good thing!

Discover more about insect bats:


---
San Remo Channel Challenge & Cowes Classic
February starts with one of the most iconic events on the San Remo/Phillip Island calendar, with the annual San Remo Channel Challenge on February 4.

Hundreds of competitors swim across the channel at slack tide (about 500 metres) and run back over the Phillip Island bridge.

After watching the event, join in the carnival on the San Remo Foreshore.

The Cowes Classic and Little Penguin Dash will be held on February 18. The Classic is part of the Bass Coast Series and comprises a 500 metre swim around Cowes Jetty then a 4 kilometre run.

The Little Penguin Dash for 7 to 14 year olds is an age group beach biathlon.

Get down to The Esplanade in Cowes to support all the competitors!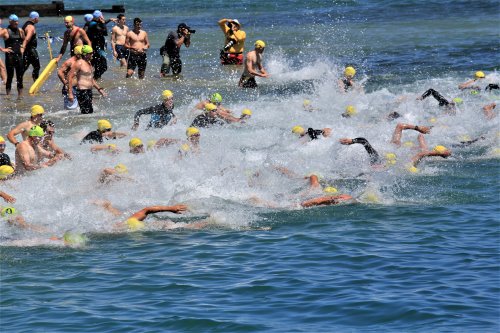 Into the water at the San Remo Channel Challenge
---
Kitty Miller Bay
Kitty Miller Bay is one of Phillip Island's lesser-known beaches.

It is however one of the best!

A beautiful horseshoe-shaped bay, it has a lot to recommend it to visitors.

At low or mid tide there is beach combing or swimming in the shallow waters. Small stingrays have been known to swim past as you relax in the water.

There is often a group of committed surfers enjoying the break when the conditions are right.

Walk around to your right and the volcanic origins of Phillip Island are plain to see. The hexagonal basalt blocks are fascinating.

Further around, at low tide, lava dykes can be seen cutting across the rock base. This area has lovely rock pools and sometimes I find beautiful cowrie shells here.

To your left from the stairs access, head around over the bluff to see the remains of SS Speke, wrecked in a storm in 1906. It was en route to Geelong from Peru via Sydney to pick up a cargo of wheat.

Go at low tide when you can approach the rusted remains lodged on the rocks. The path can be rough and steep in places so wear suitable footwear.

In 2017 Parks Victoria staff voted Kitty Miller Bay the best secret beach in Victoria and it's not hard to see why!
Kitty Miller Bay
---
February 4 – Churchill Island Farmers Market
February 4 – San Remo Channel Challenge
February 5 – Cowes Sunday Market
February 11 – Island Craft Market
February 18 – Cowes Classic and Little Penguin Dash
February 18 – Newhaven Market
February 19 – Phillip Island Jazz Club
February 24/26 – Superbike World Championships
February 25 – Market on Church
February 25 – Shop, Eat, Love Local – San Remo
February 26 – Summer Sunday Sessions, Churchill Island

Phillip Island Events


---
Comments? Ideas? Feedback? I'd love to hear from you. Just reply to this e-zine and tell me what you think!

See you next time!