July, 2018: Issue #029
---
Hello,

Welcome to Island Hopper! I hope you will discover lots about Phillip Island and the surrounding area.
---
Kool Kids Holiday Activities
July brings the winter school holidays and Phillip Island is a perfect destination for families with lots of indoor and outdoor activities.

There are a couple of newcomers to the scene.

Clip n Climb, a new concept in indoor climbing, has opened in Cowes.

Suitable for children and adults, it is a fun family activity.

The climbing walls are a riot of colour and are a visual treat. In the facility there are 30 walls with varying degrees of difficulty.

Before each session climbers are given a briefing before testing out their skills on the walls.

Sessions start on the hour and it is best to book online as a waiver needs to be completed.

Clip n Climb will be open every day during the school holidays.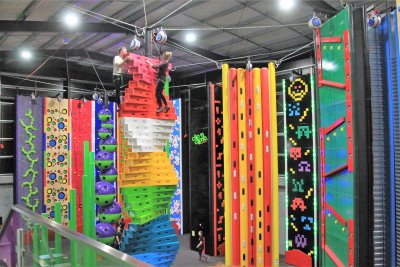 Churchill Island has another test for children with the installation of an ice rink.

From July 9-15 children can test their skating skills on the pop-up rink.

Qualified skate staff will be on site to lend a helping hand, as well as penguin pals to help the younger ones trying skating for the first time.

What will the farm animals think!?

Go to my Things For Kids To Do on Phillip Island page for more entertaining ideas!

Things For Kids To Do On Phillip Island
---
Food and Wine
After spending the afternoon driving along Phillip Island's coast searching for elusive whales, we were looking for an easy casual meal.

Wight's American BBQ on Thompson Avenue, Cowes is the answer. American barbeque is totally different to our concept of barbeque. It means slow cooking as in very slow, whereas in Australia we think of the quick grilling of meats.

Wight's meats are cooked for about 6 hours but in America, cooking can be more likely in the 10 hour plus range.

Wight's smoke all their meats in house, using quality cuts seasoned with rubs and smoked over charcoal and cherry wood. "Rubs" are dry combinations of spices and sugars.

I choose the Pulled Pork BBQ plate which comes with slaw, crisps, and pickles. The pork is absolutely delicious, and so tender after all that cooking! It seems strange to have your meal served on a sheet of paper but it works and can be a serviette as well!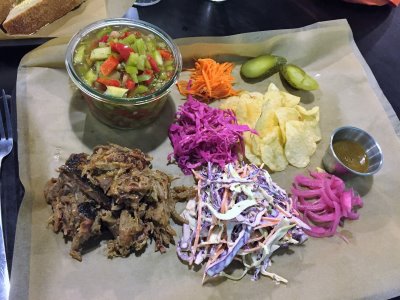 Most dishes can be made gluten free, by using gluten free bread for sandwiches etc. The only thing I needed to avoid was the side of mac & cheese.

Wight's American BBQ is open for breakfast, lunch and dinner and is licensed.


---
Festival Time
The Island Whale Festival will be held July 6-8, right in the middle of the winter school holidays.

Spot a whale, either from one of the special whale cruises or from the shore. On the cruises, passengers will not only see whales but also seals, dolphins and maybe the shy albatross.

From the shore a marine biologist will show you how to look for the tell-tale signs of whale activity.

The main hub for the festival will be the Cowes Cultural Centre where there will be talks about our marine environment from Phillip Island Nature Parks rangers, a photographic exhibition, plus an art and craft gallery.

At the Heritage Centre, Aboriginal story tellers will tell indigenous stories about the marine creatures of the Bass Coast area.

"Whale out of Water" returns. Visitors can go inside the 19 metre inflatable humpback whale, appreciating the size of these majestic creatures, and to taking part in a workshop to discover the world of the whale and other marine animals that live off Phillip Island's coast.


Whale Watching at Pyramid Rock

The Literary Festival of Phillip Island will be held July 27-29 at the Cowes Cultural Centre.

Stories this year focus on dealing with mental issues, racism, dispossession, survival and overcoming odds.

Opening Night will begin with a dedication to the late John Clarke, protector of bird habitat on Phillip Island. It will be followed by an address by Professor Tim Flannery - zoologist, environmentalist and climate change activist.

The festival will include talks by such luminaries as Jane Caro and Julian Burnside. It will conclude with Maggie Millar reading John Clarke's "Complete Book of Australian Verse", a satire on poetry and Australian culture.

Included over the weekend will be workshops on writing and story structure, and local authors will recount stories on the histories of the Bass Coast area.

Attendees can also take part in discussion panels.


---
What's On In July
July 6/8 – Island Whale Festival
July 8 – Island Makers Market
July 8 – National Vietnam Veterans Museum Locals Open Day
July 9/15 – Winter Fun at Churchill Ice-land
July 14 – Island Craft Market
July 15 – Sunday Jazz
July 27/29 – Literary Festival of Phillip Island
July 28 – Churchill Island Farmers Market

Phillip Island Events
---
Comments? Ideas? Feedback? I'd love to hear from you. Just reply to this e-zine and tell me what you think!

See you next month!

www.phillip-island-balcony.com