November 2017: Issue #021
---
Hello,

Welcome to Island Hopper! I hope you will discover lots about Phillip Island and the surrounding area.
---
Flyboarding is Launched
Launched in late October – and I mean literally "launched" – is the increasingly popular water activity of flyboarding.

Owners Matt and Tino are excited to bring this exhilarating sport to Phillip Island and have set up next to the Anderson Street boat ramp.

Flyboarders stand on a board with boot-like fittings. A hose from the flyboard connects to a jet ski, with the force of the water propelling the flyer into the air.

Beginners will fly over the water at one or two metres height. Those more proficient can rise to more than four metres.

It is possible to do tricks such as dolphin dives – diving head first into the water and re-surfacing.

If you want an adrenalin rush, this is the place to be!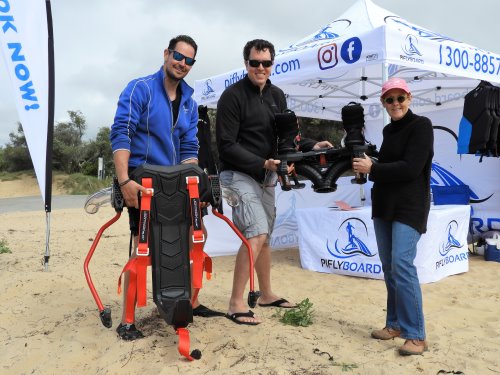 Phillip Island Flyboarding
---
Food and Wine
Excitement is building for the Phillip Island Food and Wine Festival.

This year it will take the form of a gourmet market, with producers setting up stalls to showcase their food.

Local and regional exhibitors covering wine, beer, cheese, and all manner of foods will be there for visitors to savour.

You can roam among the stalls to sample and buy from the delicious offerings, eating and drinking your way around Phillip Island and the Bass Coast region - the ultimate way to get to know the amazing range of food and beverages available from our area.

The event is family friendly with a jumping castle and face painting to keep the young brigade entertained.

Musical entertainment will be provided by several local musicians, including Michael and Mary Whelan from well known local group, Bass Coast Pickers.

The Cowes Primary School Choir will also perform.

The festival will take place on Friday November 24 at the Phillip Island Cultural Centre and Town Square and runs from 4.00pm until 9.00pm.

Admission is free.

My mouth is watering already!


---
Biyadin Festival
Previously known as the Shearwater Festival, the festival has had a name change and is now the Biyadin Festival.

Biyadin means "shearwater" in the local indigenous language.

The shearwaters have returned from their 25,000 kilometre migration to and from the northern hemisphere and it's time to celebrate them as special inhabitants of Phillip Island.

This year the festival will be held from November 24 to November 26.

The festival begins with a Twilight Cruise with Wildlife Coast Cruises to see the shearwaters returning home, particularly to their rookeries at Cape Woolamai.

Once again Churchill Island will be the hub, with educational displays, children's activities and music.

Saturday brings an all day acoustic music festival featuring local and regional artists.

This has to be one of the most spectacular settings for a festival, surrounded by the animals of the heritage farm and with beautiful views across to the mainland.
Sunday starts with a 6.6 kilometre fun run around Cape Woolamai. The run recreates the looping migration route taken by the shearwaters. Later in the morning enjoy the street parade along Thompson Avenue in Cowes.

The parade involves local schools which are integral to teaching students about the shearwaters as well as environmental threats affecting our wildlife.

Before and after the parade there will indigenous dancing and welcoming ceremony plus other performances and activities.

On Sunday evening there will be a talk about shearwaters at the Woolamai Surf Life Saving Club, followed by a guided walk to the rookeries.

Apart from the twilight cruise, all events and activities are free but gold coin donations are welcome.


---
What's On In November
November 4/6 – Lego Brick Play at Antarctic Journey at The Nobbies

November 5 – Fred Smith – The Dust of Uruzgan (Vietnam Veterans Museum)

November 11 – Island Craft Market

November 17/19 – Phillip Island Jazz Festival

November 24 – Phillip Island Food & Wine Festival

November 25/27 – Biyadin Festival

November 25/26 – Island Magic Motor Racing

November 25 – Churchill Island Farmers Market

November 25 – Market on Chapel

Phillip Island Events
---
Comments? Ideas? Feedback? I'd love to hear from you. Just reply to this e-zine and tell me what you think!

See you next month!

www.phillip-island-balcony.com