May/June 2020: Issue #047
---
Hello,

Welcome to Island Hopper! I hope you will discover lots about Phillip Island and the surrounding area.
---
Armchair Traveller
Well, what times we are living in! I hope everyone is well and keeping safe.

Most Phillip Island events and markets have been cancelled or postponed as you can see in the listing below. I haven't included June events as what the situation will be then is too uncertain.

The state government is to revise restrictions on May 11 so things may change then. Perhaps there will be some easing and some events will go ahead - check online first.

For the travel industry, the pandemic is obviously a disaster. In Australia, with social distancing measures in place, plus the shut-out of international tourists, there is no chance to travel freely around Victoria, Australia and the world for the time being.

One way I have come to a solution for you is to put a new page on my website dedicated to the Phillip Island Armchair Traveller.

Click on the link to see some great photos of Phillip Island. I hope to add more over the coming weeks so you can get a Phillip Island travel fix!

Phillip Island Armchair Traveller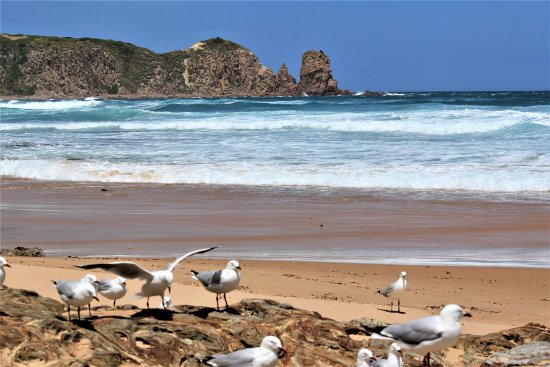 Cape Woolamai and beach
---
Food and Wine
With markets closed, local producers are coming up with novel ways to sell their products without falling foul of social distancing laws.

Each weekend at Rusty Water Brewery there is a Local Producers Food Hub to support producers from Phillip Island and the surrounding area – look for Phillip Island Honey, Purple Hen Wines, Bassine Specialty Cheeses, olive oil and free range eggs from Omaru Farm, pasta sauces, meats and more.

The hub is open Saturdays from 11.00am to 2.00pm and 5.00pm to 7.00pm.

Take the opportunity to buy a takeaway meal from Rusty Water Brewery Restaurant and Bar and support local business.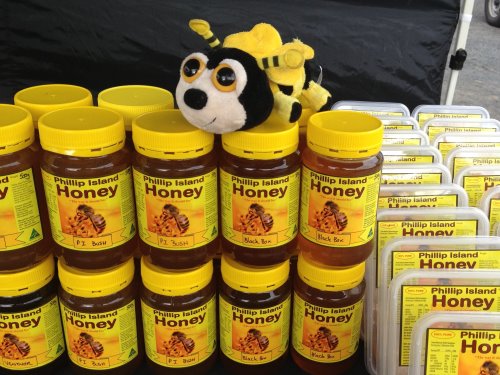 ---
Puppy Power
Feral cats are the single biggest threat to Australia's native mammals. The threat of feral cats to Australian mammals is almost double that of foxes.

Feral cats kill 75 million native animals every night across Australia – birds, frogs, small mammals and reptiles.

Scientists estimate there could be between 2 million and 6 million feral cats in Australia and they have been responsible for the extinction of more than 20 Australian mammals.

Many programs are in place to try to eradicate these pests.

In Kosciusko National Park, a feral cat detector dog has helped remove 92 feral cats and 139 foxes – helping to save the mountain pygmy-possum.

In the Flinders Ranges, over 100 feral cats have been removed to help the western quoll population in Wilpena Pound.

I have seen feral cats stalking among the shearwater rookeries on Cape Woolamai here on Phillip Island, and no doubt they are in other areas of the island as well.

Now Phillip Island Nature Parks has begun the fight to eradicate feral cats from Phillip Island.

Read the following post from PINP about this exciting program.

"Marbee the border terrier pup might look cute, but this little dog is the secret weapon in the fight to protect wildlife against feral cats on Phillip Island.

Although difficult to estimate numbers on Phillip Island, feral cats have the ability to prey on penguins, bandicoots, birds and possums.

The last physical evidence of any foxes on Phillip Island was detected in August 2015, and the island was declared fox-free two years later. Now the aim is to eliminate feral cats that present the biggest threat to the iconic fauna of Phillip Island through predation and disease.

Marbee will play a key role in their eradication as the first feral cat detection dog for the Island, and one of only a handful in Australia.

Last year, 150 feral cats were captured on Phillip Island.

"Feral cats differ from domestic cats, despite looking similar. They are usually born in the wild, and need to catch their own food which is often our native wildlife," said Phillip Island Nature Parks Pest Program Manager Stuart Murphy.

Marbee is being trained specifically to detect and track feral cats, and in 12 – 18 months will be field ready. Her trainer, Craig Bester, has been training dogs for 35 years.

She will be joined by another pup in the coming months, and once trained both dogs will be used along with other detection tools such as infra-red cameras to locate feral cats.

"Once trained these dogs will be used to detect and track feral cats because of their heightened sense of smell. They are our eyes, ears and noses and help us locate areas where feral cats are living." said Mr Murphy.

The successful management of pest animal species on Phillip Island has coincided with an increase in the number of little penguins, hooded plovers, cape barren geese and short tailed shearwater breeding on Phillip Island. It has also allowed for the introduction onto Phillip Island of the Eastern barred bandicoot, considered extinct in the wild on mainland Victoria."

Why border terriers? Border terriers originated in the border area between England and Scotland in the 18th century. They were used by farmers to flush foxes from their holes. They therefore have a strong drive to hunt and chase. Sounds ideal for the fight against feral cats.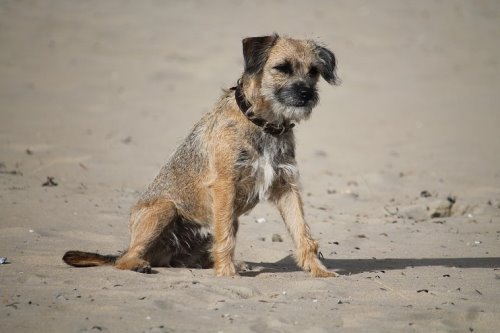 A Border Terrier
---
What's On In May
May 2 – Island Foreshore Market – cancelled
May 9 – Island Craft Market – cancelled
May 16/17 – Victorian State Circuit Racing Championship - cancelled
May 17 – Sunday Jazz – cancelled
May 23 – Churchill Island Farmers Market – cancelled
May 23 – Market on Chapel – cancelled

Phillip Island Events
---
Comments? Ideas? Feedback? I'd love to hear from you. Just reply to this e-zine and tell me what you think!

See you next month!