August/September 2020: Issue #048
---
Hello,

Welcome to Island Hopper! I hope you will discover lots about Phillip Island and the surrounding area.
---
PINP Update
Phillip Island Nature Parks has announced new visiting times for its attractions.

The Penguin Parade will now be open to visitors only on Fridays, Saturdays and Sundays. Numbers will still be limited to 100, with free entry for locals. However, bookings still need to be made online. Tickets are not available for visitors from metropolitan Melbourne and Mitchell Shire (photo id will need to be presented).

The Koala Conservation Reserve and Churchill Island will be open on Saturdays and Sundays only.

The Antarctic Journey and The Nobbies Visitor Centre will remain closed for the time being.
---
Urban Animals
Some of the more heart-warming stories from the pandemic has been the encroachment of animals into urban areas.

A lot of the stories were de-bunked – it was just normal animal behaviour but, in some instances, that was not the case.

Such as the Kashmiri goats in Llandudno in Wales. The goats sometimes come into town during windy weather, keeping to the back streets, but with no-one on the main streets they have gone further. Providing entertainment for the locals as they watch through their windows, the goats have feasted on garden flowers and hedges.

Cougars in Santiago, Chile, have sensed less noise in the locked down city and have moved further into the city looking for food.

The flamingo population in Albania has increased in numbers. The people-free serenity of natural reserves and parks has resulted in a boom in the breeding season.

Have you noticed a change in animal sightings on Phillip Island?

Perhaps the Cape Barren geese have encroached further towards the centre of Cowes? Have you seen swamp wallabies grazing on empty urban blocks? Maybe even in your own garden you have noticed more birds and insects.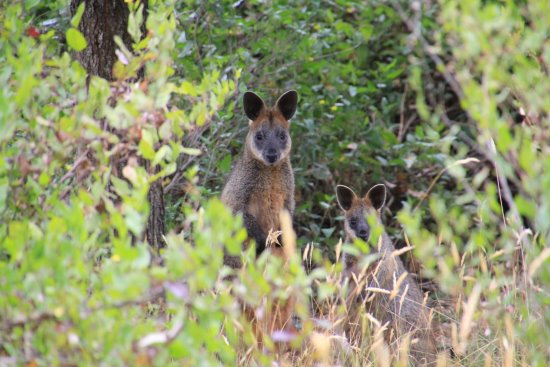 Shy swamp wallabies
Of course, thankfully there is no effect on our whale migration sightings! But are there increased chances of seeing wallabies, echidna and raptors?

When restrictions were first eased, but with visitor numbers capped at 100, a visitor reported seeing a bandicoot near the penguin parade boardwalk. Perhaps when there are thousands of visitors each night, the bandicoots might keep their distance!

To improve our chances of taking great photos of our local fauna, here are a few wildlife photography tips from National Geographic:

1. Be familiar with the environment - your own garden, Summerlands or Cape Woolamai

2. Use local knowledge - where are the peregrine falcons frequently seen?

3. Know your subject – for example, when are the swamp wallabies likely to be out grazing?

4. Always be prepared for a long wait

5. Take lots of photos – particularly good advice when photographing whales as there might be just a momentary burst of activity!
---
Phillip Island Bridge
The bridge. No, not a Scandi noir television series. But the Phillip Island Bridge.
As our only vehicular access to Phillip Island, the bridge has a special place in the hearts of everyone connected to the island.
But how did people manage to travel between Phillip Island and the mainland before the bridge was built?
Prior to the arrival of Europeans, the Bunurong people came to Phillip Island. At one time the island as we now know it didn't exist, and was created many thousands of years ago by rising sea levels. When early explorers arrived in Westernport Bay, they saw that the Bunurong people had been managing the island for thousands of years. It is thought the Bunurong only visited in summer to feast on short-tailed shearwaters, penguins and shellfish from the rock shelves. I am unable to find any information about how they crossed to the island but probably by canoe.
Early settlers used sailing ships to carry stock and supplies, a hazardous journey.
When the Koo-wee-rup swamp was drained, vehicles were able to reach what is now San Remo.
From there, people could row across The Narrows to Newhaven, though stock had to swim across between 1908 and 1920.
It would have been a dangerous swim/row across the channel, probably only attempted at slack tide, like the timing of our popular annual Channel Challenge Swim/Run.
Prior to 1940 the island was also reached by steamer, then car ferries.
In 1875, island pioneer Captain John Cleeland of Newhaven won the Melbourne Cup with his horse Wollamai. In an interesting twist on today's training regimes, Wollamai was walked the 87 miles (140 kilometres) to Flemington Racecourse in Melbourne, arriving only a few days before the race.
But first he had to swim the east channel from Cape Woolamai to San Remo – a very famous crossing to and from the island!
Planning for the old Phillip Island Suspension Bridge began in 1938.
In 1940 the bridge was completed, connecting the two areas and making transporting stock and supplies much easier.
It was opened by the then Victorian Premier Mr Albert Dunstan on Friday November 29th, 1940. It was 1,765 feet long with a pavement width of 18ft, with 6 pedestrian refuges along its length. Cost was between $50-$60,000.
Keeping up with Australia's love of a day off work, a full public holiday was declared on Phillip Island to celebrate!
If you hunt among the scrub near the bridge and the road to the Big4 Phillip Island Caravan Park, you will find the concrete marker commemorating the opening of the old suspension bridge.
It is a sadly forgotten reminder of a momentous day in the history of Phillip Island.
The current bridge is the successor to the Suspension Bridge.
This elegant and majestic bridge was finished in November 1969 and is 2,100 ft long with a width of pavement 28 feet, and 5 feet for pedestrian traffic and was built at the cost of $3,250,000. It was officially opened on Friday 21st November 1969 by the Hon M Porter, MLA, Minister for Public Works.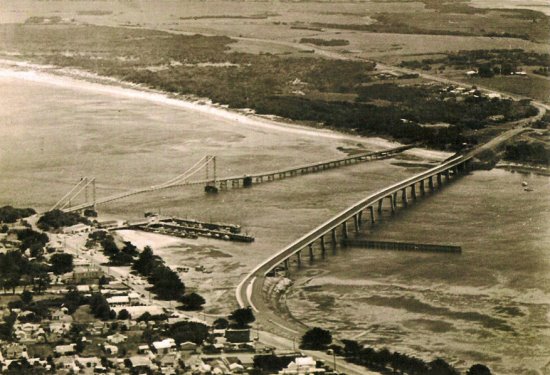 Old and New Phillip Island Bridges
---
What's On In August/September
August 8/September 12 – Island Craft Market - Cancelled

August 22/September 26 – Churchill Island Farmers Market - Cancelled

August 22/September 26 – Market on Chapel - Cancelled

August 22 – Shannons Nationals – Cancelled

August 29/30 – Pirelli/Motul Victorian Road Race Series – Cancelled

September 19 – San Remo Fishing Festival

September 26/27 – Victorian State Circuit Racing Championship

Phillip Island Events
---
Comments? Ideas? Feedback? I'd love to hear from you. Just reply to this e-zine and tell me what you think!

See you next month!