December 2016: Issue #010
---
Hello,

Welcome to Island Hopper! I hope you will discover lots about Phillip Island and the surrounding area.
---
George Bass Coastal Walk
Although not on Phillip Island, the George Bass Coastal Walk from near San Remo to Kilcunda is worth the short drive from the island.

The 7km walk starts at the end of Punch Bowl Road and takes walkers along the cliff tops to Shelley Beach, Kilcunda.

Before you set off make sure to take insect repellent, water and a hat. And if you have a dog with you, bring water for the dog as well – we give some of ours to a very thirsty dog whose owner neglected to bring some!

Take the path to the lookout at the start to take in the views over to Cape Woolamai. Below, at the cliff bottom, fisherman cast in lines from rock ledges.

The walking track is mostly mown grass or dirt but in places sand, and meanders up and down hills and over dunes, the view constantly changing.

Birds flit through the trees and bushes – as well as sea birds, we see wrens and a trio of yellow-tailed black cockatoos.

We keep a wary eye out for snakes and see a tail disappear into the grass ahead of us.

Our approach disturbs a blue tongue lizard, sunbathing on the path. It quietly slips into the dense trackside grasses.

In spring there is a wonderful array of flowers. Splashes of purple, yellow, pink and white abound. In shady gullies the tickle of water making its way to the sea can be heard.

At times on one side we have rolling green farmland with grazing cattle contrasted with rugged, rocky cliffs above secluded beaches.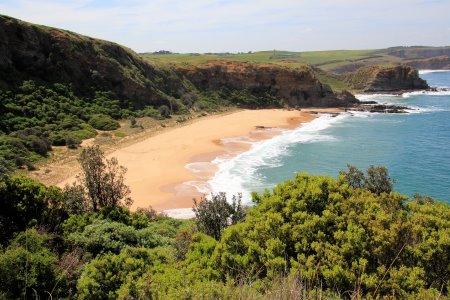 During the winter the track would be a perfect place for a spot of whale watching!
The path winds down to Sandy Waterhole Beach and continues along this pretty beach. Here there is a still freshwater pool trickling around sandbanks to the sea. Frogs fill the air with their croaking and kangaroo tracks can be seen at the water's edge.
We follow the signs where we walk through the dunes and once again are up on the cliff tops.
Getting closer to Kilcunda we can look along the coastline to the Powlett River entrance, Wonthaggi wind turbines and in the distance, Cape Liptrap.
It takes us about 2½ hours to reach Shelley Beach. Although the signage at the start advises the walk will take about 4 hours return, I think it wiser to allow about 5 hours return. This gives time to rest, take photos and take in the amazing scenery.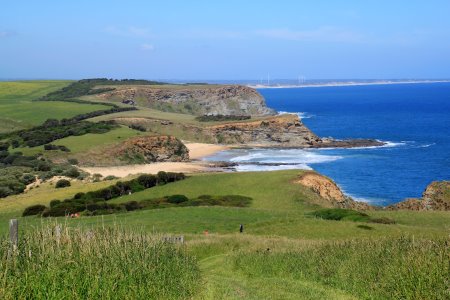 ---
Food and Wine
After we finish the walk from Punch Bowl Road to Shelley Beach, we walk the final few hundred metres to the Kilcunda General Store.
Hot and tired, the store is a welcome refuge and somewhere we can restore our energy.
Both meals and snacks are available. Obviously a popular haunt for a coffee and the day's newspaper, we find a table under the verandah overlooking Bass Strait.
There are several gluten free options. I choose the dhal with toasted gluten free bread and feel very much revived for the return trek!
A nice touch is the provision of a water cooler where walkers can re-fill their water bottles.
---
Intrigue at Magic Manor
In September a very magical addition was added at Amaze 'N Things on Phillip Island Road.

Already popular with its Illusions Rooms and Puzzle Island, mini golf, maze and SkyTrail, visitors can now be baffled by Magic Manor.

Based on the disappearance of magician Karel in the early 1900's, visitors pass through a water wall to discover his mansion.

The main room is replete with intriguing hands-on magic tricks plus a floating chandelier, cool fire and spooky portraits.

In other rooms visitors discover more wonderful magic including a display of magicians "tools".

Visitors can climb into a time machine, reminiscent of the Tardis from Dr Who, and travel to another time! I wait in vain for the Dr Who theme music to start!

Those who dare can brave the haunted hallway – the Stage Door. I defy anyone not to scream! The hallway is not recommended for small children (and maybe pregnant women!).

Children can bypass the hallway by walking through Happy Bunny Lane. Here they can get to know Magic Manor's real white rabbits.

A very magical experience with lots of "smoke and mirrors"!
For more fun on Phillip Island click Phillip Island Fun
---
What's On In December
December 10 - Cowes Night Market (Jetty Triangle)

December 11 - Island Craft Market

December 16 - San Remo Celebrates Christmas

December 18 - Sunday Jazz by Phillip Island Jazz Club

December 20 - Cowes Community Christmas Celebration

December 17 & 28 - Market on Chapel

December 24 - Churchill Island Farmers Market

December 31 - Phillip Island NYE Carnivale & Market
---
---
Comments? Ideas? Feedback? I'd love to hear from you. Just reply to this e-zine and tell me what you think!
See you next month!

www.phillip-island-balcony.com