June, 2018: Issue #028
---
Hello,

Welcome to Island Hopper! I hope you will discover lots about Phillip Island and the surrounding area.
---
Administration
You may or may not have heard of the European Union's General Data Protection Regulation which came into force on May 25 this year.

I have completed the tasks required to comply with this regulation and my website is now compliant.

What it means for you is that these tasks will ensure your privacy and that I am the only one who has access to your name and email address.

It also means that anyone who subscribes to my newsletter or contacts me via the Contact Me form will need to consent to the collection of their information.

When you visit my website, a box will pop up asking you to consent to the use of cookies (cookies are a small piece of data sent from a website and stored on the user's computer by the user's web browser). This use of cookies always happens when you search the web anyway – but now you have to consent to it!

After converting to https and now these new regulations – phew!! Hope that's it for a while!
---
The Main Game
It's winter again and that means the main game on Phillip Island for the next couple of months is the whale migration.

The Bass Coast Whale Discovery Trail not only gives visitors information about the whales visiting our shores, it also is a great map for getting to know the beautiful Bass Coast coastline.

The annual migration of humpback and southern right whales is one of the longest of any mammal. How lucky we are at Phillip Island to have these great creatures pass along our shores during this time!

The migration from the Antarctic occurs between April and November – up to the warmer waters of northern Australia and then back home.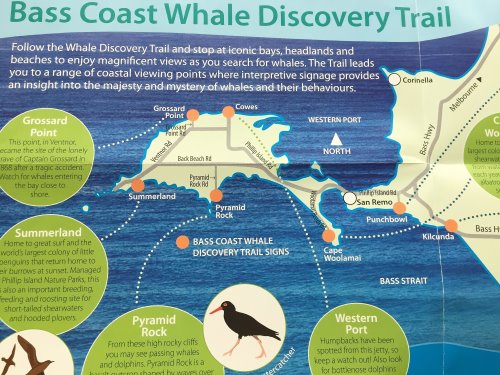 The Bass Coast Shire has produced a pamphlet – Bass Coast Whale Discovery Trail – with lots of whale information and where to watch them along the Bass Coast area – from Cowes to Inverloch.

Pick up a brochure at the Phillip Island Visitor Information Centres at Cowes and Newhaven.

Another way to keep "in the loop" with whale sightings is via whale sighting alerts. Drop in to the Wildlife Coast Cruises ticket office and join the mobile alerts as sightings occur along Phillip Island's coastline.


---
Food and Wine
Mario is a bit of a legend in the Bass Coast area.

Some may remember his restaurant at the Kilcunda Hotel many, many years ago. After spending some time at the San Remo Hotel, Mario has now opened his eponymous restaurant in Marine Parade - it's the first restaurant you see as you drive into San Remo.

We drop in to Mario's one Thursday evening on our way to Phillip Island.

With winter coming it is a nice warm refuge from the outside chill and has a nice ambience.

Starters include bruschetta, oysters, dips and whitebait.

We go straight to the mains – diners can select from steak, chicken, fish and pasta dishes.

I am a sucker for garlic prawns so of course can't go past Mario's, served with a white wine and cream sauce and rice. Included is a side salad of greens.

Delicious, with lots of fat tasty prawns.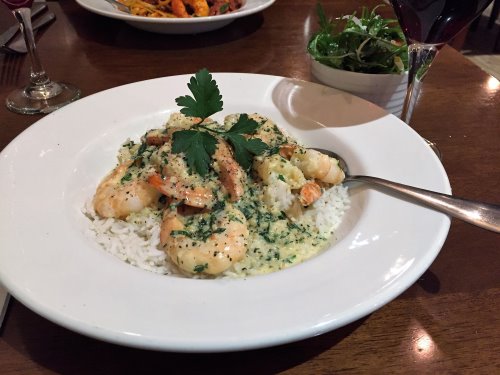 Most of the dishes are gluten free so it is a difficult, but happy, choice for coeliacs!

We top up with a glass of Purple Hen Winery pinot gris.

Children can enjoy fish and chips, crumbed calamari, pasta or burgers.

Service is attentive and very friendly.

Mario's is open for lunch and dinner - during holiday times a reservation would be recommended.


---
Smiths Beach Lifesaving Tower
The long-awaited new lifesaving facility at Smiths Beach has now been installed.

Smiths Beach is the most popular beach on Phillip Island and beach goers and surf lifesavers alike welcome the new facility.

The main purposes of the new building are to provide an elevated view of the beach for lifesavers, to provide a place to administer first aid, and as a storage area for equipment. Until now, surf lifesavers from Woolamai Surf Life Saving Club had to carry in equipment every day.

With the new tower, life savers will be able to patrol the beach, no matter what the weather conditions, and will be able to provide more regular patrols over busy times.

The facility is situated next to the ramp at the eastern end of the beach and the interesting design is well worth a visit!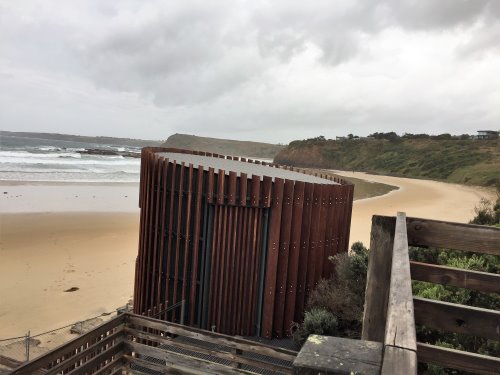 ---
What's On In June
June 1/3 – Shannons Nationals Motor Racing

June 9/11 – Hoot and Hootabelle at the Antarctic Journey

June 9 – Island Craft Market

June 17 – Sunday Jazz

June 23 – Churchill Island Farmers Market

June 23 – Market on Chapel

Phillip Island Events
---
Comments? Ideas? Feedback? I'd love to hear from you. Just reply to this e-zine and tell me what you think!

See you next month!

www.phillip-island-balcony.com