March/April 2020: Issue #046
---
Hello,

Welcome to Island Hopper! I hope you will discover lots about Phillip Island and the surrounding area.
---
Take a Drive
After the recent fires, everyone is being encouraged to travel around the affected communities to provide a financial boost to partly offset tourism losses.

Some areas, even though they might not be near impacted areas, also saw a marked drop in visitor numbers. All areas of Gippsland suffered a significant decline in summer tourists.

How about planning a short visit? If you are visiting Phillip Island, there are lots of interesting places to visit within a day trip from the island.

Do you know Agnes Falls, near Toora, at 59 metres, has the highest single span in Victoria?

Do you know Wonthaggi is an indigenous word meaning "to drag, to procure or to fetch"? It was named after coal was discovered in the area in 1909, which was then used for steam trains of the Victorian Railways. Check out the State Coal Mine Museum.

Do you know the town of Loch is named after a governor of Victoria? Henry Loch was involved in the Second Opium War in China and spent time as a prisoner in a Beijing dungeon. Wander the galleries, antique stores, curio shops, cafes, brewery and wineries in this old-world village.

Do you know the Yallock-Bulluk Marine and Coastal Park honours the Yallock-Bulluk clan of the Bunurong people, whose country is included in the park area? Take the scenic route which covers the coastline between San Remo and Inverloch.

There are lots more fascinating things to discover – so take a drive!

Check out day trips from Phillip Island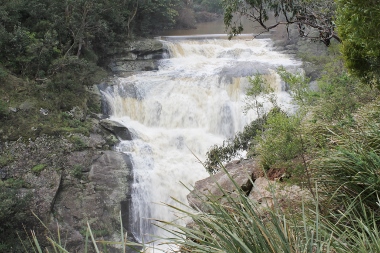 Agnes Falls near Toora
---
Food and Wine
Shrove Tuesday (or Pancake Day) is a part of the Christian Easter celebration.
Shrove Tuesday falls on the day before Ash Wednesday, which is always 47 days before Easter Sunday. However, if you want to partake of the ritual this year, you have missed it, as it fell on February 25!
Shriving was a ritual where Christians confessed their sins and received absolution. Historical texts show that the ritual is over 1,000 years old.
Shrove Tuesday precedes Lent – a period of fasting leading up to Easter. Christians wanted to use up all their food (particularly eggs and milk before they went off) prior to fasting. Somehow, flour became added to the foods and the pancake was born.
In France and the USA, Shrove Tuesday is known as "mardi gras" – French for fat Tuesday – to describe the carnival of "gorging".
Many countries celebrate this day, with the Brazilian Carnival in Rio de Janeiro probably the most famous.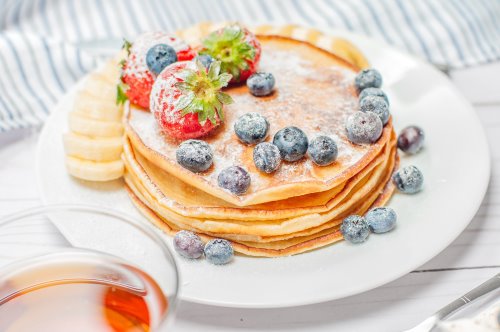 ---
Family Fun
For March and April, the focus in on activities courtesy of Phillip Island Nature Parks.
The Wild Sand Sculpting exhibition, which opened at the Penguin Parade on Boxing Day, continues to amaze visitors. Apart from admiring the sculptures, make sure you ask for the children's activity – it can also be a challenge for adults!
March 15 is the PINP Community Open Day. If you are a ratepayer of Bass Coast Shire, entry to all four Phillip Island Nature Parks attractions – Penguin Parade, Antarctic Journey, Koala Conservation Reserve and Churchill Island Heritage Farm – is free. Plus, ratepayers can enjoy a 50% discount on EcoBoat Tours and Wild Sand Sculpting.
There is an opportunity to walk and talk to the rangers, researchers and volunteers to learn more about the work done by PINP. Go behind the scenes to learn about the little penguin, spot seals from The Nobbies boardwalk, discover the plight of our favourite marsupial, the koala, and lots more.
Easter is time for the popular Easter Fun Festival at Churchill Island.
A favourite for families over the busy holiday weekend, there is plenty to keep all the family entertained.
Watch the farm demonstrations such as cow milking, sheep shearing and working dogs. Take a wagon ride around the farm, play games on the lawn or have your face painted.
Admire the vintage cars and caravans on display for a glimpse of camping in years gone by.
Refuel from the food trucks and relax to the sounds of live music.
And don't forget the famous Easter Egg Hunt on Sunday morning!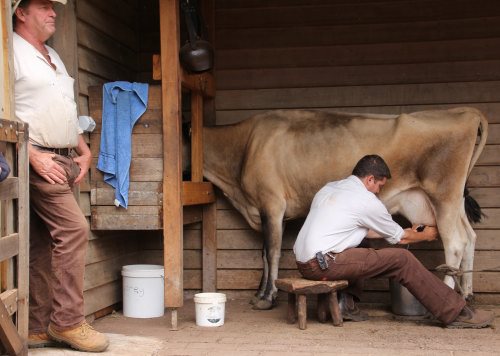 Milking at Churchill Island Heritage Farm
---
What's On In March/April
March 1 onwards - Wild Sand Sculpting

March 7 - Island Foreshore Market

March 14 – Island Craft Market

March 15– Sunday Jazz

March 15 – Phillip Island Nature Parks Community Open Day

March 28 – Phillip Island National Surfing Reserve Team Challenge

March 28 – Churchill Island Farmers Market

March 28 – Market on Chapel

April 4 - Island Foreshore Market

April 10 – Rhyll Twilight Market

April 10 – San Remo Easter Fishing Competition

April 11/12 – Easter Fun Festival at Churchill Island

April 11 – Island Craft Market

April 11 - Island Foreshore Market

April 18 - Market on Chapel

April 19 – Sunday Jazz

April 25 – Churchill Island Farmers Market
---
Comments? Ideas? Feedback? I'd love to hear from you. Just reply to this e-zine and tell me what you think!

See you next month!