January 2020: Issue #044
---
Hello,

Welcome to Island Hopper! I hope you will discover lots about Phillip Island and the surrounding area.

In this month's newsletter I have included December events as well as those for January. Don't miss the special Christmas markets for that unique gift.
---
---
Music on Phillip Island
January brings lots of music to Phillip Island.

Purple Hen Winery is again hosting Music at Purple Hen every Friday evening in January.

Bring a rug or folding chair as seating is limited – there is plenty of room on the lawns. Feel free to bring your own food but there are grazing platters available to buy at the winery.

The event is definitely no BYO wine.


The Ocean Sounds Festival returns to Churchill Island on January 18.

And what better location than overlooking Westernport Bay, especially as the sun sets.

Relax to different music genres. This year brings hip-hop from REMI, funk-soul from The Bamboos, plus Ash Grunwald, Emma Donovan and more.

Gourmet food vans and local wines and cheeses will be there to feed the crowd. Street food from Taiwan, steak sandwiches, lobster rolls, and fresh local berries are only some of the food on offer. Most dietary requirements are covered but if you're not sure, bring your own food.

BYO rug and/or low folding chairs, water, hat and sunscreen.

Children under 12 are admitted free to this family friendly event.

Buses from around Phillip Island, Melbourne and the Bass Coast region are available to get you to Churchill Island.

If you want to drive, a car pass is required and must be purchased on-line beforehand.

---
Food and Wine
Recently we have been "summerizing" our house on Phillip Island.

Travelling through the United States a few years ago we came across the term "winterizing". It basically means shrink-wrapping your van or boat in heavy duty plastic while it spends the winter in outdoor storage.

In December we do a spring clean, or to follow the Americans, summerize!

It's a big job with no time for preparing meals so Kristo's on The Esplanade in Cowes is our go-to for a quick take-away meal.

We usually order the meat pack which includes choice of meat, choice of salad and chips. Unfortunately, with a change of supplier, the meat is no longer gluten free. However, I was happy to substitute the gyros with a quarter roast chicken. Kristo's is one of the few places where the chips are gluten free.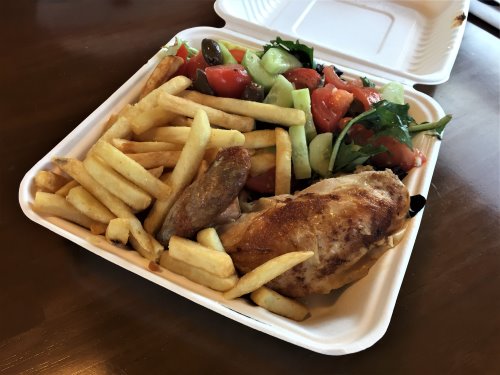 There are lots of other meal options from roast dinners with roast vegetables to fish and chips to hamburgers and schnitzel.

Offering a kids menu and family packs, Kristo's is a busy place during the summer holidays.

Closing time is around 8.00pm so get in early!
---
Wild Sand Sculpting
A new attraction for Phillip Island this summer is Wild Sand Sculpting at the Penguin Parade.

Situated on what was the old lawn area, the sand safari opens on December 26.

Visitors will see elephants, monkeys, whales, birds, reptiles and more – all sculpted from over 700 tonnes of sand.

Opt for a "Meet the Artist Guided Tour" to learn how these amazing sculptures are made.

Entry includes a kid's activity book, sand sculpting workshop and giant sandpit.

Open from 10.00am to 6.00pm (last entry at 4.00pm between December 26 and January 5, otherwise at 5.00pm).


---
What's On In December/January
December 13 – Rhyll Summer Christmas Market
December 13 – San Remo Celebrates Christmas
December 14 & January 11 – Island Craft Market
December 14 & 28, January 4 & 25 – Island Foreshore Market
December 17 – Cowes Community Carols
December 21 & January 25 – Market on Chapel
December 26 onwards – Wild Sand Sculpting
December 28, January 4, 11 & 25 – Churchill Island Farmers Market
December 28/January 1 – Phillip Island Food Truck Festival
December 31 – Cowes New Years Eve Celebrations
January 3 & 10 – Rhyll Summer Market
January 3, 10, 17, 24 & 31 – Music at Purple Hen
January 5 & 27 – Island Makers Market
January 18/19 – Kustom Nationals
January 18 – Ocean Sounds Sunset Concert
January 19 – Sunday Jazz
January 24/26 – The 27th International Island Classic (motorcycles)

Phillip Island Events
---
Comments? Ideas? Feedback? I'd love to hear from you. Just reply to this e-zine and tell me what you think!

See you next month!