May, 2018: Issue #027
---
Hello,

Welcome to Island Hopper! I hope you will discover lots about Phillip Island and the surrounding area.

I am very happy to announce that phillip-island-balcony.com is now a secure website. If you go to my website you will now see that it has the green lock symbol. This indicates that my site has been authenticated and protects the privacy and integrity of any exchanged data.

So please browse the site knowing it is secure!
---
Real Stars, Not Celebrities
Now you can indulge in star gazing on Phillip Island! And I don't mean the Hemsworth brothers or Miley Cyrus!

Phillip Island has its own observatory, located at Rhyll – a perfect spot as Rhyll has what is termed almost "perfect darkness" - obviously a great help when looking at the night skies!

Owner, Rowan, has always been interested in astronomy and has brought his hobby to the island for all to enjoy.

In his large garden Rowan has a mobile 5 metre planetarium and a 3.5 metre observatory.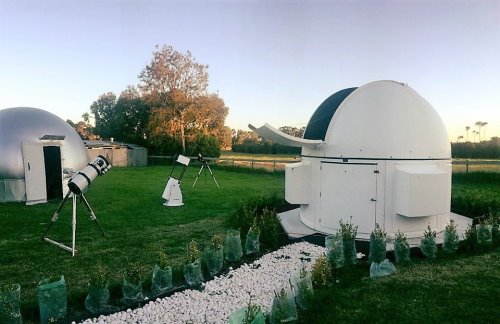 Through telescopes visitors can view constellations, nebulae, galaxies, stars and star clusters, and planets.

Discover that alpha centauri is actually made up of 3 stars, not one, and marvel at the striking colours of eta carina.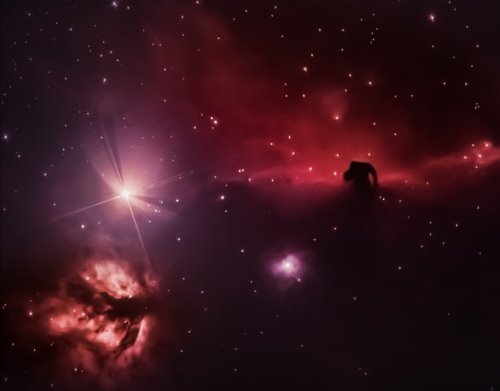 (Both photographs courtesy of Phillip Island Observatory)

Phillip Island Observatory
---
Food and Wine
The Fat Seagull has a great location at the bottom of Thompson Avenue near the Cowes foreshore.

Try to get a window table so you can have a view of the bay. We walk in off the street on a Saturday night. Luckily the weather is pretty foul so Cowes is quiet and we easily get a table.

The menu has the usual options of steaks, pizza, pasta, kids meals, chicken and fish dishes.

There are only a few gluten free options – pizza or gnocchi. I choose to go with the pizza with seafood topping, which although nothing spectacular, is adequate.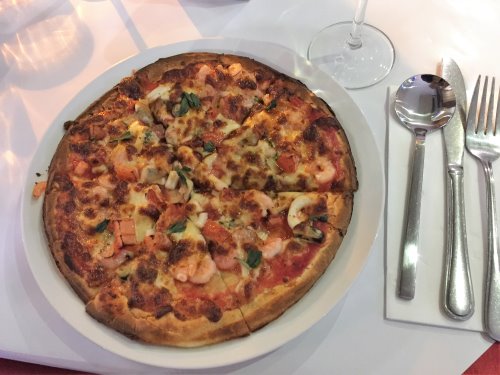 There is a gluten free apple pie for dessert but we are underwhelmed by The Fat Seagull experience and don't try it.

Food service is slow even though there are very few patrons.

This can probably be explained by the arrival of a busload of tourists from the penguin parade – perhaps we are lucky to get in well before the food service for so many people. Or maybe it would be better to arrive after the tour has left.

There is quite a bit of takeaway trade, maybe a better option than dining in.

I put The Fat Seagull in my category of any meal that I don't have to prepare is a good meal.


---
A Different Perspective
The Phillip Island events calendar slows down as the weather cools.

But there is still plenty to see and do – don't be put off by the cold!

Why not take time to see Phillip Island from a different perspective – by air or by boat.

Wildlife Coast Cruises have daily cruises to Seal Rocks from Cowes Jetty, as well as cruises to Cape Woolamai from San Remo.

With the introduction of new cruise boat, Brianna Lee, there are more cruises on offer.

Special trips for whale watching in winter, and also around Wilsons Promontory, are amazing experiences. See seals, whales, dolphins, and birdlife such as albatross and eagles up close.

This time of year the seal pups are now weaning from their mothers and are learning to fish for themselves and during winter, dolphins sightings increase.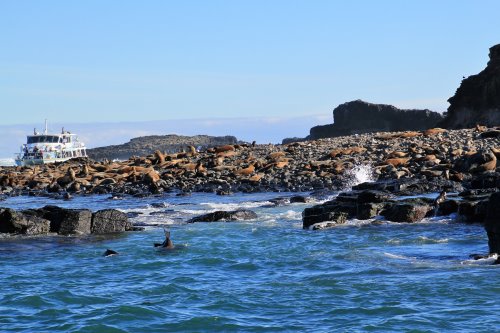 The rugged cliff faces of Cape Woolamai are a stunning sight not seen by walking around the cape.

If you have time constraints, the fast Eco Boat AdventureTour departs Cowes to Seal Rocks via Cat Bay, where the skipper will take the boat through its paces!

The Cape Explorer Tour from Rhyll takes visitors to Cape Woolamai, passing Churchill Island.

It is thrilling to see Phillip Island from the air with Phillip Island Helicopters, trying to pick out familiar land sites from several hundred metres above.

See the most picturesque race track in the world – Phillip Island Circuit – from above and admire the layout of this famous track.

Trips sweep over Cape Woolamai, Seal Rocks, and the penguin parade visitor centre at Summerlands.

Take a flight over Kilcunda and the Wonthaggi wind turbines or over picturesque Mornington Peninsula, or experience a flight to the grand prix circuit and then doing a hot lap for extra thrills.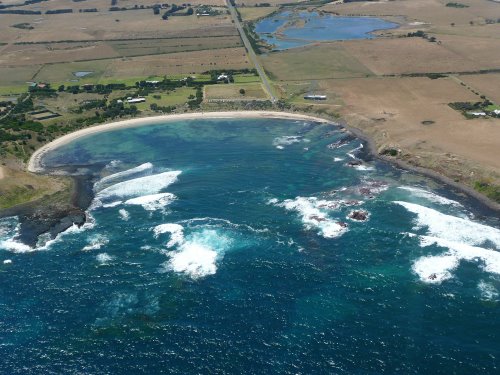 Kitty Miller Bay
Phillip Island Flights and Cruises
---
What's On In May
May 5/6 – Victorian State Circuit Racing Championship
May 12 – Island Craft Market
May 20 – Sunday Jazz
May 26 – Churchill Island Farmers Market
May 26 – Market on Chapel

Phillip Island Events
---
Comments? Ideas? Feedback? I'd love to hear from you. Just reply to this e-zine and tell me what you think!

See you next month!

www.phillip-island-balcony.com