July 2017: Issue #017
---
Hello,

Welcome to Island Hopper! I hope you will discover lots about Phillip Island and the surrounding area.
---
Island Whale Festival
This season there has been a huge increase in the number of whales sighted off the coast of Phillip Island and the Bass Coast region.

By end June more than half of the 2016 total has been seen, with over 100 whales sighted so far!

The most common sightings are of Humpback whales, but there are also Southern rights and killer whales.

Celebrate the arrival of the whales at the Island Whale Festival from July 7 to 9.

The Island Whale Festival celebrates the whale migration through our coastal waters, as well as the diverse marine ecology around us.

Coinciding with the Victorian winter school holidays, the Cowes Cultural Centre will be the hub for many events.

The festival includes whale watching cruises, a whale art installation by local school children, talks on marine conservation issues, a Marine Wildlife Photo Exhibition, movies, photography workshops and lots more.

Kids will enjoy Whale Out of Water - a chance to climb into a giant inflatable whale where they will learn all about the fascinating world of these amazing creatures.

Out of doors, learn from a marine biologist how to spot a whale from Phillip Island's lookouts at Cape Woolamai and Pyramid Rock.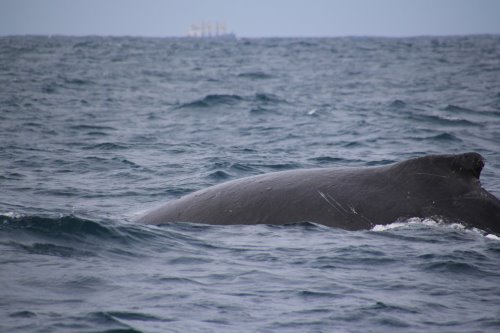 ---
Food and Wine
Fig & Olive has been a fixture in Thompson Ave, Cowes for quite a few years now. In a previous life it was known as Infused.

Making a reservation, we have to accept a later sitting due to the increase in diners brought in by the long weekend, especially large family groups.

The restaurant has a contemporary décor with one end dominated by the pizza oven, which brings a nice atmosphere on a wintry night.

We start with the shared platter which has a gluten free option. Unfortunately it was not suitable for coeliacs as some foods had been fried in the same oil as breaded foods.

Ultimately we aren't charged for the platter because of this mix up.

For main I order the seafood paella with prawns, calamari, mussels and chorizo. With stripes of mayonnaise across the top it has an American, not Spanish, look. Nevertheless it was tasty.

I always enjoy Fig & Olive and will return but coeliacs, as at any restaurant, need to be alert.
---
Churchill Island's Highland Cattle
Whales aren't the only animals to migrate to Phillip Island.

One of the most popular animals on Churchill Island must be the gorgeous Highland cattle.

Samuel Amess, from Fife, Scotland, who made his fortune on the Victorian goldfields and became a successful businessman and later, Mayor of Melbourne, kept a small fold of black Highland cattle on Churchill Island.

He purchased Churchill Island in 1872 as a summer retreat and imported Highland cattle to remind him of his Scottish homeland.

Amess wasn't the first to bring the cattle to Australia however.

Areneas Ronaldson MacDonell of Glengarry, Scotland, arrived at Port Albert in 1841 with a herd of Highland cattle, and walked them to a farm at Greenmount, near Yarram in Gippsland.
Highland cattle have distinctive long wavy coats that are coloured black, brindle, red, yellow, white, silver (looks white but with a black nose), a long fringe to protect their eyes and very long tapered horns.

Their distinctive shaggy coat of hair comprises two layers. On the outside is the oily outer hair — the longest of any cattle breed. Underneath is a downy undercoat.

This hair enabled them to survive the freezing winters of the Scottish highlands.

The breed descended from the Hamitic Longhorn which were brought to Britain by Neolithic farmers in the second millennium BC, after the cattle migrated northwards through Africa and Europe.

In Britain, they originated in the Highlands and Western Isles of Scotland and were first mentioned in the 6th century AD.

Originally two different breeds, Highland cattle are now registered as the one single breed due to interbreeding.

Although we generally call a group of cattle a herd, a group of Highland cattle is known as a "fold".

This is because, in winter, the cattle were kept in open shelters made of stone, called folds, to protect them from the weather at night.

The current fold on Churchill Island was established by The Friends of Churchill Island in 1986, with the issuing of a grazing permit from the Department of Forest and Lands.

On Churchill Island they may not need their thick coats or need to be put into a fold at night, but they are admired by the many visitors to the Churchill Island Heritage Farm and remain a link to the pioneers of Australia and early Phillip Island and Churchill Island families.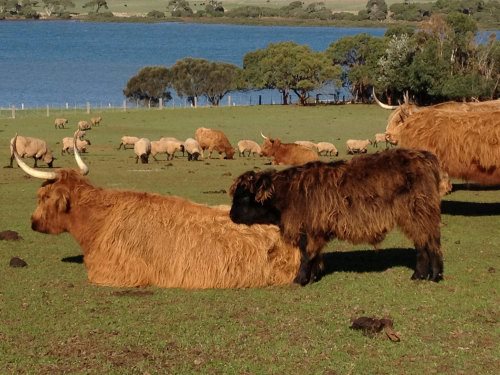 Churchill Island
---
What's On In July
July 5 & 15 – Cape Woolamai Cruise
July 7/9 – Island Whale Festival
July 8 – Island Craft Market
July 16 – Sunday Jazz
July 22 – Churchill Island Farmers Market
July 22 – Market on Chapel
---
Comments? Ideas? Feedback? I'd love to hear from you. Just reply to this e-zine and tell me what you think!

See you next month!

www.phillip-island-balcony.com