January 2017: Issue #011
---
Hello,

Welcome to Island Hopper! I hope you will discover lots about Phillip Island and the surrounding area.

This issue of Island Hopper is being published early so that once the Christmas pudding is eaten you can make the most of planning your island summer.

At the time of going to press there is uncertainty surrounding New Year's Eve celebrations, and fireworks, in Cowes. Therefore, I haven't included any information on this event.
---
Krazy Kustoms
One of my favourite events during summer on Phillip Island is the arrival of the Kustom Nats.

This year celebrates the 15th annual Kustom Nationals.

"The Kustom Nationals is the Holy Grail of the kustom car movement in Australia, when once a year the stage is set for all lovers of modified vehicles to come together to witness the latest offerings of the kustom car kulture, from mildly kustomized cruisers to krazy kustoms!"
Friday January 6 the Kustom Nats will be at San Remo where there will be a Beach Party on the foreshore.
On Saturday and Sunday, January 7 and 8, the spectacle moves over to Phillip Island. For the hard core fans there is a lot of action at Phillip Island Circuit over the weekend including car contests, shows, workshops, Rockabilly Festival and just cruisin' around the grand prix track.
On Saturday afternoon the northern end of Thompson Avenue in Cowes is blocked off and filled with a weird and wonderful range of kustom kars - all pre 1965.
Automobile art, hot rods, lowrider bikes, classics – it's all there!
Come along, wander along the lines of kolourful kars and pick the one you like best!
The Rockabilly bands will continue playing in Thompson Avenue/The Esplanade after 4.30pm on Saturday.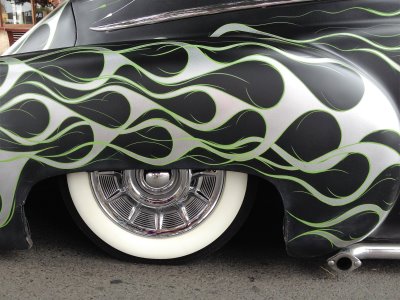 ---
Food and Wine
The café alongside Island Primary Produce on Ventnor Road, Ventnor has been given a new lease of life.

Now known as The Shed, it is an amazing place offering coffee and lunches plus lots more.

Local produce is available - recently a consignment of leafy greens arrived from Phillip Island Community Orchard. Plus island eggs, olive oils from Kite Haven at Rhyll, bread comes from San Remo Bakehouse, cheeses from Bassine Cheesery at Bass.

Wines come from Dirty Three Wines at Leongatha South.

Shelves are filled with imported gourmet foods – I like the sound of vodka pasta sauce from Italy!

There is not just food for sale though. Check out the range of olieve & olie organic skincare products. Based on the Mornington Peninsula, the oils are harvested from their 2,000 tree olive grove near Echuca.

Browse the bunches of fresh flowers and get inspiration for your garden with potted plants.

We have a coffee, me with a gluten free Florentine biscuit.

Try a delicious roll or pie for lunch – the menu changes weekly.

At the moment there are no gluten free lunch options but some are soon to be added.

Apart from tables inside or under the verandah, there are tables outside under the pine trees – a lovely spot on a hot summer's day.

From there you can watch the children chatting over the fence to Mary the pig.

Over summer The Shed is open 6 days a week (closed Mondays).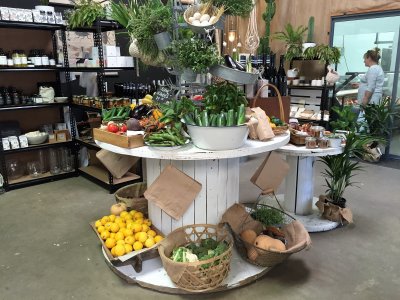 ---
What are the Penguins Doing?
What are the penguins doing over summer?

During summer there are usually more penguins coming and going from the colony at Summerlands on Phillip Island. That's because they are busy raising their chicks.

At the moment the chicks are in the nest, being fed by both parents who take it in turns – one guarding and one fishing.

As the chicks grow both parents need to go to sea, bringing food back in their bulging stomachs to be regurgitated into the chicks mouth.

The 2015/2016 season was a record year with an average of over 2 chicks per penguin pair. Not only the most numbers of chicks fledged but also they were also the fattest on record.

A record number came ashore on November 2 this year – 4,398. This is possibly due to the previous record breeding season. And do you wonder how the penguins are counted? Experienced rangers are stationed at strategic spots along the beach and count them as they leave the water and head up the beach to their burrows.

So at the moment there is a lot of activity, making for a great viewing experience for visitors to Phillip Island this summer.
---
What's On In January
January 4 & 11 – Twilight Market on Chapel

January 6, 13, and 20 – Friday Summer Chill (Churchill Island)

January 6/8 – 15th Annual Kustom Nationals

January 7 & 14 – Churchill Island Farmers Market

January 7/8 – Phillip Island Model Railway Exhibition

January 7 – Cowes Night Market (Erehwon Point Reserve)

January 8 & 22 – Sunday Sessions (Churchill Island)

January 8 – Island Craft Market

January 15 – Sunday Jazz at Ramada Resort

January 21 – Cowes Night Market (Jetty Triangle)

January 26 – Australia Day celebrations

January 27/29 – International Island Classic (motorcycles)

January 29 – Kilcunda Lobster Festival
---
Comments? Ideas? Feedback? I'd love to hear from you. Just reply to this e-zine and tell me what you think!

See you next month!

www.phillip-island-balcony.com