March, 2018: Issue #025
---
Hello,

Welcome to Island Hopper! I hope you will discover lots about Phillip Island and the surrounding area.

I am very happy to announce that phillip-island-balcony.com is now a secure website. If you go to my website you will now see that it has the green lock symbol. This indicates that my site has been authenticated and protects the privacy and integrity of any exchanged data.

So please browse the site knowing it is secure!
---
Rhyll Wooden Boat Festival
The Rhyll Wooden Boat Festival kicks off the Phillip Island 2018 150th anniversary celebrations on the first weekend in March.

The event starts on Friday March 2 at 4.00pm with the opening of the Really Rhyll Art Exhibition. Works by Rhyll artists in various mediums will be on show and also for sale.

Also at the Rhyll Mechanics Hall there will be an exhibition curated by local historian, John Jansson, on Rhyll's maritime history.

Beach Road, including the boat ramp, will be closed between Lock Road and Walton Street and will be the site for many activities.


On Saturday, teams of teenagers will construct canoes from scratch. These craft will be launched and sailed on Sunday.

Wooden and model boats will be on display in keeping with the maritime theme.

Two classic ferries will give rides around the bay.

The Rhyll Yacht Club, supported by other Phillip Island yacht clubs, will hold a regatta. Plus there will be Try Sailing sessions for those keen to learn how to sail.

A market area will sell local produce, arts and craft and gourmet food.

Live music will be on the stage and there will also be roving performers to entertain the crowds.

Multi award winning country music artists, the Davidson Brothers, will be on stage on Saturday afternoon and will also perform at the Saturday Night Dinner.

For children there is a Children's Zone and Pirate Trail. With their 1868Treasure Map children can collect a stamp at each "island" where there are activities to keep them amused.

For a wander back in time visit the Classic Cars and Caravan display next to Rhyll Hall in Lock Road.

There will be industry and information stalls, demonstrations and more, with fun for all ages.

This community event is free entry and concludes on Sunday March 4.




---
Food and Wine
The Foreshore Bar and Restaurant on Beach Road is a Rhyll institution.

With lovely views over Westernport Bay to Churchill Island and the mainland, it is a great spot for lunch or dinner.

The contemporary décor has seaside feel with jetty-like posts down the centre of the main dining area.

There is a large outdoor dining area, ideal for summer evening dining.

And for cosy winter meals, there is a fireplace.

If you prefer to just have a drink there is a bar area with bar stools and tables.

We manage to get a window seat on a quiet weekend.
The menu offers several starter items, mains and also children's meals.
The menu offers chicken, veal and seafood dishes as well as steaks and pasta.
There are a few gluten free options and I go with the salmon with chilli and herb marinade.
It comes accompanied by seasonal greens and a wedge of scalloped potato. All very tasty with everything cooked how I like it.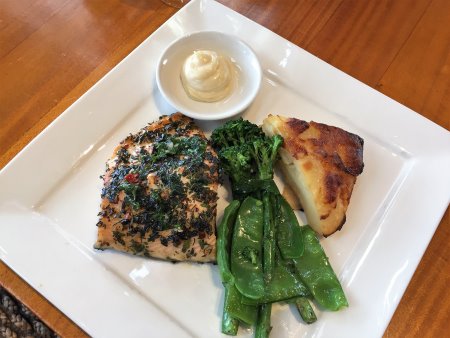 We enjoy our meals with local Purple Hen wines.

The Foreshore is a great venue for families – there are lots of family groups when we are there – and highchairs are available for littlies.

Access to the restaurant is also pram and wheelchair friendly.

During holidays I would recommend a reservation.


---
Focus on Rhyll
Rhyll isn't just the Wooden Boat Festival – there is a lot more to see and do in this village.

Want to catch your own trout for dinner? Throw in a line at the Rhyll Trout and Bush Tucker Farm. You can cook your catch there or take it straight to your home barbeque.

Purple Hen Winery has one of the most scenic locations on Phillip Island as well as award-winning wines. Enjoy your favourite Purple Hen wine with a food platter on the lawns.


If walking is more your bent, the Rhyll Inlet Conservation Hill walking track along the Ramsar-listed Ryhll Wetlands is a must.

Take the binoculars to see a host of migratory bird species as well as get an understanding of the importance of mangroves in the ecosystem.

Or grab a coffee at Temuko and enjoy the views across Westernport Bay to the mainland.
---
What's On In March
March 2/4 – Rhyll Wooden Boat Festival

March 2/4 – Really Rhyll Art Exhibition

March 4 – Phillip Island Nature Parks Community Open Day

March 9/11 – Phillip Island Car Classic Motor Racing

March 10/11 – Outrageous Antics in The Antarctic

March 10 – Island Craft Market

March 11 & 31 – The Island Makers Market

March 12 – Rock Away on Labour Day (Vietnam Vets Museum)

March 18 – Cowes Classic (Swimming ) March 18 – Sunday Jazz

March 24 – Churchill Island Farmers Market

March 24 – Market on Chapel

March 30/April 15 – Fascinating Science at The Antarctic Journey

March 30/April 3 – San Remo Easter Fishing Competition

March 31/April 1 – Easter Fun Festival at Churchill Island
---
Comments? Ideas? Feedback? I'd love to hear from you. Just reply to this e-zine and tell me what you think!

See you next month!

www.phillip-island-balcony.com