March 2022: Issue #057
---
Hello,

Welcome to Island Hopper! I hope you will discover lots about Phillip Island and the surrounding area.

It's wonderful to see so many events returning to the island - a sign that we may be getting back to some sort of normal!
---
Flowering Gums
Who hasn't been revelling in the sight of all the beautiful red flowering gums around Phillip Island over summer?

It's delightful to see colourful rainbow lorikeets feasting on the nectar.

In my garden I have a Corymbia ficifolia "baby scarlet". Obviously as the name indicates it is a small tree, growing to only a few metres. It's being shaded out by a neighbouring banksia but still produces a vivid summer display and attracts birdlife to the garden.

On my tree I have seen wattle birds, rainbow lorikeets, and New Holland honey-eaters.

Birds act as incidental pollinators, the pollen sticking to their wings as they feed on the nectar.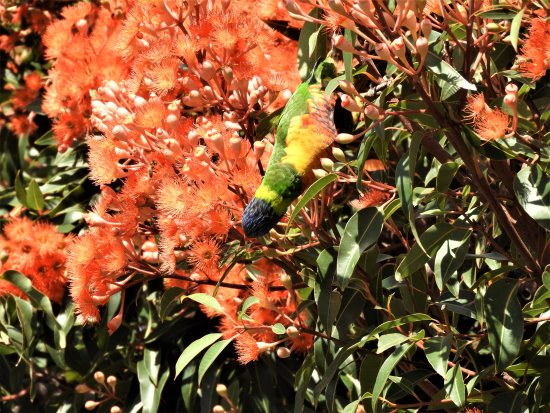 The main pollinators of flowering gum are bees and other insects brought by the warmer summer weather.

Some gums also flower in winter and are crucial to the survival of some species. In winter however, there are fewer insects, so this is when birds step up as the main pollinators.

I think most readers would have heard of the critically endangered Swift Parrot which migrates between Victoria and Tasmania. It breeds in Tasmania during the summer months, migrating to the mainland during winter.

The Swift Parrot relies on Victoria's flowering gums found in open box/ironbark forests, for its winter diet. It is believed there are fewer than 2,000 of these birds left, their numbers depleted by habitat loss.

In Tasmania, the Swift Parrot is also threatened by the introduced sugar glider, which establishes itself in nesting hollows and can kill female birds while they are sitting on eggs.

Some mammals such as sugar gliders and fruit bats, also make the most of winter flowering gums as a food source. They not only help pollinate, but they also have another important role – that of spreading seed via their faeces.

Not only do flowering gums brighten our summer days - for the crafty ones, flowering gums provide fantastic dried seed pods for fun craft ideas!
---
Food and Wine
The Wooli Tavern in Cape Woolamai is a great addition to the dining scene on Phillip Island.

With a modern no-fuss décor, it's family friendly as well as an inviting spot for a night out – at weekends, live music makes for a great vibe.

Inside there is the main dining area plus bar seating. Outside there are umbrella-shaded tables and benches in a beer garden-type area.

Have the barman whip up a cocktail or enjoy beer on tap or local wines.

The menu isn't huge but covers all the old favourites – burgers, Parma's, fish and chips, steaks plus a few extras. There is also a specials board.

There is a good selection of entrees and share plates such as oysters, prawns, charcuterie board and bruschetta.

I had the salt and pepper squid as a main with a side of chips. The squid came with a delicious sweet chilli sauce which was perfect.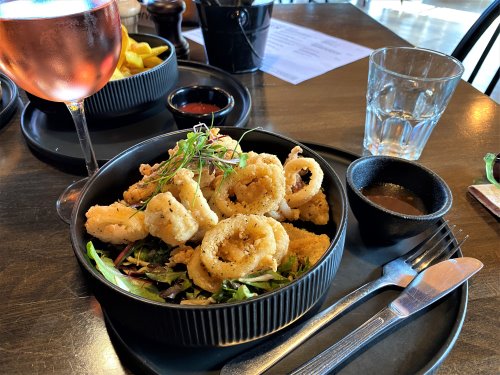 Prices are reasonable and there is a kid's menu for the younger set.

There are plenty of gluten and dairy free options and a few for vegans.

Closed Monday and Tuesday.

Make a reservation so you aren't disappointed!
---
What's On In March
March 5 – Churchill Island Farmers Market
March 5 – Cowes Classic and Little Penguin Dash
March 6/13/20/27 – Cowes Sunday Market
March 6 – Phillip Island Nature Parks Community Open Day
March 11/13 – Phillip Island Classic Festival of Motorsport
March 12 – Island Craft Market
March 12 – Island Foreshore Market
March 18/20 – Shannons Motorsport Australian Championships
March 19 – Newhaven Market
March 19 – Around French Island Catamaran Challenge (Cowes Yacht Club)
March 20 – Phillip Island Jazz Club
March 26 – Market on Church

Phillip Island Events
---
Comments? Ideas? Feedback? I'd love to hear from you. Just reply to this e-zine and tell me what you think!

See you next time!