April 2023: Issue #065
---
Hello,

Welcome to Island Hopper! I hope you will discover lots about Phillip Island and the surrounding area.
---
Easter at Churchill
Join in the fun at Easter at Churchill from Friday April 7 through to Monday April 10.

Every afternoon between 2.00pm and 5.00pm, relax to "Groovy Tunes in the Orchard". Artists include The Fruity Pickers, The Ben Cook Trio and The Corz.

Daily activities include delicious hot cross buns and a barbeque (available to purchase).

In the mornings there is children's face painting. Who doesn't want to look like the Easter Bunny!?

In the afternoons, adults can discover local wines with a wine tasting presented by Silverwater Wineries.

In the evenings, there is a unique wildlife experience with Bandicoot Bandit Tours. Participants learn about the Eastern barred bandicoot and the successful recovery program which changed its conservation status. Rangers will then take you on a spotlight walk around the gardens at Churchill Island to see the bandicoots foraging and going about their nightly adventures.

During the Easter school holidays, there are daily free activities for children such as design your own native creature from found items, and a treasure hunt to discover a secret message.

On the lawns, there will be old-fashioned games in a nod to how children entertained themselves in "the olden days".


---
History of Easter Eggs
The practice of decorating eggshells is quite ancient, with decorated and engraved ostrich eggs found in Africa which are 60,000 years old.

In the early cultures of Egypt, Mesopotamia and Crete, eggs were associated with death and rebirth, as well as with kingship. Decorated ostrich eggs, and representations of ostrich eggs in gold and silver, were commonly placed in graves of the ancient Sumerians and Egyptians as early as 5,000 years ago.

The use of eggs at Easter seems to have come from Persia into the Greek Christian Churches of Mesopotamia, thence to Russia and Siberia through the medium of Orthodox Christianity. From the Greek Church the custom was adopted by either the Roman Catholics or the Protestants and then spread through Europe.

Although one of the Christian traditions is to use dyed or painted chicken eggs, a modern custom is to substitute chocolate eggs, or plastic eggs filled with sweets. Many people give up sweets as their Lenten sacrifice, so individuals enjoy them at Easter after having abstained from them during the preceding forty days of Lent.

Chocolate eggs first appeared at the court of Louis XIV in Versailles and in 1725 the widow Giambone in Turin started producing chocolate eggs by filling empty chicken eggshells with molten chocolate.

In 1873 J.S. Fry & Sons of England introduced the first chocolate Easter egg in Britain. Manufacturing their first Easter egg in 1875, Cadbury created the modern chocolate Easter egg after developing a pure cocoa butter that could be moulded into smooth shapes.

In Western cultures, the giving of chocolate eggs is now commonplace, with billions of Easter eggs sold around the world.

In Australia an alternative is the Easter Bilby, created to raise awareness of conservation, with the introduced rabbit damaging the environment.

Easter Bunny is a folkloric figure who brings Easter eggs. Originating among German Lutherans, the "Easter Hare" originally had the roll of judge, deciding whether children had been good or bad (like Santa Claus today). (Source: Wikipedia)
---
Phillip Island Traffic
Easter is the busiest time of the year on Phillip Island.

To avoid traffic jams, try to time your arrival and departure from the island when the traffic is less congested.

During the last two years, Regional Roads Victoria has brought in new road speed limits on Phillip Island to try to reduce the amount of roadkill.

As you drive around, please be aware of wildlife.

All sealed roads are now 80kph, reduced from 100kph.

For those who haven't visited Phillip Island in the last few years, there are also new roundabouts at Woolamai and Back Beach Roads.

Phillip Island Traffic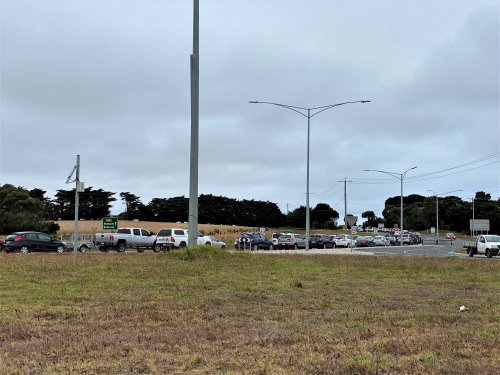 Going Home
---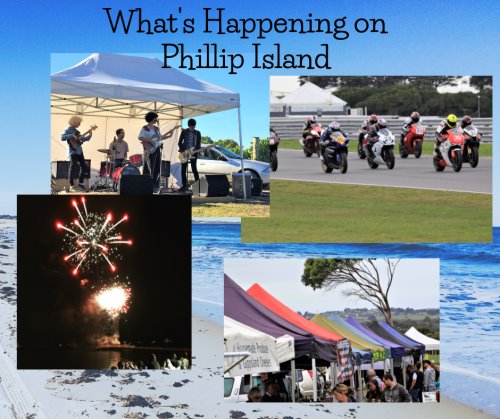 April 1 – Churchill Island Farmers Market
April 2, 9, 16, 23 & 30 – Cowes Sunday Market
April 7/10 – Easter at Churchill
April 8 – Island Craft Market
April 8 & 22 – Island Foreshore Market
April 15 – Newhaven Market
April 16 – Phillip Island Jazz Club Extravaganza
April 22 – Market on Church

Phillip Island Events


---
Comments? Ideas? Feedback? I'd love to hear from you. Just reply to this e-zine and tell me what you think!

See you next time!