February 2017: Issue #012
---
Hello,

Welcome to Island Hopper! I hope you will discover lots about Phillip Island and the surrounding area.
---
San Remo Channel Challenge
At one time the Bunurong people would have swum or canoed across The Narrows separating Phillip Island from the mainland. Melbourne Cup winning racehorse Wollamai swam across on his way to Flemington for the big race.
The tradition continues with the iconic aquathon, the San Remo Channel Challenge.
Saturday, February 11 brings the 32nd edition of this popular event.
The aquathon starts with a 550 metre swim on the slack water of the high tide across The Narrows. Slack water lasts about 15 to 20 minutes so competitors need to be able to complete the swim leg in that time.
After the swim, there is a transition area to put on running shoes for the 2 km run over the Phillip Island bridge and the sprint to the finish line on the San Remo foreshore.
There are usually around 450 participants in various categories with members of Woolamai Beach SLSC protecting them in a flotilla of surfboards, inflatable rescue boats and jet skis.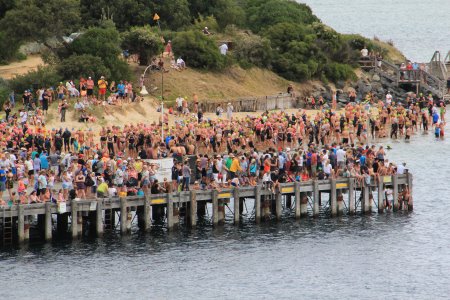 In 2016 the winning male completed the challenge in 11 minutes:34 seconds.
My favourite spot to watch the event is midway across the bridge which gives a good view of the swim and then the battle over the bridge to the finish.
For non-participants there is a foreshore festival with lots of activities such as market stalls, rides, food, live music and entertainment on the stage.
The San Remo Channel Challenge is a fundraiser for Woolamai Beach SLSC and helps fund the volunteer patrols at Woolamai Beach, Smiths Beach and Cowes over the summer for which we are very thankful.
The San Remo Channel Challenge is followed the next weekend by the Cowes Classic and Phillip Island Penguin Classic swimming events.
---
Food and Wine
We have booked a shearwater cruise with Wildlife Coast Cruises which departs from San Remo jetty so decide to stop on the way at Cape Woolamai for dinner at Cape Woolamai Bar & Bistro.
Arriving early, we sit at the bar and Dash the barman whips up a cocktail.
It's a bit breezy and cool outside so we sit inside for dinner.
And not a moment too soon as a group of 15 arrives so we are glad to place our order first!
There are not a lot of gluten free options but after much discussion with the chef I settle for the spicy marinated pork cutlets, tapioca mash and seasonal vegetables.
And of course a bottle of shiraz from local Purple Hen Winery.
A very pleasant experience in a casual/pub atmosphere.
During the summer holidays a reservation would be a good idea.
The Cape Woolamai Bar & Bistro is also open for breakfast and lunch.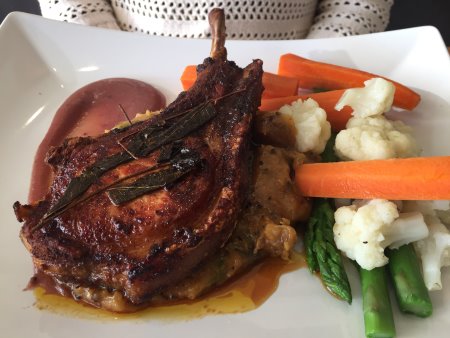 ---
Rhyll Inlet by Kayak
For a few years now I have saying I would like to kayak around Rhyll Inlet with Outthere. This summer I eventually did!
The timing of the tour with Ash from Outthere depends on tide and winds so we set off from near Rhyll jetty at 7.30am.
From the jetty we paddle around to the Ramsar-listed Rhyll Inlet. Passing The Nits we see lots of migratory birds including bar-tailed godwits, whimbrels and eastern curlews.
Black swans cruise across our path.
We follow Ash along the arms of the mangroves in the quiet, still morning. The tide is high so we can't see the mudflat life of crabs and other creatures.
A section of mangroves appears to have died and on closer inspection we see that large birds have broken off twigs of mangrove and made nests, forming a nicely concealed rookery.
The tour takes about two and a half hours – a solid work-out for arms, shoulders and quads so a level of fitness is required.
Now I want to go snorkelling with the stingrays!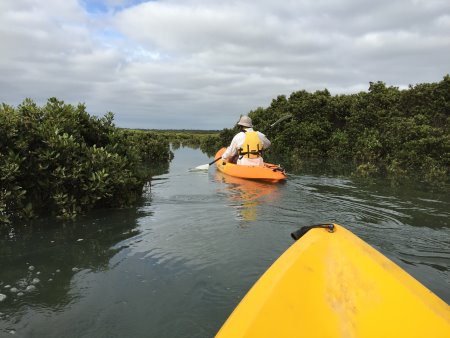 ---
What's On In February
February 5 - Kilcunda Half Marathon and George Bass 17km Coastal

February 11 - San Remo Channel Challenge

February 11 - Island Craft Market

February 18/19 - Cowes Classic & Phillip Island Penguin Swim Classic

February 19 - Phillip Island Jazz Club Sunday Jazz

February 24/26 - World Superbike Championship

February 25 - Churchill Island Farmers Market

February 25 - Market on Chapel
---
Comments? Ideas? Feedback? I'd love to hear from you. Just reply to this e-zine and tell me what you think!

See you next month!

www.phillip-island-balcony.com