Delectable Phillip Island Salad Recipes

During the summer we have lots of barbeque meals on our balcony.
How easy is it to just grill some meat and throw together a salad to accompany it?
Try these tasty but simple Phillip Island salad recipes - your barbeque deserves them!

---
Apple and Beetroot Salad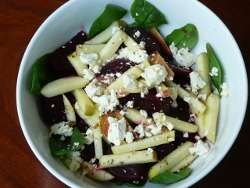 2 pink lady apples
2 large beetroot
1 tablespoon lemon juice
2 tablespoon apple cider vinegar
2 tablespoons olive oil
2 handfuls of baby spinach
50g feta cheese
ground pepper

Cook beetroot, peel, then cut into wedges. Cut apples into sticks and toss with lemon juice. Place baby spinach into a salad bowl and top with apple and beetroot. Crumble feta over salad. Drizzle with combined olive oil, vinegar and pepper.
If you like, sprinkle with dukka.

---
Greek Salad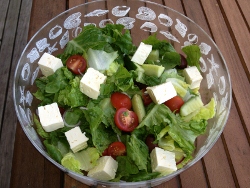 What is more classic and more simple than a Greek salad? Everyone has their own version - this is mine.
Use whatever quantities you prefer for the ingredients! I am not a huge onion fan so tend to use it sparingly.

cos lettuce, torn into pieces
red onion, finely sliced
Lebanese cucumber, cut into sticks
cherry tomatoes, halved
black olives
feta cheese, cubed
vinaigrette dressing
Sometimes I make a simple dressing of olive oil, balsamic vinegar and ground pepper.

---
Corn on the Cob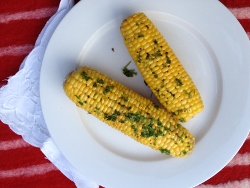 I know it's not a salad but sweet corn cooked on the barbeque is delicious!
Remove husks and silk from cobs and spread with butter. Sprinkle with freshly ground pepper and chopped fresh parsley. Wrap in foil and cook for about 3/4 hour - yummy!
If you like a bit more bite, add chopped chillies and/or coriander. Another idea is to add grated cheese.
---
Avocado and Pumpkin Salad

This salad is one of my favourites - few ingredients but still tasty!
500g butternut pumpkin cut into 2cm pieces
ground pepper
100g baby spinach
1 ripe avocado, chopped
1 tablespoon balsamic vinegar
2 tablespoons olive oil
Place pumpkin in a shallow dish with 1 tablespoon olive oil. Season with ground pepper. Cook in a hot oven until tender and golden.
Put baby spinach and avocado in a salad bowl. Add pumpkin and drizzle with balsamic vinegar and 1 tablespoon olive oil.
---
Wombok, Fennel and Apple Salad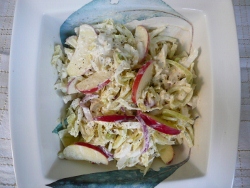 Everyone must have a favourite slaw recipe and this is mine!
1 bulb fennel, thinly sliced
1/2 wombok (Chinese cabbage), finely sliced
1/4 red onion, finely sliced
1 or 2 red apples, sliced into "half moons"
Dressing:
2 tablespoons olive oil
100g mayonnaise
100g plain yoghurt
100g sour cream
2 tablespoons red wine vinegar
100g grated Parmesan cheese
ground black pepper
Mix fennel, wombok, red onion and apple in a bowl. Combine all dressing ingredients in a small bowl then add to salad.
I like to leave this salad in the fridge for a few hours for flavours to meld.

Return to Top
Return to Phillip Island Barbeque from Phillip Island Salad Recipes
Return to Home Page
---
     About Me     Contact Me   Site Map    Privacy Policy

---
Copyright 2011-2018 phillip-island-balcony.com
All Rights Reserved