Phillip Island Barbeque Meat Recipes

The following Phillip Island barbeque recipes are very simple - the less time spent preparing food, the more time to enjoy it!
I am happy to cut down on work by using pre-prepared products such as garlic paste and dried herbs.
Good hospitality means more time to spend enjoying the company of your guests.
The recipes here can easily be altered to suit your own tastes. Enjoy them!

---
Spicy Lamb Cutlets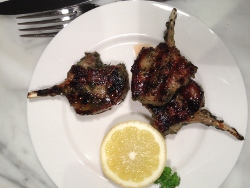 12 lamb cutlets
2 teaspoons garlic paste
1 tablespoon dried marjoram
1/2 tablespoon dried thyme
2 tablespoons dried parsley
1/2 tablespoon cumin
1/4 teaspoon chilli flakes
ground pepper
2 tablespoons olive oil
Mix all ingredients in a shallow dish. Add cutlets to marinade and leave for several hours. Cook on a hot barbeque for a few minutes each side or to your liking.
If you don't like too much spice, use less chilli flakes - they can pack a punch!
Fresh herbs and garlic can also be used - just pound them up with a mortar and pestle then add the olive oil.

I like to serve lamb with lemon wedges to cut through any fat.

---
Thai Prawns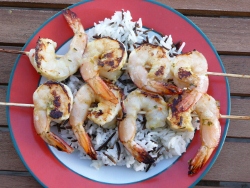 "Gourmet Garden" Thai seasoning
garlic paste
olive oil
The Thai seasoning combines ginger, coriander, garlic, chilli and lemongrass. Whizz up your own in a food processor if you prefer. I like to add extra garlic for a lovely garlicky flavour.
Add olive oil then prawns and marinate for several hours. Thread on skewers and cook over high heat for just a couple of minutes.
A delicious "starter"!
---
Return to Top
Return to Phillip Island Barbeque from Phillip Island Meat Recipes
Return to Home Page

---
     About Me     Contact Me   Site Map    Privacy Policy

---
Copyright 2011-2018 phillip-island-balcony.com
All Rights Reserved