May 2016: Issue #003
---
Hello,

Welcome to Island Hopper! I hope you will discover lots about Phillip Island and the surrounding area. This month I talk about two vastly different journeys, one by sea and one by air.
---
Cruise The Prom
Phillip Island is a great base to visit attractions in the surrounding Gippsland area. Recently I went on a cruise around Wilsons Promontory with Wildlife Coast Cruises. Although based on the island, they have fairly recently started the Wilsons Promontory cruise and what a fantastic day it is!
After an early start with a two hour bus trip from Cowes to Port Welshpool, we boarded the Kasey Lee. The good news was that the number of visitors is capped at 60 so there is plenty of room to freely move around, sightsee and take good photos.
We headed out through the Lewis Channel and down the east coast of the Prom. There are lots of birds to be seen. A special sighting was a wedge-tailed eagle, imperiously overseeing his domain from a dead tree. Further along the coast the granite foundation of the area can be seen – vast granite rock faces protruding from the vegetation and massive boulders stacked along the shoreline.
Many enticing bays with sandy beaches could be seen as we cruised along.
Passing the Wilsons Promontory lighthouse, we rounded the southernmost point of the Australian mainland, the not very imaginatively named South Point!
After stopping in a shelter between two islands for a buffet lunch, we set off to Skull Rock, a huge rock rising up out of the sea. We now started to have some wildlife experiences with a visit to a seal colony. Seals played in the water or sunbaked high up on the sides of the granite rocks.
It must be exhausting for them to climb so high with their tiny flippers!
One of the highlights of the cruise was the antics of the common dolphin. Aware of our presence they quickly swam towards the Kasey Lee and raced below the bow in what seemed a very daring manoeuvre! Others leapt along the sides providing great photo and film opportunities. Sometimes they could be heard "talking" to each other. The dolphins kept chasing until our skipper increased speed and they were left behind.
On the return we stopped in Refuge Cove. From the early to mid 1800's this cove was a busy whaling station. Now it is a beautiful secluded bay. The dinghy was lowered and we went ashore to explore.
There is time for two short walks, one with views over the cove and one to Refuge Cove North. The sand was coarse but a beautiful golden colour. I found a piece of brown sea glass to add to my collection.
The sun was getting low as we headed back to Port Welshpool - a glass of wine, nibbles and conversation with fellow travellers the perfect finish to an amazing day.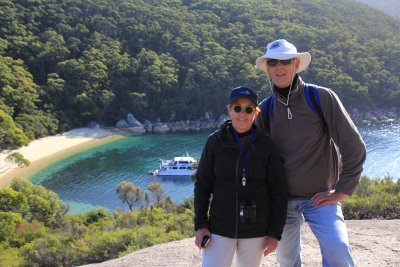 ---
Food and Wine
How lucky is Phillip Island to have two wineries!

One of my favourite ways to spend a lazy afternoon is at Phillip Island Winery. Enjoying a glass or two of wine plus a platter of local cheeses or other yummy goodies is a great way to relax (gluten free platters are available).

And I try not to miss owner Tim on guitar singing his folk and pop songs. On the Anzac Day long weekend his rendition of "And the Band Played Waltzing Matilda" left not a dry eye in the house.

During summer visitors can sit outside in the shade or beside a wood fire in the winter with a book. Bliss!

Phillip Island Winery will next be open to the public on the Queen's Birthday weekend in June.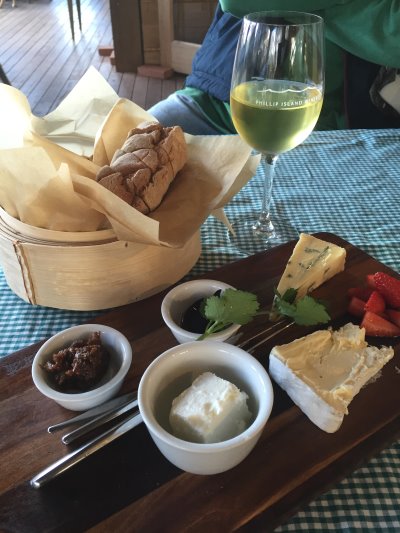 ---
An Amazing Flight
It's that time of year when our short tailed shearwaters set off on their annual 15,000 kilometre migration to the Arctic Circle.
When the shearwaters arrive on Phillip Island in September from the Aleutian Islands, they have a busy time – renovating their burrows, mating, laying their one egg, incubating, hatching (in mid January) and then feeding their chick. Parents feed the chick less and less frequently until it is time for them to again head to the northern hemisphere.
The adult shearwaters leave the Phillip Island rookeries in mid-April. Amazingly they leave behind their chick. When hatched the chick is covered in a thick grey down. As the chick grows this is replaced by a brown second-down and soon after its adult feathers have grown.
The chick practises flying until two weeks after their parents, at the end of April/early May, their time has come to find their way to the breeding grounds near Alaska. They may return in September or stay north for another year. They grow new flight feathers for the long haul south back to Australia.
This time of year we will see them on the roads at night – please drive slowly wherever you see them and observe signs put up by Phillip Island Nature Parks. Be aware that the lights on the Phillip Island bridge are turned off until around May 7 so as not to confuse the shearwaters navigation.
Good luck, shearwaters! We hope to see you in September!
---
Comments? Ideas? Feedback? I'd love to hear from you. Just reply to this e-zine and tell me what you think!

See you next month!

www.phillip-island-balcony.com